Isis in Raqqa: Undercover activists do what they can to fight back against Islamists
In the Syrian city at the heart of the so-called Islamic State there are many who loathe and fear their new rulers. As Laura Pitel reports from Istanbul, some are willing to risk their lives to express their defiance of Isis
Laura Pitel
Thursday 31 December 2015 20:12 Comments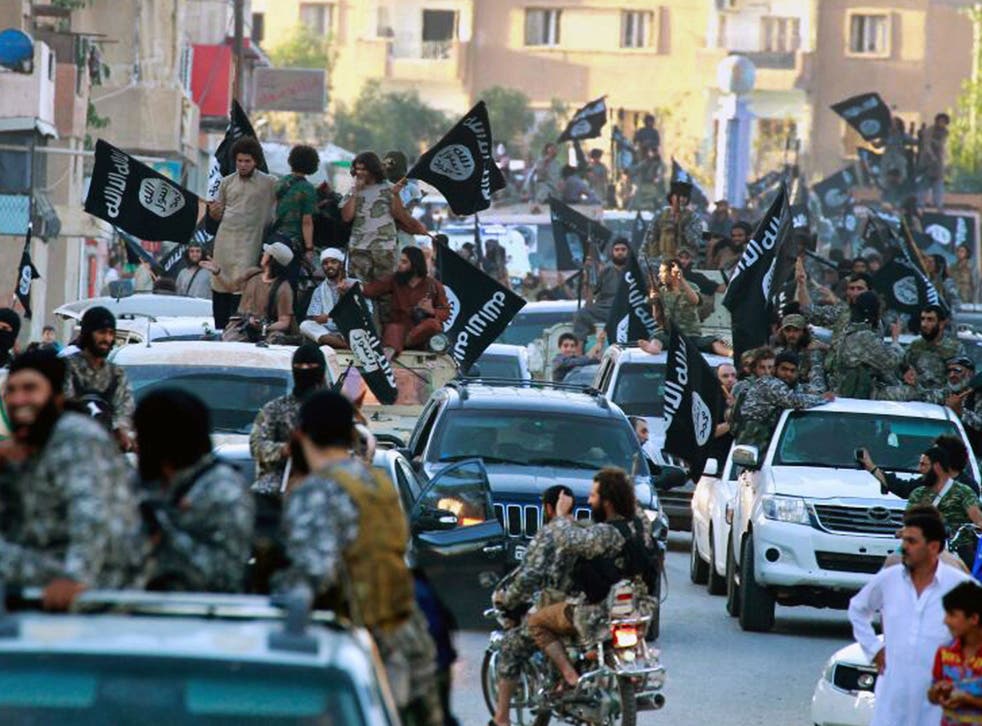 Watching and waiting in the dead of night, the activist must choose his moment. This is the Syrian city of Raqqa, the de facto capital of the territory held by Isis – and one wrong move would mean almost certain death.
When he is sure that he cannot be seen, he emerges from his hiding place and pulls out a spray can. In the morning, his handiwork work will be plain for all to see, in black Arabic lettering on a wall: "Down with Isis."
With a macabre spin machine turning out ever-more sadistic execution videos, Isis has mastered the art of making international headlines. But inside the group's territory, a collective of undercover activists are waging their own counter-propaganda campaign, at grave risk to their own personal safety.
Part citizen journalists, part resistance movement, members of "Raqqa is Being Silently Slaughtered" secretly document Isis's barbaric punishments and strict social regimes, as well as the grinding hardship of ordinary life under its rule.
Along with the likes of Mosul Eye, a fellow activist team in Iraq, their photos and reports offer the outside world one of the few windows into Isis-held territory.
In an interview with The Independent, one of the group's founding members told how it works undercover, to reassure those civilians inside Raqqa who privately loathe the militants that they are not alone.
The activist, who uses the pseudonym Tim Ramadan, said he and his friends used to put up posters and daub slogans against the Syrian president Bashar al-Assad. When Isis, also known as Daesh, seized control of a vast swath of Iraq and Syria in the summer of 2014, he and his peers vowed to continue their public resistance against their new oppressors.
A team of designers comes up with ideas for the posters and slogans. Working with a collective called Sound and Picture, they display them on lamp posts, walls and pavements across Raqqa and Deir el-Zour, another Isis-controlled Syrian city.
In pictures: The rise of Isis

Show all 74
"The posters are important in helping civilians to counter the ideas of Daesh," Mr Ramadan said. "We believe that fighting their ideology is the most important thing in the battle against extremists. Everywhere they go, they leave behind a terrorist ideology that threatens to produce a generation of terrorists who carry its ideas."
Some slogans simply call for the downfall of Isis. Others warn that Assad and Isis are "two sides of the same coin". One poster depicts the Syrian president with an Islamic beard. Another portrays his regime and that of Isis as the two claws of a wrench that is crushing the Syrian people.
Passers-by had varying reactions to the images, Mr Ramadan said. Many quickly moved away as soon as they caught sight of the subversive message. But when no one else was around, he claimed to have seen residents surreptitiously peeling off a poster and taking it home.
Members of Isis, meanwhile, fly into a rage when they come across the material. "When Daesh [Isis] elements see the posters, they search the area and try to destroy them," he said. "They begin to ask people who put them there. But people really have no idea. They don't know. We put them there in secret."
With somewhere between five million and eight million people living in areas controlled by Isis, and with few signs of the jihadists losing their grip, it might seem to outsiders that much of the population must tolerate or even support their presence.
Mr Ramadan said one of his biggest frustrations was that the world did not sufficiently grasp the scale of the discontent against the Islamists. "People here don't like Daesh," he said. "It's plain to see. Many want to escape the city but Daesh forbids them. But in private people talk about their rejection of the regime."
Some push back with small acts of defiance. With strict rules banning such acts as smoking, enjoying a cigarette can constitute an act of rebellion. The very existence of the Khansa brigade, an all-female police squad that punishes women who wear high heels or refuse to cover their faces, is testament to the fact that some citizens are defying the rules.
It is impossible to over-estimate the risks taken by the anti-Isis activists. A terrible reminder came only this week when Naji Jerf, a filmmaker and a member of Raqqa is Being Silently Slaughtered, was assassinated in the southern Turkish city of Gaziantep. He had made documentaries about Isis brutality and had received death threats from the jihadists and their supporters. He was the third member of the network to be killed in three months.
Several of the network's founders have fled to Europe or the US, where they still receive daily death threats. But those inside Isis-held territory are at greatest risk. Suspected collaborators are placed under surveillance. If caught they will be killed on the spot.
Though his work does places him in mortal danger, Mr Ramadan said that fixing a poster to a lamp-post or a wall gives him a feeling that trumps his fear. "We feel really frightened when doing it. But I also feel a sense of triumph. I know that I will cause hysteria within Isis. And people will know that there is resistance to them and to those who support their ideas."
Register for free to continue reading
Registration is a free and easy way to support our truly independent journalism
By registering, you will also enjoy limited access to Premium articles, exclusive newsletters, commenting, and virtual events with our leading journalists
Already have an account? sign in
Join our new commenting forum
Join thought-provoking conversations, follow other Independent readers and see their replies