Iraqi Prime Minister vows revenge on Isis following chemical weapons attack
Investigators are now determining what type of chemicals were used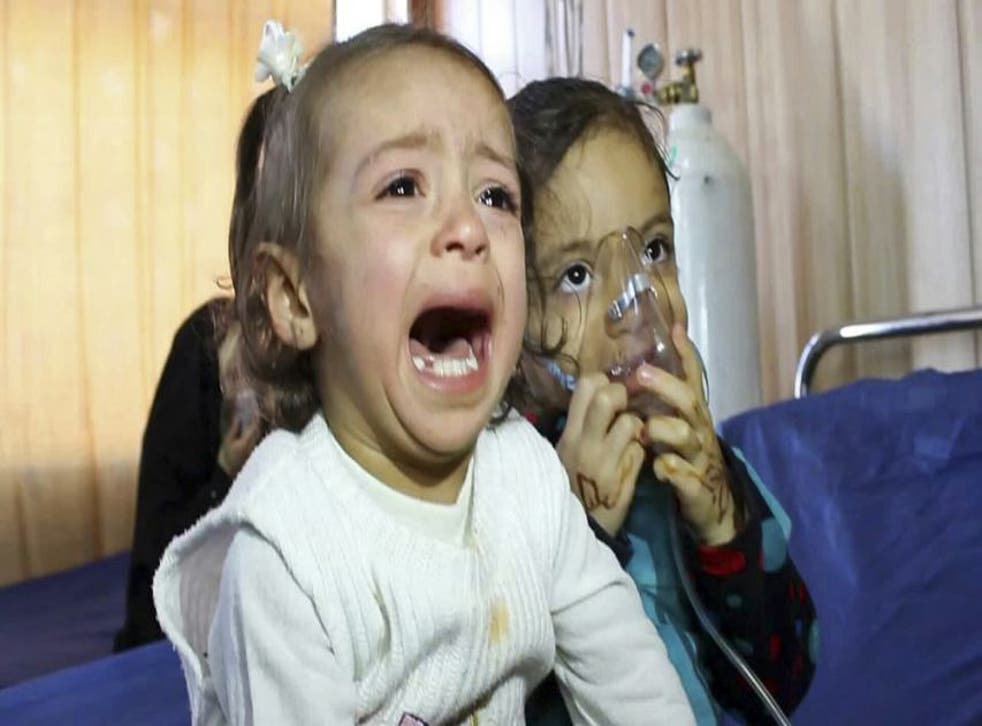 The Iraqi Prime Minister has vowed to punish Isis after the group launched two chemical weapons attacks in the last week.
A three year-old girl was killed and 600 people were wounded when ockets carrying chemical substances were used on the Iraqi town of Taza, close to the northern city of Kirkuk.
The wounded suffered from infected burns, suffocation and dehydration, according to local nurse, Helmi Hamdi.
Eight people have been transferred to Baghdad for further treatment and there have been reports that Iranian doctors have been dispatched to the town to assist the medical response.
"There is fear and panic among the women and children," said Adel Hussein, a local official in Taza. "They're calling for the central government to save them."
In a meeting with village elders in Taza on Saturday, Iraqi Prime Minister, Haider al-Abadi, said: "What the Daesh [Isis] terrorist gangs did in the city of Taza will not go unpunished."
"The perpetrators will pay dearly."
The girl killed in the attack has been named as Fatima. Her father, Samir Wais, is a member of a Shia militia fighting Isis and was on the frontlines when the attack occurred.
"We took her to the clinic and they said that she needed to go to a hospital in Kirkuk. And that's what we did, we brought her here to the hospital in Kirkuk," said Mr Wais.
Fatima's health appeared to improve, and her family brought her home. However, her condition began to deteriorate.
"By midnight she started to get worse. Her face puffed up and her eyes bulged. Then she turned black and pieces of her skin started to come off," he said.
Fatima died the following morning.
"Now I will fight Daesh more than before, for Fatima," Mr Wais said.
Her funeral was attended by hundreds of people; many carrying placards calling for government protection from further attacks.
While chlorine or mustard gas is suspected to have been used, forensics teams from Germany and America have begun work in the area to confirm the type of chemicals used.
The US has acknowledged the use of chemical weapons, including mustard gas, by Isis but is not overtly concerned by their use due to their low potency.
"It's a legitimate threat," US Army Colonel Steve Warren said.
However, he continued: "It's not a high threat. We're not, frankly, losing too much sleep over it."
Chemical weapons have been a focus of the anti-Isis coalition efforts for the past two months. Air strikes and special forces raids have been used in an attempt to weaken the ability of Isis to develop or stockpile chemical weapons.
An American special forces unit also captured a "significant" Isis commander last month who was in involved in the militant group's development of chemical weapons.
The man, named in reports as as Sleiman Daud al-Afari, is thought to have worked for the Military Industrialisation Authority under the regime of Saddam Hussein, specialising in unconventional weapons.
World news in pictures

Show all 50
He allegedly told US officials the militant group had used powdered mustard gas and loaded it into artillery shells.
Some commentators have linked Isis's use of chemical weapons with the group's military failures.
Using gas "has a huge physiological impact that far outweighs its physical impacts," said Hamish De Bretton Gordon, a British chemical weapons expert.
"As Isis get more and more pushed, we're seeing them use it more and more often. They are trying to prevent defeat," he added.
Join our new commenting forum
Join thought-provoking conversations, follow other Independent readers and see their replies