Iraqi forces drive Isis militants out of town hall and government compound in battle for Fallujah
Residents fleeing the city said jihadists suddenly retreated from some areas early on Thursday morning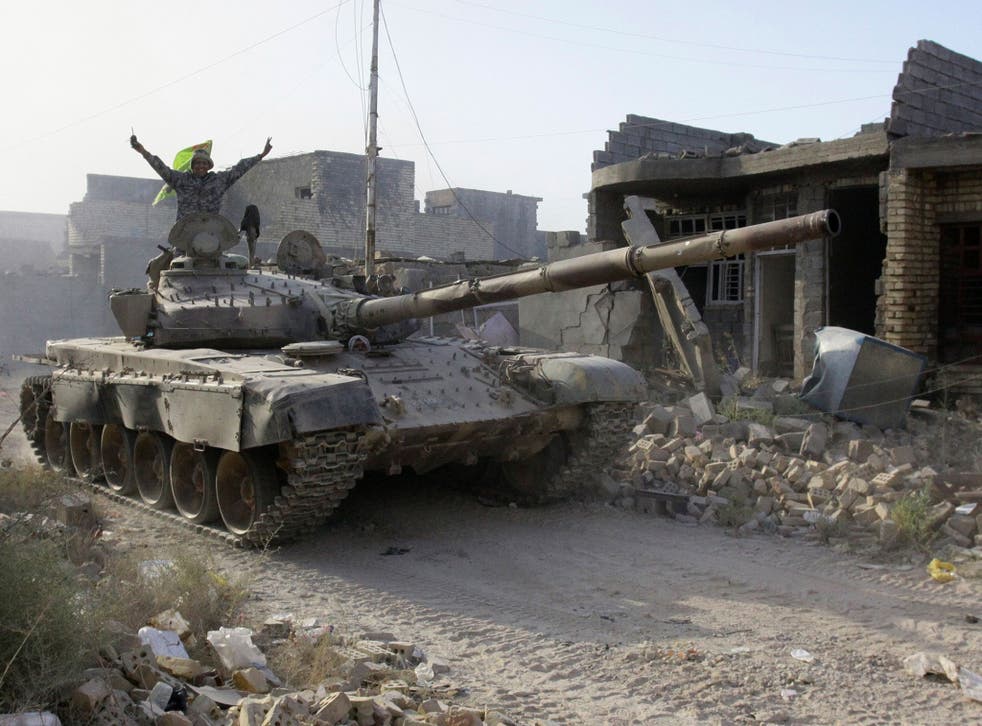 Iraqi forces say they have retaken the main government complex in Fallujah as battles to drive Isis militants out of the city continue.
Special forces entered the city centre early on Friday morning, seizing a compound including the town hall that had been used as a base by the so-called Islamic State.
The Iraqi national flag has replaced the black banner of jihad above the council headquarters, according to a military statement, and a special forces commander said they were laying siege to a nearby hospital where Isis had stationed snipers.
Iraqi forces 'make gains' in Fallujah offensive
Haidar al-Obeidi told the Associated Press militants' resistance had "collapsed", suggesting that most of them fled after the Iraqi forces moved in on al-Nazzal district.
"Iraqi forces are now in the center of the city. They had not been there since the beginning of 2014," he added.
The al-Nazzal area served as a base for Isis and housed weapons warehouses and command centres, allowing Iraqi forces to pass into the city centre when it fell.
Troops entered at around 6am local time (4am BST) on Friday amid intense battles, with air support from the US-led coalition.
Iraqi forces were clearing roadside bombs near the government complex, which includes municipality offices, a police station and other government buildings.
In pictures: Iraq battles to drive Isis out of Fallujah

Show all 12
Humanitarian organisations have repeatedly raised concern for around 50,000 civilians feared to remain trapped inside Fallujah, which has been under Isis control for more than two years and is the group's last major stronghold in western Iraq.
Displaced families have reported extremists forcibly moving them to be used as human shields, and killing anyone caught attempting to flee.
Countless residents have been shot, while others have drowned attempting to swim to safety across the Euphrates River.
The United Nations estimates that about 42,000 people have fled since the assault on Fallujah started last month but other aid organisations put the number closer to 30,000, documenting reported abuses of fleeing families by pro-government militias.
The Norwegian Refugee Council (NRC) warned that emergency provision, water and services at displacement camps were in danger of being overwhelmed as they reached full capacity.
Some of the people who fled on Thursday reported seeing Isis fighters suddenly retreat from key checkpoints, including at Halabsa and Albo al-Wan, allowing civilians to leave in much larger numbers than previously seen.
A 69-year-old Fallujah resident, who escaped al-Joulan quarter said they noticed militants evacuating early in the morning, taking vehicles loaded with food and fuel.
"The news started spreading quickly and we prepared to leave from as early as 5am," he added.
"The Iraqi army was some 3 kilometres away from my home. We were thousands leaving the city…when we reached the armed forces we were given food and water but the army trucks transporting families to the camps were full."
Nasr Muflahi, the NRC's director for Iraq, said he was concerned by reports of refugees being hit by an improvised explosive device, which killed at least one person.
"While we welcome with relief the news that thousands of women, children and men have made it to safety, we are concerned that the journey remains largely unsafe because of explosive devices along the way," he added.
"Aid services in the camps were already overstretched and this development will push us all to the limit.
"International donors need to act now to release the funding necessary so that we can help Iraqi families who have been through long hellish months of widespread hunger, terror and despair."
Routes out of Fallujah have been barred for civilians since December and Isis tightened its grip as the Iraqi government advance started last month, worsening a humanitarian crisis seeing some people starve or kill themselves.
Stories of extreme desperation have emerged, with rocketing food prices of more than $40 for a kilo of flour forcing people to search rubbish for rotten food, or eat pet food and grass.
More than 22,000 civilians have been killed and 43,500 wounded in Iraq since Isis' advance in early 2014.
Prime Minister Haider al-Abadi promised a swift victory when he announced the start of the operation on 22 May but the complexity of the task quickly became apparent.
British air strikes are among those hitting the city as part of the US-led coalition as Isis continues to use the civilians trapped inside as human shields.
The Ministry of Defence said the RAF had "destroyed seven terrorist teams" as fighting continued on Wednesday, while the US Central Command's record for Thursday included strikes on Isis assembly areas and fighting positions in Fallujah.
Join our new commenting forum
Join thought-provoking conversations, follow other Independent readers and see their replies