Isis 'kills at least six Red Cross' aid workers in Afghanistan
Gunmen shoot aid workers dead as Isis and Taliban continue to wage insurgency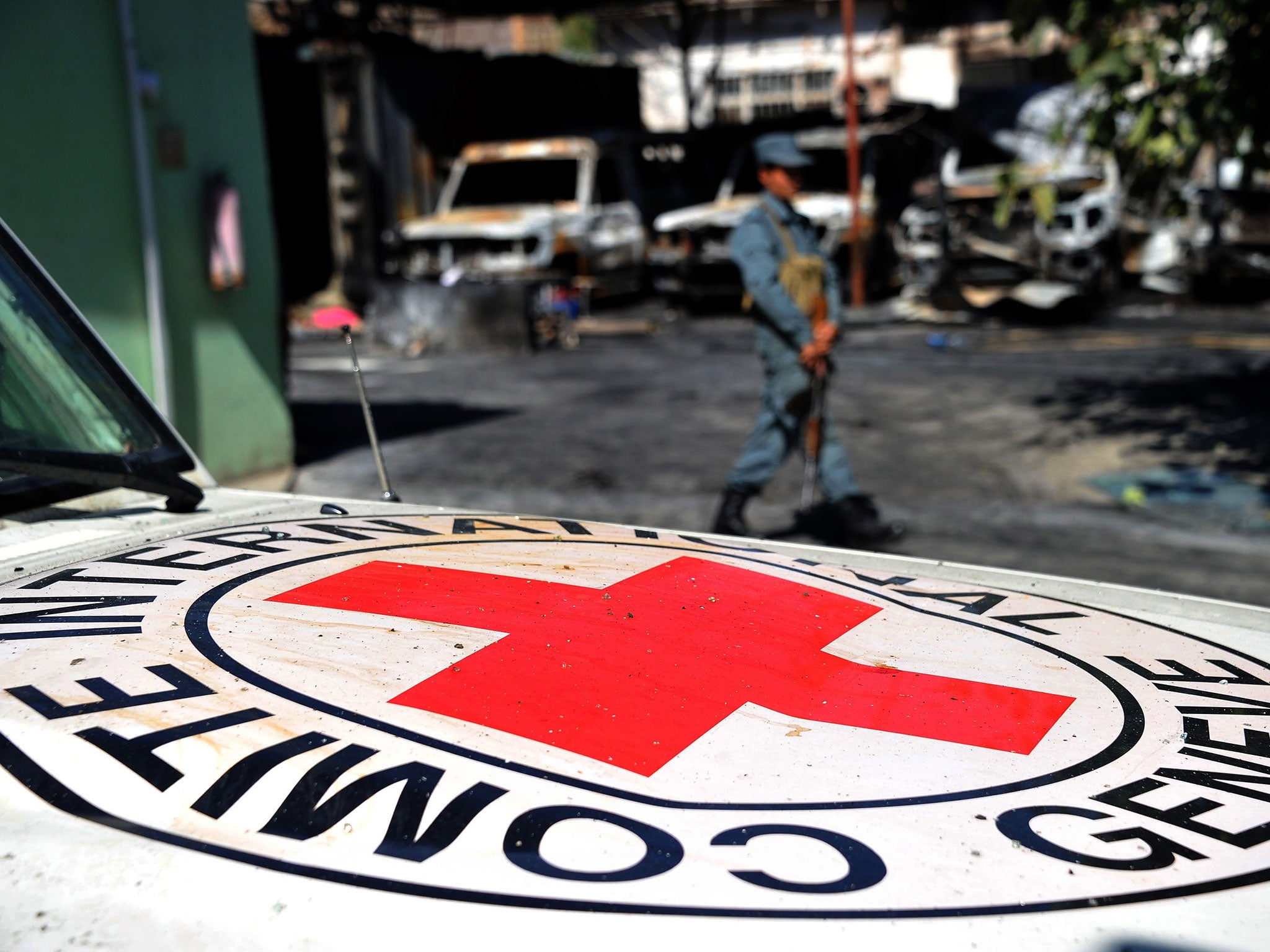 At least six employees of the International Committee of the Red Cross (ICRC) have been killed by suspected Isis gunmen while taking supplies to areas affected by deadly avalanches in northern Afghanistan.
Another two employees were unaccounted for and feared abducted after Wednesday's attack in Jowzjan province, bordering Turkmenistan, where a key motorway has come a focus of insurgent attacks against government forces and NGOs.
The ICRC said its team, composed of three drivers and five field officers, was journeying to deliver aid in Shibergan when it came under attack.
Afghanistan: Fifteen years since US-led invasion
"This is a despicable act. Nothing can justify the murder of our colleagues and dear friends," said Monica Zanarelli, head of the ICRC delegation in Afghanistan.
"At this point, it's premature for us to determine the impact of this appalling incident on our operations in Afghanistan. We want to collect ourselves as a team and support each other in processing this incomprehensible act and finding our two unaccounted for colleagues."
Peter Maurer, president of the ICRC, said the global humanitarian institution was "in shock" at the tragedy and believed the attack had deliberately targeted its staff.
"These staff members were simply doing their duty, selflessly trying to help and support the local community," he added.
"Our thoughts are with the families and loved ones of our colleagues killed and those unaccounted for."
All the staff murdered were Afghan, while the nationalities of the two people unaccounted for were not immediately confirmed.
​Rahmatullah Turkistani, the chief of provincial police, confirmed the attack and said it took place west of the provincial capital of Shibirghan.
No group immediately claimed responsibility, but the officer said militants loyal to Isis were active in the Qush Tepa area, while the Taliban has denied involvement.
Spokesman Zabiullah Mujahid said his group was not responsible and claimed Taliban members would "put all their efforts into finding the perpetrators".
Taliban militants previously targeted the ICRC in 2013, attacking its offices in Jalalabad and killing a security guard in a two-hour bombing and gun battle.
War artists in Afghanistan
Show all 6
Last month, a Spanish ICRC employee was released less than a month after being kidnapped by unidentified gunmen in northern Afghanistan.
He was travelling between Mazar-i-Sharif and Kunduz in December when gunmen stopped the vehicles, releasing his three Afghan colleagues.
In a recent summary of its work in the country, the ICRC said the worsening security situation had made it difficult to provide aid to many parts of the country.
"Despite it all, the ICRC has remained true to its commitment to the people of Afghanistan, as it has throughout the last 30 years of its continuous presence in the country," the statement said.
Elsewhere in Afghanistan, a suicide bomber blew himself up after being stopped outside a district government headquarters in the Paktia province, killing two civilians and wounding a policeman.
On Tuesday, another suicide bombing struck the entrance to the Afghan Supreme Court in the capital, Kabul, killing at least 20 people and wounding more than 40 more.
Isis is competing with the Afghan Taliban and al-Qaeda in the continuing Islamist insurgency in the country.
Its affiliate in the region is called Wilayat Khorasan and has claimed responsibility for attacks including suicide bombings and mass shootings targeting police, the military, officials, Shia Muslims and civilians.
Additional reporting by agencies
Join our commenting forum
Join thought-provoking conversations, follow other Independent readers and see their replies