Isis orders supporters to use official channels after onslaught of fake propaganda and cyberattacks
Operations by intelligence agencies and activists spark panic and infighting among supporters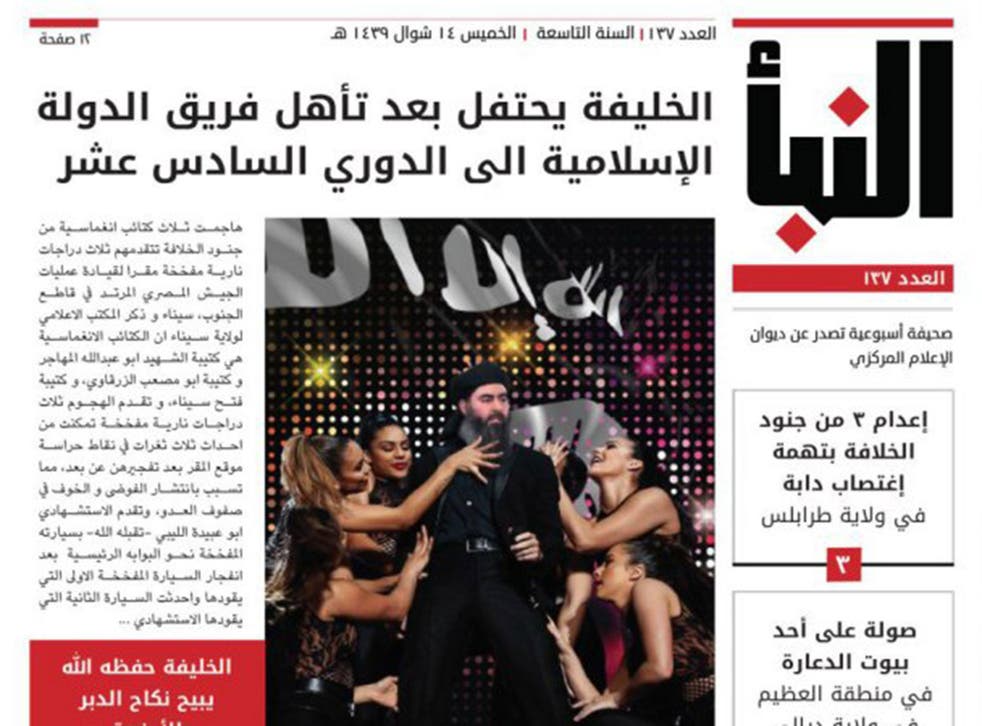 Isis has ordered supporters to follow only its "official" channels amid an onslaught of spoof propaganda and cyberattacks by international intelligence agencies.
A panicked message issued by the terrorist group's Nashir News Agency on encrypted messaging app Telegram warned against the spread of fake Isis-related news.
"There are currently no Nashir News Agency accounts on Twitter, Instagram, WhatsApp or any site other than Telegram, nor is there any account providing links other than known agency accounts," it said.
"We also caution against any account claiming to be affiliated with the publisher of Nashir News... the specialised agency to publish all that is officially issued by the Islamic State."
The channel issues text, video and photo reports from militants in Iraq, Syria, Afghanistan, Egypt and other countries, as well as material aiming to inspire and instruct followers to launch global terror attacks.
Each Telegram post is seen several thousand times on average, before being translated and spread further on mainstream websites and social media platforms by supporters around the world.
But jihadis have increasingly found themselves being duped by fake Isis propaganda, sparking paranoia and infighting.
Daeshgram, a group of Iraqi activists, created a spoof version of Isis's Al Naba weekly newsletter that was sent out from an official-looking Telegram account.
Jihadis who downloaded the issue were greeted with a doctored photo of leader Abu Bakr al-Baghdadi surrounded by female dancers and an editorial on a fictional Isis team competing in the World Cup.
Daeshgram said it hijacked more than 120 Isis-supporting Telegram groups to spread confusion and mistrust with the fake issue of Al Naba, which was passed onwards.
"Many members who used to trust one another are fighting in their groups and blaming one another," an activist told The Independent.
"Once they realised they were under attack members were scared, several who clicked our links thought their computers were infected with a virus. .. our operation is continuing but we have already achieved our goal to confuse and scare Isis members and make them doubt each other in a place on the internet where they thought they were untouchable."
Isis videos and documents are known to have been viewed by terrorists who launched bloody attacks in the UK, as well as "self-radicalised" extremists jailed for planning atrocities.
The group has prioritised the creation of a "virtual caliphate" intended to survive its huge territorial losses in Iraq and Syria, and its slick propaganda operation has been credited with attracting an unprecedented number of foreign supporters.
Its success has made it a target for global intelligence agencies as well as activists, who have been intensifying operations to disrupt Isis's messaging.
GCHQ revealed that the UK had launched a "major offensive cyber campaign" against Isis earlier this year, which may also have included fake propaganda.
Director Jeremy Fleming said Isis had understood the power of online communications "to radicalise and scare" better than any previous terrorist group.
"They know potential sympathisers react well to slickly produced, unfiltered videos and magazines that can be downloaded and watched on smartphones, and they know which platforms to use to reach them," he added.
"In recent years we've seen the impact of this approach all over Europe. And last year it came to our shores too with attacks in London and here in Manchester."
He said agents at GCHQ and the Ministry of Defence had suppressed Isis propaganda, hindered the group's ability to coordinate attacks and protected coalition forces on the battlefield, adding: "In 2017 there were times when Daesh found it almost impossible to spread their hate online, to use their normal channels to spread their rhetoric, or trust their publications."
In April, British intelligence was involved in a fresh onslaught against Isis's Amaq, al-Bayan radio, Halummu and Nashir news websites, alongside US and European allies.
Europol said Isis's ability to broadcast and publicise terrorist material had been "compromised" by a mix of cooperation with internet service providers and cyberattacks.
Security services were working to identify Isis administrators and radicalised individuals across Europe and beyond with the data retrieved.
Timeline: The emergence of Isis

Show all 40
Recent court cases have also revealed the existence of British spies role-playing as Isis fighters and propagandists on Telegram and other platforms, where they gather intelligence on terrorists who believe them to be like-minded extremists.
When Isis declared its "caliphate" in early 2014, it was openly publishing propaganda on mainstream social networks and open websites, while many foreign fighters became notorious for documenting their lives on Twitter and blogs.
The size and complexity of the terrorist group's propaganda network was unprecedented, seeing material published in almost a dozen languages across websites, social media, automated emails, dedicated apps and extensions for internet browsers.
But detection and removal work has since pushed it into ever more obscure corners of the internet.
Experts caution that while Isis's propaganda operation is under pressure and much of its former territory in Syria and Iraq had been retaken, it has already gained ideological notoriety around the world.
Raffaello Pantucci, the director of international security studies at the Royal United Services Institute, in London, said the group is continuing to jump across different platforms.
"Clearly there's a real question of integrity around their material and they're stuck in a situation where no one necessarily trusts it anymore," he told The Independent.
"It's important that we disrupt this stuff but you can't kid yourself that this will go away ... the real threat comes from the fact there are angry people who are unhappy with governance in parts of the world."
Mr Pantucci said Isis, which puts out utopian images depicting life under its rule alongside gory footage of executions and battles, is trying to "project an image of normality" after huge territorial losses.
He added: "If they continue to fail on the battlefield how much can they make up for it with a Telegram account?"
Register for free to continue reading
Registration is a free and easy way to support our truly independent journalism
By registering, you will also enjoy limited access to Premium articles, exclusive newsletters, commenting, and virtual events with our leading journalists
Already have an account? sign in
Register for free to continue reading
Registration is a free and easy way to support our truly independent journalism
By registering, you will also enjoy limited access to Premium articles, exclusive newsletters, commenting, and virtual events with our leading journalists
Already have an account? sign in
Join our new commenting forum
Join thought-provoking conversations, follow other Independent readers and see their replies