Isis militants push man from a three-storey building 'for being gay'
A self-styled Isis court decided to punish the man, because it believed he had 'practiced sodomy'
Kashmira Gander
Thursday 11 December 2014 20:50 Comments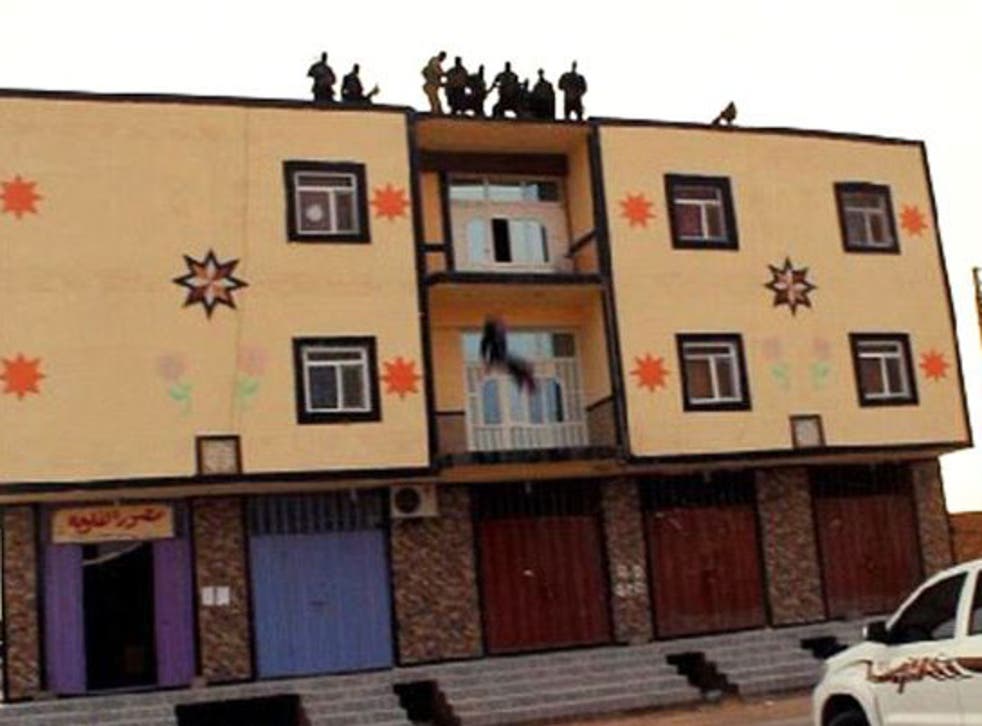 A gang of Isis militants have killed a man by throwing him from the roof of a building, after a make-shift court who believed he was homosexual ruled that he be punished.
The extremist group released the images on Wednesday, amid reports from Buzzfeed that Isis is attempting to sell the body of James Foley for $1million, in a grim attempt to secure funds. The US journalist's death in August was the first in a series of high-profile executions of Western hostages, which include Steven Sotloff, David Haines, Alan Henning, and Peter Kassig.
A court ruling to punish the man for "practicing sodomy" preceded the incident, according to a statement by the group which has captured land from Aleppo in Syria to the outskirts of Baghdad over the past year.
Moments before the man died, masked Isis fighters read out his charges, The Times reported, citing activists in the Syrian city of Raqqa.
Timeline: The emergence of Isis

Show all 40
The images appear to show at least nine people standing by, as the man is pushed to his death from a three-storey building in an Isis-held area of Iraq's Anbar province.
While further images show large rocks scattered around the man's body on the ground, it is unclear whether he died instantly, or if he was later stoned to death.
Brutal executions are not uncommon in Isis-controlled areas, with Human Rights Watch reporting in June that as many as 160 people in the northern city of Tikrirt were massacred.
The rise of Isis, which calls itself the Islamic State, has prompted US-led airstrikes in Iraq and Syria, which have slowed its advance by targeting oil refineries and training camps in more than 1,000 airstrikes.
Register for free to continue reading
Registration is a free and easy way to support our truly independent journalism
By registering, you will also enjoy limited access to Premium articles, exclusive newsletters, commenting, and virtual events with our leading journalists
Already have an account? sign in
Join our new commenting forum
Join thought-provoking conversations, follow other Independent readers and see their replies