Isis militants raise black flag over the ancient city of Palmyra after seven-day siege
The city is a UNESCO world heritage site and is home to Roman-era ruins including well-reserved temples, colonnades and a theatre
Alexander Ward Comments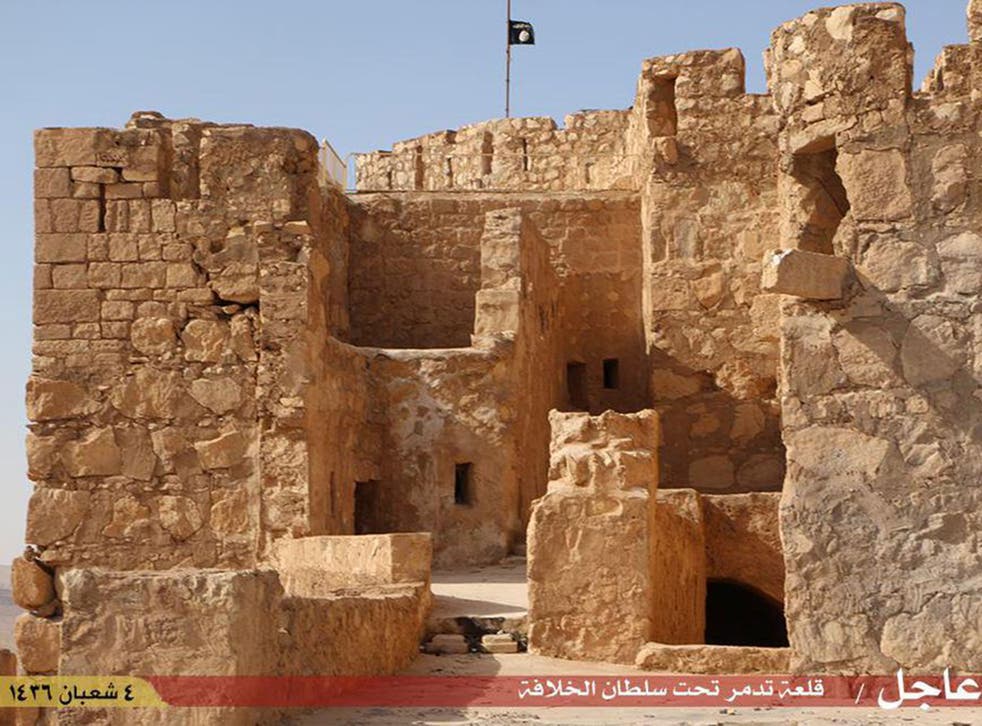 Isis militants have raised their flag over the ancient city of Palmyra, in the wake of capturing the city days ago.
Fighters for the extremist group moved into the central Syrian city last Wednesday had taken control of it by that evening.
An image of an ancient castle in the area was posted with a black flag flying above it was posted online by one of the group's supporters.
The ruins in Palmyra are a Unesco world heritage site with Roman-era temples, a colonnade and theatre.
The Syrian government claimed that it had evacuated most civilians from the area before it withdrew from the city, although two-thirds of residents are believed to be trapped, after the seven-day siege.
The development comes as Lord Dannatt, former chief of the general staff, called on the government to consider sending British troops to fight Isis.
Ancient monuments under Isis threat

Show all 8
Lord Dannatt wrote in the Mail on Sunday: "To those who would be wholly opposed to such a deployment, I would say do we really want to do nothing and simply watch what happens?"
Isis has already begun destroying ancient artefacts in the city, smashing the statue in the foyer of Palmyra museum, although Syrian officials say that many of the most prized artefacts have already been moved.
Ravina Shamdasani, a United Nations human rights spokeswoman, said: "ISIL (Islamic State) has reportedly been carrying out door-to-door searches in the city, looking for people affiliated to the government.
"At least 14 civilians are reported to have been executed by ISIL in Palmyra this week."
Register for free to continue reading
Registration is a free and easy way to support our truly independent journalism
By registering, you will also enjoy limited access to Premium articles, exclusive newsletters, commenting, and virtual events with our leading journalists
Already have an account? sign in
Join our new commenting forum
Join thought-provoking conversations, follow other Independent readers and see their replies