'I can't believe I lived through all this evil': Worshippers celebrate Christmas in a town finally liberated from Isis
Christians around Mosul faced imprisonment and forced conversions until the jihadis of Isis were driven out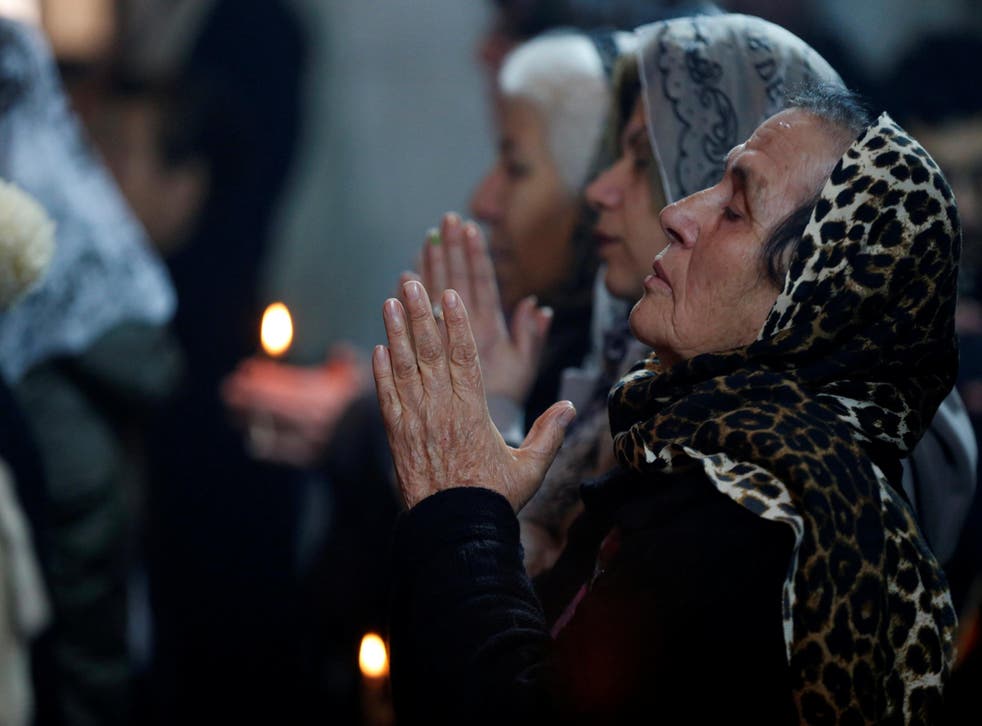 Outside the Saint Shmony Church the bells are ringing over a deserted town. Christmas Eve mass has just finished and the congregation file past the wooden pews, out through large iron doors and into the rainy courtyard. It's cold but there is a sense of joy and relief to be back.
For the hundreds of worshippers, this is the first Christmas they've celebrated in their home town of Bartella since it was captured by the jihadists of Isis two and a half years ago.
But they cannot stay here – it is still too dangerous to come here at night. They will return to Irbil, the capital of the Kurdistan Region, 40 miles east where they fled to in panic in the summer of 2014 when Isis advanced across the ancient towns of the Nineveh plain.
"They tried to remove us here but we refused," said Father Sahar Qurkios, a Priest from the nearby St Mary's church, as the mass came to a close. The mass is a symbolic gesture of defiance. "It is a challenge to the ones who thought we would leave and never come back," he added.
Bartella lies in ruins; homes are caved in, looted, surrounded by rubble or blackened with flames. On 22 December Isis targeted the nearby liberated district of Gogjali with suicide attacks, killing 23, showing that they can still penetrate behind Iraqi lines and cause havoc. Black humvees of the Iraqi Counter Terror Forces roll by on the main highway through the town and groups of soldiers stand huddled beside oil drum fires to keep warm.
In pictures: Mosul offensive

Show all 40
Isis seized Mosul in a lightning advance in June 2014 and in July, they gave the city's ancient Christian community an ultimatum: the pay a tax, convert to Islam or face the sword. Instead nearly all of them fled and have spent the years since in exile. Ismail Ibrahim Mattai, 16, from Bartella, failed to escape with the rest of his family when Isis attacked, and was left stranded in Isis territory with his mother, Jandak Bahnan, 55.
They were caught by Isis and moved around the city, forced to convert and pray. Ibrahim was imprisoned 12 times and endured regular beatings by Isis fighters using a piece of plastic piping, before finally escaping for good when the Iraqi Counter Terror Services advanced into Mosul at the beginning of November and they were able to sneak across the frontlines. The operation to retake Mosul began on 17 October.
Isis 'does not have the guts' to continue fight for Mosul, claims Iraqi Prime Minister Haider al-Abadi
During their initial interrogation by Isis, Ismail and his mother saw their captors executing a Shia Muslim prisoner. Later on, Ismail said his mother, who has epilepsy, was tortured by an Isis fighter who pierced her shoulders, hands and head with needles until the blood ran. "I can't believe I lived through all this evil," Ismail said from a shelter in Irbil where he now lives with his mother. "I can't go back to Bartella now," he added, "I want to leave Iraq to good care for my mother."
This is a common feeling among Iraq's Christians who left the country in large numbers after jihadist attacks and a general deterioration in security following the 2003 US-led invasion. But despite the pain and sadness of the last two and a half years, Father Sahar said that conversely, Isis has already healed the wounds it inflicted on Iraqi society, by bringing together different groups in defiance of them.
"Isis made it better, now everyone comes here. We were invaded by Muslims but our town was also retaken by Muslims. Because of Isis, Muslims are coming here, taking pictured with us, looking at the cross and sharing our sorrow – Isis did that." He said.
Register for free to continue reading
Registration is a free and easy way to support our truly independent journalism
By registering, you will also enjoy limited access to Premium articles, exclusive newsletters, commenting, and virtual events with our leading journalists
Already have an account? sign in
Register for free to continue reading
Registration is a free and easy way to support our truly independent journalism
By registering, you will also enjoy limited access to Premium articles, exclusive newsletters, commenting, and virtual events with our leading journalists
Already have an account? sign in
Join our new commenting forum
Join thought-provoking conversations, follow other Independent readers and see their replies