Barack Obama won't be the president that defeats Isis, say US officials
US officials caution complex operation to drive militants out of de facto capital Raqqa in northern Syria will be inherited by President Obama's successor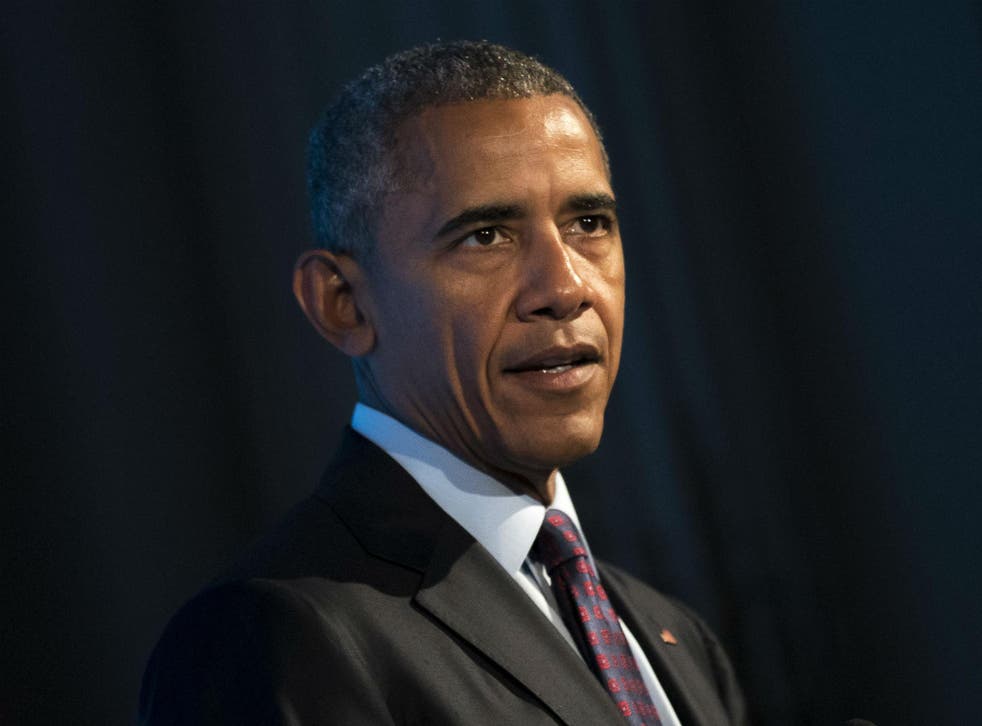 The Syrian Kurdish and Arab militia coalition offensive to take back Raqqa, the capital of Isis' caliphate in northern Syria, will not be completed before US President Barack Obama leaves office early next year, officials have said.
The mainly Kurdish Syrian Democratic Forces (SDF) announced Operation Euphrates Wrath to seal off the city on Sunday - but the process is expected to take at least two months, denying Mr Obama the opportunity to claim he ended the group's caliphate, and leaving the fate of a highly complex operation to his political successor.
Either Democratic presidential nominee Hillary Clinton or Republican candidate Donald Trump will take control of The White House on January 20 following the result of this week's general election.
US Marine General Joseph Dunford said that taking back Raqqa was never going to be a quick or easy job. "We always advertised that the isolation phase is going to take months," he was quoted as saying on Sunday by a US defense department reporter traveling with him in Turkey.
Other sources echoed General Dunford's sentiments. "There is no available force capable of taking Raqqa in the near future," one US official said on the condition of anonymity. Other sources quoted by Reuters said that a sufficient number of Arab fighters have not yet been recruited or are still in training.
Around 30,000 US-backed Kurdish peshmerga, Sunni tribal fighters, Shiite militias and Iraqi army soldiers are currently advancing on the Iraqi city of Mosul, Isis' last stronghold in the country. Progress has slowed as fighting has reached the outskirts of the city proper and turned into urban warfare.
In pictures: Mosul offensive

Show all 40
The approximately 5,000 fighters inside are well-prepared for battle with landmines, boobytraps, snipers and suicide bombers.
Officials hope to dovetail the Mosul and Raqqa campaigns in order to prevent fighters fleeing Mosul being given time to prepare to defend their last stronghold in battle - but to do so will require at least as many troops as were mobilised to liberate the Iraqi city.
"Raqqa is every bit as infested as Mosul, perhaps even more so," said Thomas Lynch, a National Defense University fellow and retired Army officer. "But there is an enormous investment by this administration in terms of going after Raqqa before it leaves office."
The Raqqa offensive is also complicated by the nearby Turkish-backed operation to seize the town of al-Bab. Turkey views the Syrian Kurdish People's Defense Units (YPG) as an extension of the PKK (Kurdistan Workers Party), which has fought an insurgency against the Turkish state for decades.
Syrian army 'crosses into Raqqa province'
The idea of Kurdish forces administrating Syrian territory and managing to consolidate their power in northern Syria is a far higher priority for Turkey than defeating Isis. Turkish President Recep Tayyip Erdogan has repeatedly stressed that the YPG should not be involved in the fight for Raqqa, and Kurdish forces have threatened not to fight for Raqqa if Turkey is involved.
The end of Isis as a land-holding force could also create a buffer zone which Syrian rebels could eventually use to try and break the Russian-backed Syrian regime's siege of opposition neighbourhoods of Aleppo.
Moscow has warned Ankara not to advance any further into Syrian territory, but "an eventual reopening of the Aleppo city front is an inevitability," Charles Lister of the Middle East Institute in Washington said. "The opposition [fighters] will go whether the Turks want it or not."
Join our new commenting forum
Join thought-provoking conversations, follow other Independent readers and see their replies