Isis defeat in northern Syria opens deadly new phase in civil war as rebel groups turn on each other
Battles erupting between proxies backed by the US and Turkey to fight extremists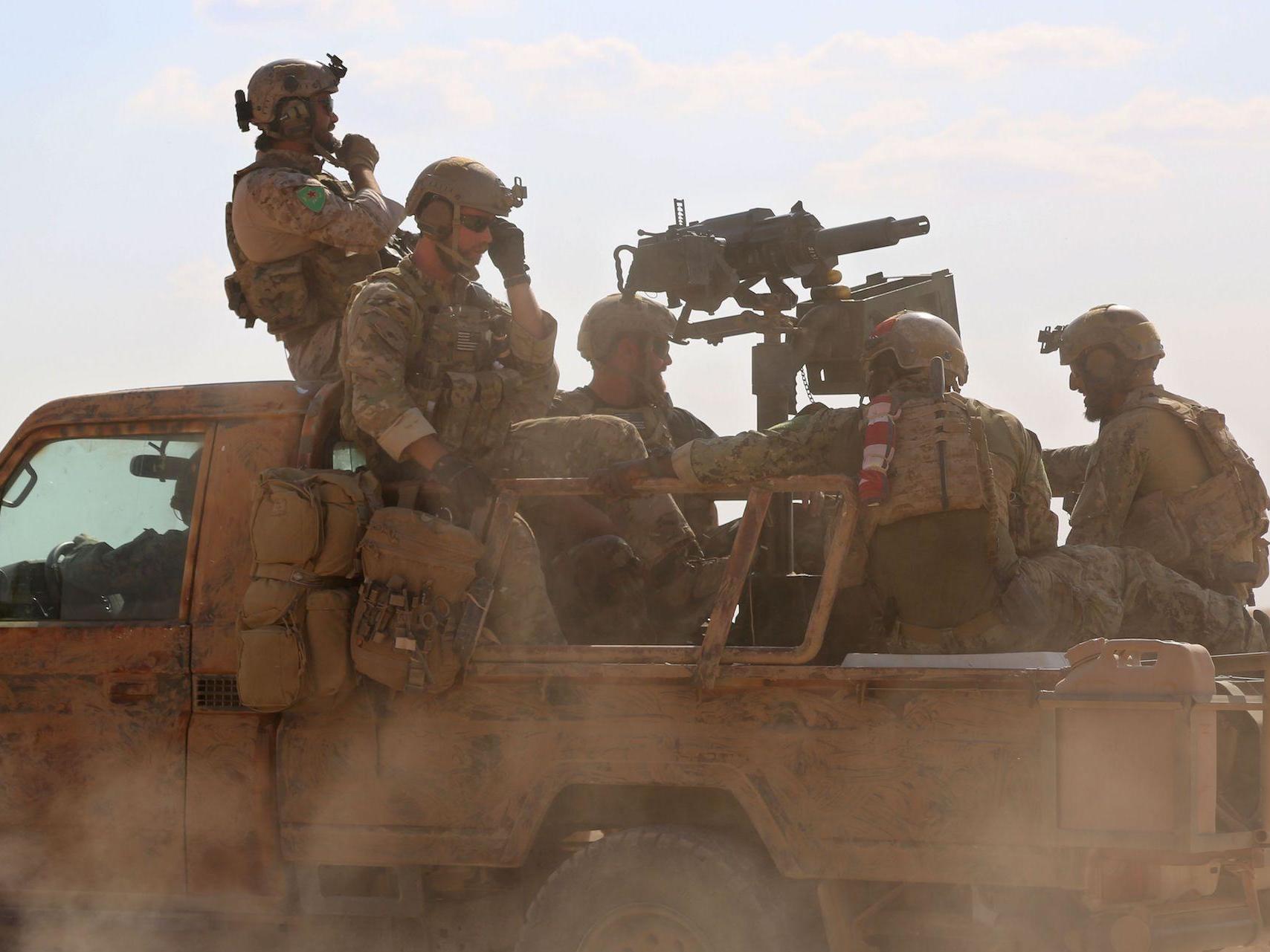 The looming defeat of Isis in northern Syria is pushing the country's six-year civil war into a new and dangerous phase as warring parties turn on each other, analysts have warned.
The battle to defeat jihadis has made uneasy allies out of forces backed by countries including Britain, the US, Russia, Turkey and Iran but as victorious groups fill territory the so-called Islamic State once controlled, old enemies are coming face-to-face – with deadly consequences.
Fighting has erupted along converging frontlines between Bashar al-Assad's army, opposition groups and Kurdish forces around the northern city of al-Bab, where the US-led coalition and Russian air force have been providing air support to allies.
Jean-Marc Rickli, a research fellow at King's College London and the Geneva Centre for Security Policy said the shared interest in eradicating Isis is not enough to quash long-standing rivalries.
"Isis is about to collapse – but what next?" he asked.
"Once Isis has lost the fight, the other coalitions that were formed to beat it will dissolve into open conflicts on the ground."
The skirmishes risk drawing in international actors backing ground forces on opposite sides. In one incident this week, Russia is accused of hitting US-backed Syrian Democratic Forces (SDF) in villages taken from Isis, causing several casualties.
Lt-Gen Stephen Townsend, the commander of Operation Inherent Resolve, said several casualties were reported after bombing just two miles away from American troops. "Some quick calls were made through our deconfliction channels and the Russians acknowledged and stopped bombing there," he added.
The Kremlin denied striking the positions as part of its campaign supporting Assad, saying the US provided it with coordinates as part of communications set up to avoid international conflict in Syria's crowded airspace.
Meanwhile, fighting has erupted between opposition groups backed by Turkey as part of its Operation Euphrates Shield and the Kurdish-led SDF, which is supported by the US.
At least seven fighters from both sides were killed in battles and shelling, the UK-Based Syrian Observatory for Human Rights reported.
Both rebel alliances have been battling Isis but Turkey also considers the Kurdish People's Protection Units (YPG) a terrorist group and has made its intention to push it back from border areas clear.
In efforts to create a buffer zone between the two sides, the Manbij Military Council claimed Kurdish fighters would turn over frontline villages to the Syrian army.
But the deal, brokered by Russia, has met with resistance from SDF soldiers reluctant to withdraw from territory they won from Isis.
Dr Rickli told The Independent "completely ludicrous situations" were emerging seeing rebel groups backed by the US government fighting each other.
"This is the problem of using proxies," he added. "As you get closer to reaching your primary objective, the secondary ones come in.
"Because the Americans have relied on so many different groups they are now in a difficult situation where they have to decide who to prioritise."
Both the CIA and Pentagon ran programmes to support vetted opposition forces at the start of the civil war, but attempts to train groups abroad and redeploy them in Syria failed when an entire unit was seized by al-Qaeda.
The embarrassment provoked a tactical shift to arm and support established anti-Isis groups already on the ground, with a limited role for American special forces and military "advisers".
The US-led coalition's most prominent ally is the SDF, which has seen huge success retaking former jihadi strongholds including Jarablus, but the predominantly Kurdish group is the enemy of other Syrian rebels formerly supported by the US.
Many are now being backed by Turkey, where President Recep Tayyip Erdogan made it clear his priority is to reverse the growth of the de-facto autonomous region of Rojava along the border, which has been administered by Kurdish groups since 2013.
Haid Haid, an associate fellow in the Middle East and North Africa Programme at Chatham House, said that with Isis driven out of the region, no side could move advance without clashing with each another.
"Fighting will increase unless there's some kind of deal between Turkey, the US and SDF to find a solution, which I think is unlikely at this point," he told The Independent.
"The tension is there and armed groups on the ground are ready to fight, but the question is in what direction and how."
Mr Haid said that although eradicating Isis has been a common goal, the "main aim" of all sides is to gain more territory, making battles unavoidable.
In pictures: Civilians freed from Isis in Manbij
Show all 11
He warned of an emerging "proxy war" between opposition factions variously backed by the US-led coalition and Turkey, and pro-Assad forces supported by Russia, Iran and the Lebanese Shia Islamist group Hezbollah.
Attempts by international supporters to deescalate fighting may fail as the focus on Isis gives way to the original divisions of the Syrian civil war, which a new round of talks in Geneva have failed to overcome.
"The position on the ground has turned into people being in favour or against Assad so the moderate voice is less and less important after six years of fighting," Dr Rickli warned.
He drew comparisons to the Bosnian civil war, where European nations offered massive funding for reconstruction efforts and EU membership in exchange for democracy and a lasting ceasefire.
But in the muddied waters of Syria, the way forward is less clear.
"What are the hopes of Syria?" Dr Rickli asked. "Who is willing to provide money?
"There is no carrot, no stick and worse than that, some groups on the ground are benefiting from the chaos because it gives them money and power.
"They have absolutely no interest in settling the conflict."
Join our commenting forum
Join thought-provoking conversations, follow other Independent readers and see their replies