Isis carries out mass executions in Palmyra's ancient ruins after retaking Syrian city
Russian intelligence suggests Isis planning new destruction of ancient artefacts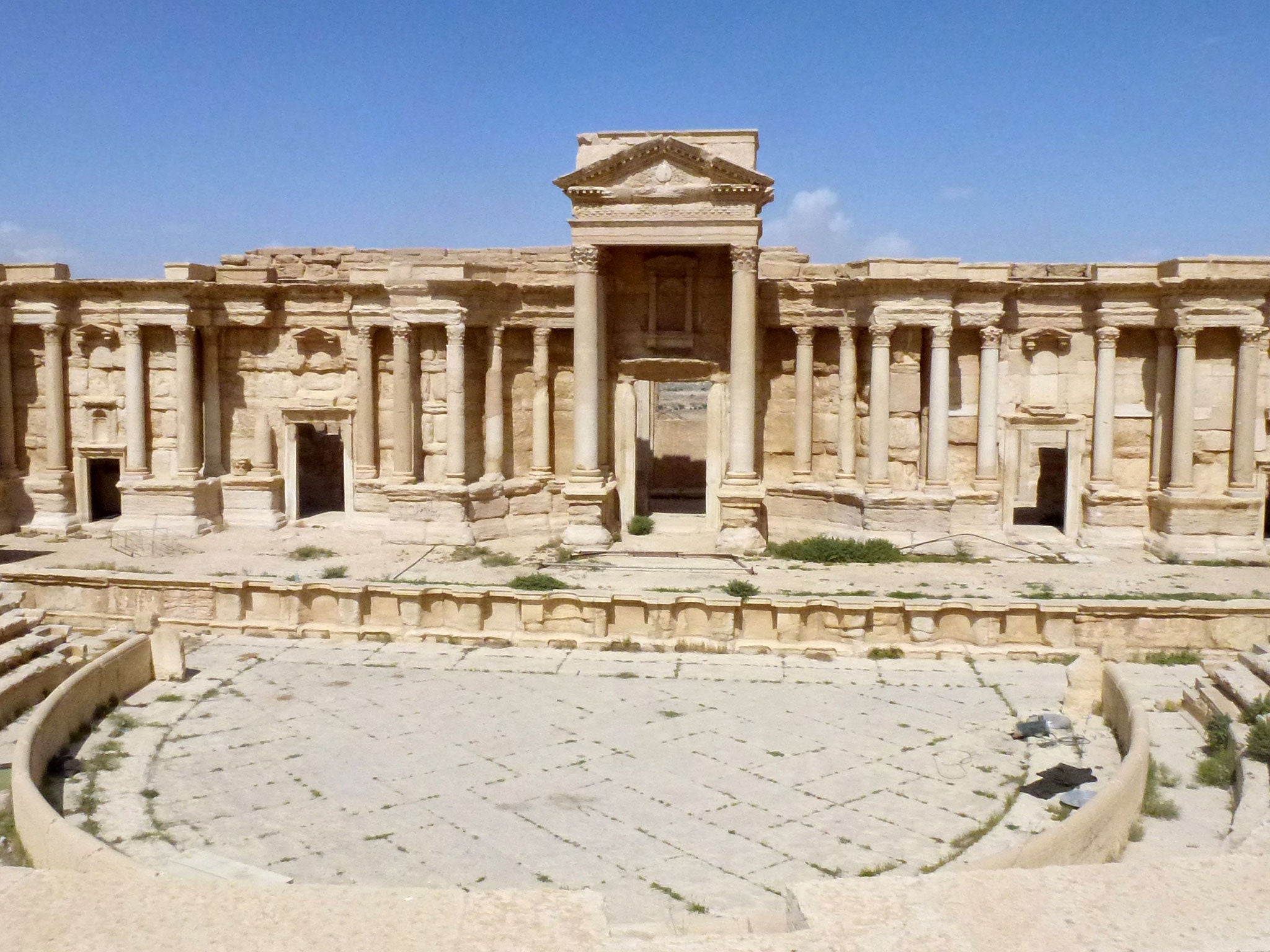 Isis has carried out a new wave of executions in the ancient ruins of Palmyra after re-taking the Syrian city.
Monitors said teachers were among 12 people murdered in front of crowds of men and children, either having their throats slit or being shot by jihadis.
The Palmyra Monitor group said captives were killed in three separate locations – Free Syrian Army and regime soldiers in two groups at the Roman theatre and in an abandoned Russian military base, and civilians outside Palmyra Museum.
"There are now fears that Isis may carry out more executions of civilians who were arrested after it took control of the city," the group said.
"There are about 75 Palmyrene civilians still under arrest by Isis and dozens of regime soldiers and militia men."
There were differing reports of the methods of execution, with Palmyra Monitor saying the soldiers had their throats slit, while the civilians were shot.
The UK-based Syrian Observatory of Human Rights said all the captives, including city employees and teachers, were beheaded on Wednesday.
Isis favoured Palmyra as a setting for its gory execution videos after first gaining control of the city in 2015, including footage showing the killing of 25 soldiers in its Roman theatre, formerly a famed tourist attraction.
Militants publicly beheaded the city's 81-year-old head of antiquities, Khaled al-Assad, after he helped remove artefacts from the museum and refused to reveal the location of hidden treasures from the Unesco World Heritage Site.
Isis, which views the Roman ruins as idolatrous, destroyed countless precious structures including the Temple of Baalshamin, during its first, 10-month period of control in Palmyra.
Palmyra recaptured by Syrian government forces
Show all 10
The group was driven out of the city by Syrian government forces and militias backed by Russian air strikes in March 2016, but returned last month after troops were pulled out for Bashar al-Assad's offensive on Aleppo.
Dr Jean-Marc Rickli, a research fellow at King's College London and the Geneva Centre for Security Policy, said regaining the city was a symbolic victory for Isis after months of territorial losses and the killing of major figureheads..
"Everybody knows Palmyra now," he told The Independent. "Isis has sent a signal that they're not dead."
Vladimir Putin's air force is supporting a continuing Syrian army offensive to drive Isis back out of Palmyra and territory gained across Homs Governorate.
Lt-Gen Sergei Rudskoi, a senior Russian defence ministry official, said intelligence indicated that Isis may be planning a new wave of destruction in Palmyra.
"We have received information, confirmed by several sources, that a large amount of explosives has been brought into the Palmyra area and that the terrorists plan on destroying the city's world-class historical legacy," he said.
The US-led coalition is also conducting regular air strikes on the region, most recently on 10 January, when an Isis tactical unit and vehicles were destroyed.
Join our commenting forum
Join thought-provoking conversations, follow other Independent readers and see their replies