Isis video shows child militant shooting dead 'Israeli spy' Muhammad Said Ismail Musallam
Musallam had travelled to Syria to fight alongside Isis but was captured and accused of being a spy when he tried to flee
Heather Saul
Wednesday 11 March 2015 08:07 Comments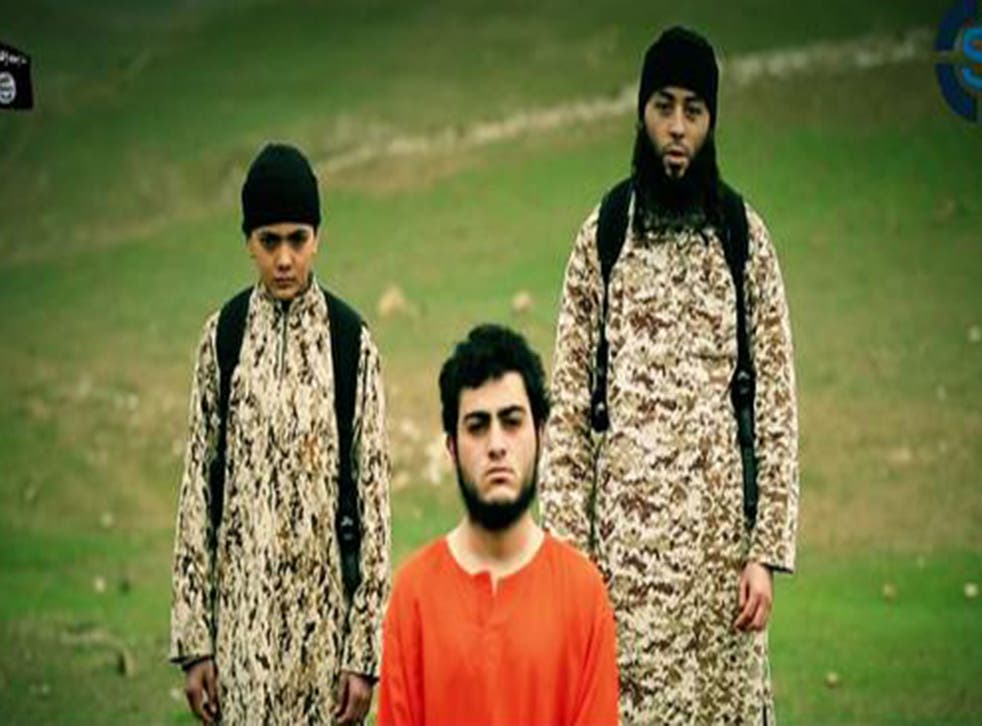 Isis has released a shocking video purporting to show a child shooting dead a 19-year-old Israeli Arab man the group claimed was a spy.
The 13-minute video shows a man identified as Muhammad Said Ismail Musallam dressed in an orange jumpsuit and confessing to being a spy for Mossad, Israel's intelligence agency, before he is shot by a boy who appears no older than about 12.
The highly-produced film showed Mr Musallam re-enacting his training and discussing how much he would be paid to spy on Isis.
A young boy is then seen leading him by the back of his neck through grass in slow motion, before the camera pans out to show the child and a militant, both dressed in camouflage, stood behind a kneeling Mr Musallam.
The French speaking militant praised attacks against Jews after condemning Mr Musallam as an "evil apostate spy".
The child, who is described by the militant as one of the "cubs of the caliphate", is led infront of Mr Musallam and appears to shoot him in the head.
The Israeli Foreign Ministry declined to comment. Israel's Shin Bet internal security agency said that it announced earlier this year that Mr Musallam had left for Turkey to fight with Isis (also known as Islamic State).
Isis last month published a purported interview with Mr Musallam in the militants' online magazine Dabiq.
In pictures: The rise of Isis

Show all 74
The video has not been independently verified but was released by the militant group's Furqan media arm and displayed the Isis flag in one corner.
Speaking after the video was published, Mr Musallam's father claimed his son was not a Mossad spy, saying he had travelled to Syria four months before.
Said Musalam said Isis lured his son with promises of women, money and cars, according to the Associated Press.
Mr Musallam eventually contacted the family online from the extremists' de facto capital of Raqqa and said he wanted to return home, his father said.
"I saw him with a long beard and long hair and a Kalashnikov," his father added. "He told me, 'Look dad, I am fed up here, it is a country of war, and I want to come back.'
"They did not want to let him leave because if he comes back, he might be caught by the Israelis and tell them what he had seen. So they wanted to get rid of him. I know my son. I raised him well. I am sure he's not working for the Mossad."
Dr Natasha Underhill, an expert on terrorism in the Middle East at Nottingham Trent University, said Isis is emphasising its aim of indoctrinating children by using such a young boy in its propaganda.
"Children are a very smart selection by Isis as they show an aim of longevity from the groups perspective - target the young, indoctrinate them quickly, make them extremely violent and the result is a ground force that is unstoppable in terms of their beliefs and loyalty to the group," she said.
Register for free to continue reading
Registration is a free and easy way to support our truly independent journalism
By registering, you will also enjoy limited access to Premium articles, exclusive newsletters, commenting, and virtual events with our leading journalists
Already have an account? sign in
Join our new commenting forum
Join thought-provoking conversations, follow other Independent readers and see their replies