Isis is prime suspect in Ankara bombing, says Turkish Prime Minister Ahmet Davutoglu
Protesters continue to accuse authorities of intelligence failings and complicity in the attacks by stirring up anti-Kurdish sentiment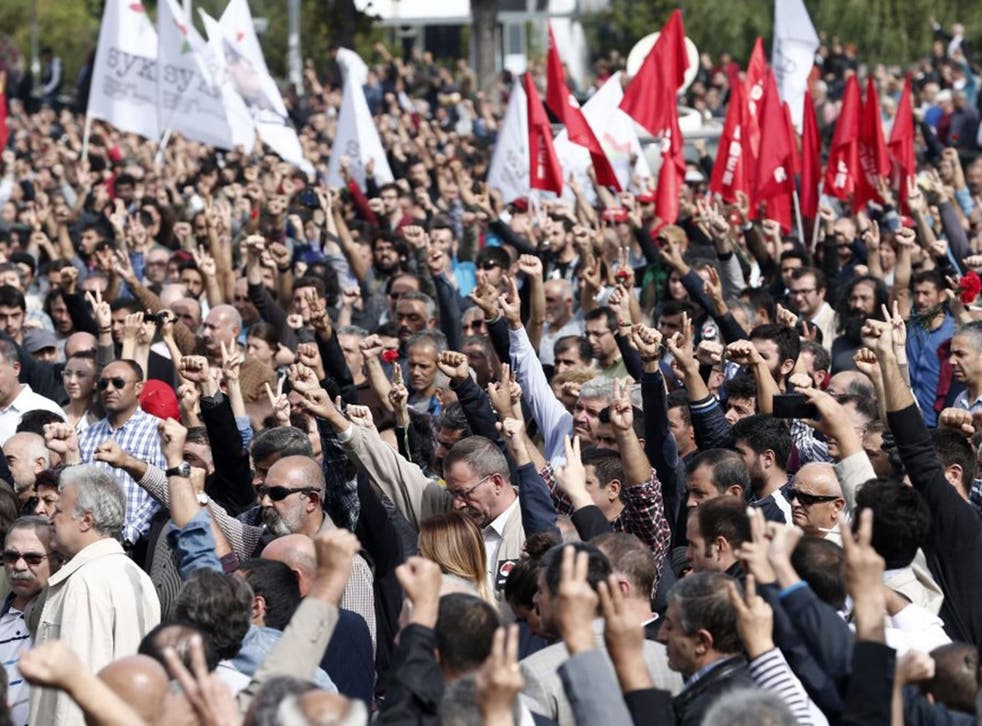 Isis as the prime suspect in the bombings that killed at least 97 people in Ankara, according to Turkey's prime minister.
Speaking in an interview with NTV television, Ahmet Davutoglu said investigators were close to identifying a "certain group" and said that extremist group Isis was the "number one priority" of the investigation.
"DNA tests are being conducted. It was determined how the suicide bombers got there," Davutoglu said. "We're close to a name, which points to one group."
But opponents of President Tayyip Erdogan's continue to blame the government for the attack, accusing the state of, at best, intelligence failings and at worst complicity by stirring up nationalist, anti-Kurdish sentiment.
The government, which is facing a growing domestic conflict with the Kurds, and the spillover of war in Syria, vehemently denies such accusations.
No one has yet claimed responsibility for the bombings, which occurred at Ankara's main train station but which struck as a rally organised by pro-Kurdish activists and civic groups was under way nearby.
Following the attack, the worst of its kind on Turkish soil, hundreds of people chanting anti-government slogans marched on a mosque in an Istanbul suburb for the funeral of several of the victims.
Riot police with water cannon and armoured vehicles stood by as the crowd, some chanting "Thief, Murderer Erdogan" and waving the flag of the opposition Peoples' Democratic Party (HDP), moved towards the mosque.
Attending the funeral was Selahattin Demirtas, leader of the pro-Kurdish HDP.
The party says it was the target of Saturday's attack and has accused Ankara of escalating violence in a bid to weaken it ahead of snap elections due in November.
President Erdogan called the elections in the hope they will restore the AK party, which he founded, to an overall parliamentary majority.
Several labour unions also called protests. Hundreds of people, many wearing doctors' uniforms and carrying Turkish Medical Association banners, gathered by the main train station in Ankara, where the explosions happened, to lay red carnations but were blocked by riot police, a Reuters witness said.
The HDP has put the death toll from the bombings at 128 and said it had identified all but eight of the bodies. The prime minister's office has said 97 people were killed.
(Additional reporting by agencies)
Join our new commenting forum
Join thought-provoking conversations, follow other Independent readers and see their replies