British volunteers preparing for 'bloodbath' fighting Isis in Raqqa as offensive on Syrian stronghold looms
Exclusive: 'Dying for socialism is an honour,' say volunteers facing terrorists' car bombs, mines and snipers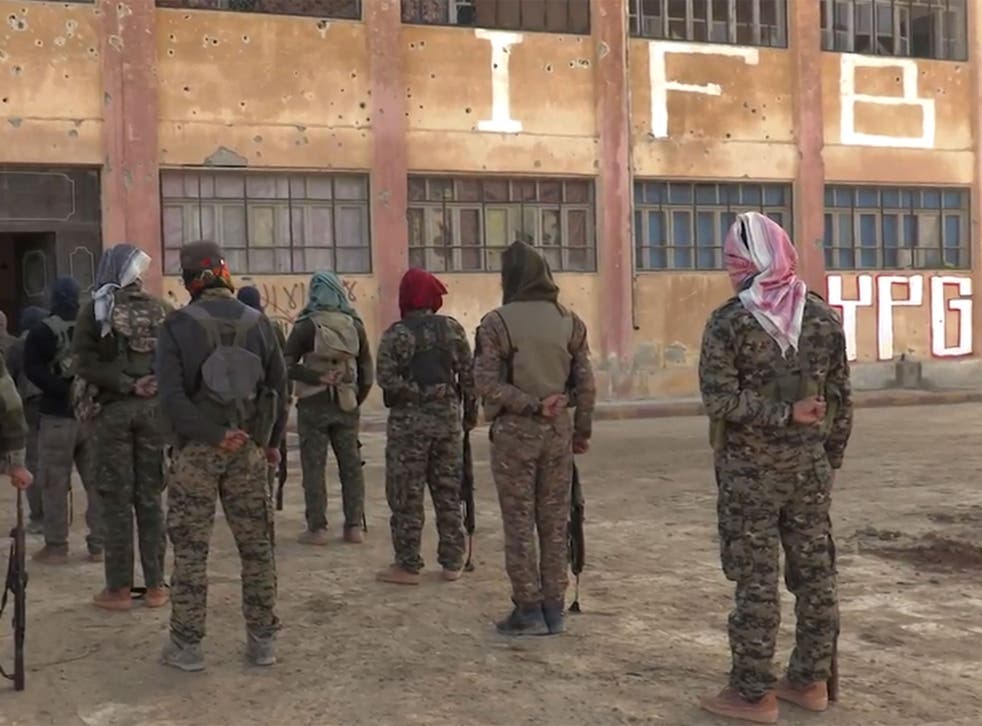 British volunteers fighting alongside Kurdish forces in Syria are preparing for a "bloodbath" in the looming assault on Isis' de-facto capital of Raqqa.
The US-backed Syrian Democratic Forces (SDF) coalition has been battling to isolate the city for months, seizing swathes of territory from militants while surrounding their stronghold from three sides.
With the capture of the strategic Tabqa air base along the Euphrates River, the long-awaited offensive on Raqqa city appears imminent but fighters watching the gruelling battle in Mosul know that recapturing the Syrian capital of the so-called Islamic State will come at a high cost.
​Kimmie Taylor, the only British woman fighting alongside anti-Isis forces in Syria, expects a "bloodbath" of Isis mines, suicide bombs, booby traps, drones and mortars.
"I know a lot of friends will die, especially in the city - it's going to be a bloodbath," the 27-year-old said.
"This is inevitable, these things going to happen so we have to deal with them."
Speaking to The Independent from a base held by the Kurdish Women's Protection Units (YPJ) outside Raqqa, she was certain of Isis' eventual defeat.
Armed with a Kalashnikov and two grenades, Ms Taylor will be fighting alongside the Kurdish People's Protection Units (YPG) and their SDF comrades, with the backing of US-led coalition firepower and special forces.
Also known by her Kurdish name Zilan Dilber, she joined the officer training corps while at university but turned down a place at Sandhurst because she "didn't agree with the British politics of war".
Having grown up near Blackburn and moved to Merseyside as a teenager, she studied maths at Liverpool University and then business and politics in Stockholm, before starting to volunteer in countries hit by the refugee crisis and writing for a Swedish socialist newspaper.
Ms Taylor decided to join the YPG after visiting the de-facto Kurdish region of Rojava to report on female anti-Isis fighters, and has not returned home since.
Like other British volunteers, she is fighting not just to defeat Isis but for a feminist and socialist "revolution" they see as the future for a peaceful and democratic Syria.
Nearby, British and Irish members of the Bob Crow Brigade (BCB) are also preparing for the assault on Raqqa as part of the YPG's International Freedom Battalion.
The socialist volunteers, who named themselves in honour the late trade union leader Bob Crow, have drifted apart since their formation last year, with some returning home, some working in the "civilian wing of the revolution" and others remaining on the frontline.
The spokesman told The Independent no comrades had yet been killed or injured but listed fellow IFB members who had fallen in battles with Isis or in mine blasts and suicide attacks.
Asked whether he was concerned for his safety, he replied: "Never…dying in a car crash is a tragedy, dying for socialism is an honour."
Three British volunteers - a former Royal Marine, a chef and a dairy farmer - have already been killed fighting alongside the YPG in Syria, while other fighters have been prosecuted upon their return to the UK.
Ms Taylor had a close brush with Isis when her base came under attack earlier this month, with one comrade shot in the arm as a suicide bomber infiltrated the camp six miles behind the frontline.
She said that although most Isis fighters had been "running away" from the SDF advance towards Raqqa and Deir Ezzor, the group had been sending militants wearing suicide vests to ambush bases, while littering former strongholds with mines and explosives.
The group is conducting more suicide bombings than ever before as it attempts to defend its territories, including devastating car bombs packed with explosives and driven into enemy lines.
Ms Taylor said she had seen the devices "take out a whole street", with steel shields ranged around windows and on wheels aiming to prevent them being stopped by gunfire.
"Isis make mines themselves, they make explosives themselves…they make it out of anything," she added, recounting seeing mines and IED workshops.
In pictures: Isis' weapons factories

Show all 11
"They put explosives in doors, in windows, in anything. We've even had shops where they attach a wire to a Coca Cola can, for example, and if someone is stupid enough to take, it explodes."
Despite the dangers, Ms Taylor said the SDF will "inevitably" take Raqqa, even if hundreds of fighters die in the process.
But she sounded a warning over the group's equipment, saying they had no tanks and that Guardian police armoured vehicles would be destroyed in the event of a mine blast.
"We have no new weapons at all," Ms Taylor added, listing Soviet-era Kalashnikovs and "Dushka" heavy machine guns as weapons of choice.
Ms Taylor has seen some of hundreds of US Marines deployed to support the SDF ahead of the Raqqa offensive but said they were only advising and conducting limited artillery strikes.
Turkey has called on the US to stop supporting Kurdish elements of the alliance, which Ankara has labelled as terrorists while backing opposition rebels to push them back from the Turkish border.
American forces have made no move to change the strategy drawn up under Barack Obama's administration, but Ms Taylor and the BCB now see Turkey as a main enemy, amid a growing rift with the Kurdish Regional Government in Iraq.
The BCB denounced Recep Tayyip Erdogan's intervention as an "opportunistic attempt to expand Turkish territory…as part of an all-out war on Kurds" and accused it of driving new conflict in northern Syria.
Turkey in 'largest-ever offensive' against Kurdish fighters
As for Mr Trump, it is "hard to work out what his policy is on anything", said the group's spokesman, labelling the President a "bigoted, ignorant clown who was born into power by way of money".
Mr Trump has not yet announced details of his plan to defeat Isis, but the British volunteers see a long fight ahead to defeat not just the group's fighters but their ideology.
Ms Taylor argued that capitalism "has no alternative" to the Islamist vision it prevents, claiming that the Kurdish "revolution" was inspiring Syrian people in a model that could spread across the Middle East.
The YPG has been setting up federalist systems of government throughout its territories in northern Syria and hopes to strike a deal to secure their existence with Bashar al-Assad's regime, which has long turned a blind eye to Kurdish governance de-facto anonymous region of Rojava.
The prospect is keeping British fighters in Syria, with the BCB hoping to inspire a "new generation of revolutionaries.
"Furthermore, we are here for the revolution, not simply 'the war', so no clear end will ever be in sight," their spokesman said.
Ms Taylor hopes to return to Europe after the Raqqa offensive but fears visiting Britain after her parents had their home searched and laptops and phones confiscated by police.
"I think it's ridiculous…it's about control," she added. "No way am I going home if I'm going to go to prison for 10 or 20 years."
A spokesperson for the Home Office said anyone travelling to warzones abroad "may be committing criminal or terrorism offences and could face prosecution when they return to the UK".
Register for free to continue reading
Registration is a free and easy way to support our truly independent journalism
By registering, you will also enjoy limited access to Premium articles, exclusive newsletters, commenting, and virtual events with our leading journalists
Already have an account? sign in
Register for free to continue reading
Registration is a free and easy way to support our truly independent journalism
By registering, you will also enjoy limited access to Premium articles, exclusive newsletters, commenting, and virtual events with our leading journalists
Already have an account? sign in
Join our new commenting forum
Join thought-provoking conversations, follow other Independent readers and see their replies