Isis releases first Hebrew video threatening to kill all Jews in Israel 'for crimes against Palestinian people'
Dozens of Israeli Arabs are believed to have travelled to Isis-held territories, but it is the first time a video from the group appears to be directly addressing an Israeli audience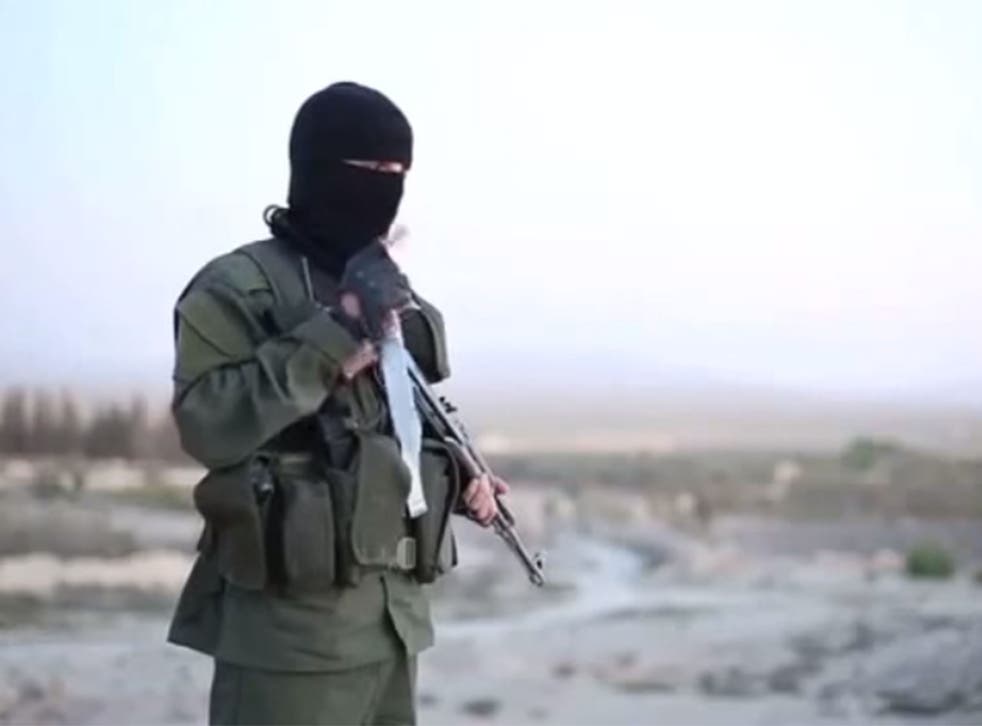 Isis has released what is thought to be its first propaganda video showing a militant speaking fluent Hebrew in a direct threat to the people of Israel.
In the video, a masked militant with an Arabic accent could be seen claiming Isis would attack Israel "for the crimes you have committed against the Palestinian people".
Describing Jews as "the first enemy of the Muslims", the militant said Isis was "getting closer to [Israel] from all directions, from Sinai and from Damascus and more".
While Isis has released a number of videos calling on Palestinians to take action against Israel, it was believed to be the first time the militant group had addressed the Jewish population directly.
The 16-minute video was released by the militant group's Syrian media arm, and included footage of the recent violence in the West Bank.
The footage of the militant, wearing military fatigues and holding a rifle, was interspersed with graphics depicting Israel as surrounded by Isis-held territory.
In pictures: The rise of Isis

Show all 74
According to the Jerusalem Post, Israeli security officials fear dozens of Israeli Arabs have travelled through Turkey or Jordan to Isis-held Syria.
In its translation of the latest video, the militant was reported as making a serious of threats against Jews "worldwide".
"We will enter al-Aksa mosque as conquerors, using our cars as bombs to strike the Jewish ramparts," the militant was reported as saying.
"Do what you will in the meantime until we reach you," the jihadi continues. "Then we will charge you ten-fold for the crimes you have committed against the Palestinian people.
"We assure you that soon there will not be a single Jew left in Jerusalem and throughout the country. "We will move to eradicate the disease [of the Jewish people] worldwide."
Isis has previously tried to position themselves as the champions of Palestinian people against Israel – but they have been involved in a bitter clash of rhetoric with the Hamas leadership.
Objecting to Hamas's goal of an independent Palestine – instead of its so-called "Islamic State" – Isis released a video in the summer describing Hamas as "tyrants" to be overthrown.
Join our new commenting forum
Join thought-provoking conversations, follow other Independent readers and see their replies