Isis removes televisions from civilians' homes in Raqqa as crackdown on 'corrupt' foreign news continues
The group previously called satellite dishes the 'machinations of Satan'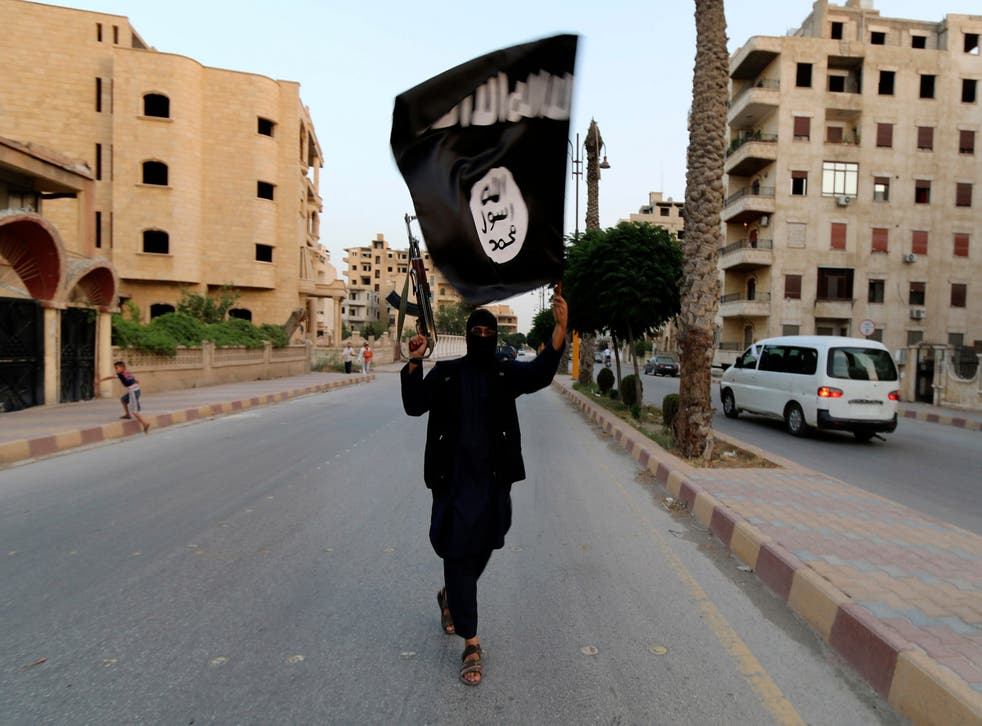 Isis militants have reportedly started forcibly removing televisions from civilian homes in Raqqa as the group continues a crackdown on "corrupt" foreign news.
Raqqa is Being Slaughtered Silently (RBSS), a group working to expose the group's atrocities in the terrorist group's Syrian stronghold, reported jihadists starting operations on Tuesday.
It said a "large number" of satellite dishes had been removed from rooftops and televisions had been taken from inside homes in the city's Bedouin quarter.
Militants appeared to be enforcing a ban announced last month, when official Isis notices pinned up in Raqqa declared satellite dishes the "machinations of Satan".
Buying, selling, exchanging or repairing the receivers was specifically forbidden in the document, which claimed to apply to all areas of its so-called Islamic State, presumably in its territories across Syria and Iraq.
It vowed to stop civilians watching "corrupt" television programmes and news that are broadcasting "messages of war against God", according to a translation by journalist Hala Jaber.
Isis reportedly called satellite broadcasts "the gravest source of immorality", saying they "promote lustful desires and forbidden deeds", while vowing to stop all "sources of corruption".
The terror group's propaganda arm has made numerous statements about the "false information" spread by media outlets including Al Jazeera and Al Arabiya, as well as many Western broadcasters like the BBC.
Refugees fleeing its Iraqi stronghold of Mosul have reported similar crackdowns, with one woman who managed to reach Europe with her husband and two young children saying militants did not allow them to watch television and controlled "every aspect of your life".
ISIS killer dubbed new 'Jihadi John'
Isis has previously enacted sporadic bans on private internet access as part of efforts to control the flow of information in and out of its territories.
RBSS informants have been murdered and two of the alleged spies executed in a propaganda video featuring a British militant dubbed the "new Jihadi John" were accused of opening internet cafes to leak information.
The drone strike that killed Mohammed Emwazi as he travelled through the city in November was taken as an indication that Western intelligence on Isis' fighters' movements has improved.
As well as attempting to stop the flow of information from Raqqa, Isis has also surrounded it with road blocks and searches anyone arriving and leaving, killing or arresting those attempting to flee.
Recent months have seen a series of reported military losses, with an attempted push in Iraq defeated by the Peshmerga and international air strikes, and continued territorial losses at the hands of the Kurdish YPG and allies in northern Syria.
Timeline: The emergence of Isis

Show all 40
Isis kidnapped an estimated 400 civilians as part of its assault on regime-held parts of Deir Ezzor over the weekend but is reported to have released 270 people.
The UK-based Syrian Observatory for Human Rights said arrests, raids and battles continued on Tuesday and male prisoners between 15 and 55 have been kept for questioning.
Rami Abdulrahman, the Observatory's head, said anyone seemed to be supporting President Bashar al-Assad would be "punished" and others would be forced to undertake a "course" in Isis ideology.
The strategic city is in a province linking Raqqa with Palmyra, its territories in Iraq and valuable oil fields.
Additional reporting by Reuters
Register for free to continue reading
Registration is a free and easy way to support our truly independent journalism
By registering, you will also enjoy limited access to Premium articles, exclusive newsletters, commenting, and virtual events with our leading journalists
Already have an account? sign in
Register for free to continue reading
Registration is a free and easy way to support our truly independent journalism
By registering, you will also enjoy limited access to Premium articles, exclusive newsletters, commenting, and virtual events with our leading journalists
Already have an account? sign in
Join our new commenting forum
Join thought-provoking conversations, follow other Independent readers and see their replies