Isis among terrorist groups using slaves to recruit rapists and domestic abusers
MPs call on authorities to explore links between sexual violence, domestic abuse, modern slavery, trafficking and terrorism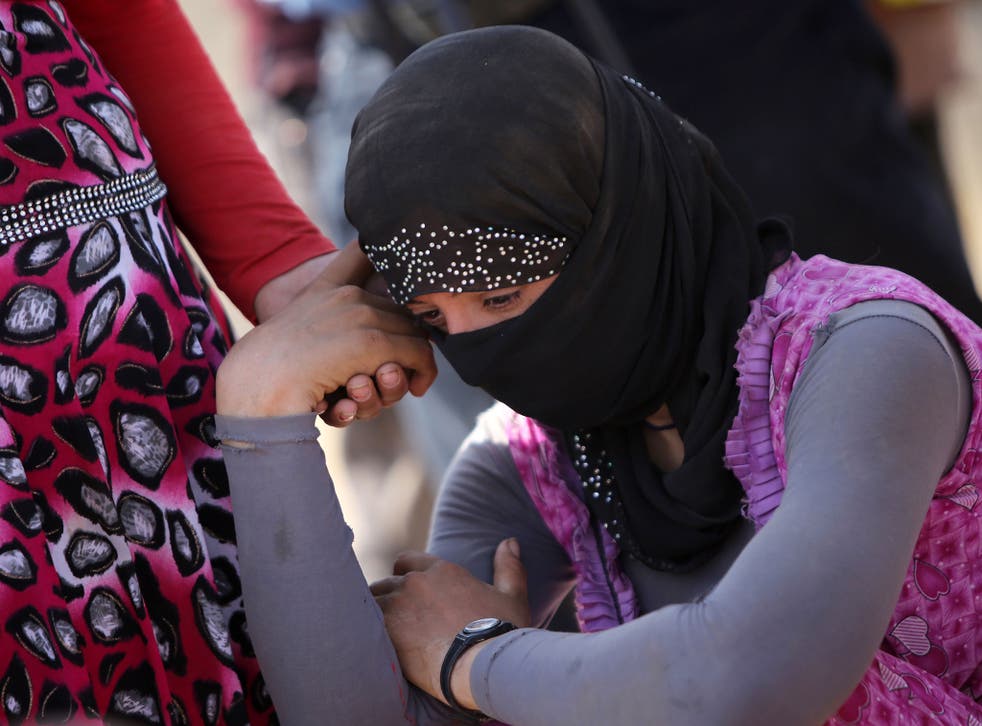 Terrorists are using slaves to generate funding and attract recruits including domestic abusers and rapists, research has found.
A report published by think-tank the Henry Jackson Society (HJS) warned that modern slavery and sexual violence was fuelling Isis and other groups operating across Africa and the Middle East.
Nikita Malik, the report's author and a senior research fellow, said the sectors are routinely treated separately by different global agencies but are increasingly interlinked.
"Terrorists are traffickers and traffickers are criminals, so it's only natural that these groups will work together," she added.
"Terrorists have an additional ideological motivation, releasing propaganda to justify the enslavement and rape of kuffar [disbelievers].
"As the groups begin to lose territory, they are gaining strongholds on trafficking routes that are being exploited."
The findings come during a campaign by The Independent and Evening Standard against modern slavery, with an estimated 10,000 to 13,000 victims in the UK alone.
Family members jailed for 'truly shocking' modern day slavery crimes
Research shows that terrorists use organise crime tactics like money laundering, migrant smuggling and drug and firearms trafficking, sometimes deliberately recruiting former gang members with relevant expertise.
The main hotspots include Libya, where Isis is among countless armed groups kidnapping, ransoming and forcing migrants into labour, with many later fleeing over the Mediterranean to Europe.
Niger and Nigeria are also key trafficking hubs, while in the Middle East Isis' territories in Syria and Iraq are major hotspots.
The terrorist group's genocide against the Yazidis of Sinjar saw thousands of women and girls abducted as sex slaves to be passed around and sold among fighters.
Isis openly advertised the atrocity as part of its attempts to subjugate the minority, seeing the group issue fatwas and propaganda statements seeking to legitimise their enslavement.
The HJS report said that as well as dehumanising and punishing the Yazidis for not ascribing to Isis' ideology, the genocide "served as an incentive for new recruits and foreign fighters, with the promise of wives and sex slaves acting as a 'pull factor'".
"Religious elements are infused into sexual violence practices to skirt around the moral wrongdoing of rape," it added.
"Forced inseminations, forced pregnancies, and forced conversions are a means to secure 'the next generation of jihadists'."
Iraq crisis: Yazidi nightmare on Mount Sinjar

Show all 15
Both Isis and its Nigerian affiliate Boko Haram – which largely targets Christians - have used rape and forced marriage as part of attempts to increase the population of children in their territories, who they aim to indoctrinate with jihadi ideology to continue their bloody crusades.
Ms Malik warned that national law in Syria, Iraq, Libya and Nigeria allows rapists to marry their victims to avoid prosecution, leaving few avenues for justice in a climate of "shame and stigmatisation".
She added that as well as attracting recruits and serving an ideological purpose, sexual trafficking is a lucrative source of income for terrorist groups.
Kidnapping generated estimated revenues of between $10m (£7.6m) and $30m (£22.8m) of revenue to Isis in 2016 and experts fear that hostage taking and slavery could increase as profits from oil sales, stolen antiquities and taxes on civilians inside its shrinking territories plummet.
A letter from the UN Secretary-General to the Security Council warned that Isis and its affiliates were "using sexual violence as a tactic of terrorism to advance their strategic and ideological objectives" last year.
"Victims of sexual violence should be considered victims of terrorism, and those responsible must be held to account and prosecuted," said Ban Ki-moon.
Domestic abusers and men with convictions for violent crime make up a disproportionate number of known terrorists, including the Westminster attacker Khalid Masood, London Bridge attacker Rachid Redouane, Orlando gunman Omar Mateen and Nice attacker, Mohammed Lahouiaej-Bouhel.
The report called for more data to be gathered on the phenomenon in order establish whether there is a "link between the profiles of those who commit terrorist related violence and a prior history of domestic violence".
Libya, which sits at the nexus of trafficking routes from sub-Saharan Africa, could be examined by the International Criminal Court but the body has no jurisdiction over Isis territories where crimes are taking place in Iraq and Syria.
Migrants have told The Independent of their horrific experiences being detained, ransomed and forced into labour in the country, which remains at war six years after the UK led a military intervention against Muammar Gaddafi.
Research by the UN's International Organisation of Migration showed that 91 per cent of those reaching Italy on migrant boats had experienced human trafficking in Libya, including some approached with offers of arranged marriage or organ sales.
No evidence of Isis systematically using the refugee crisis has been found but one smuggler confessed that he received a call from a militant offering money in exchange for shipping 25 people in a boat to Europe last year.
The terrorist group is known to have captured and sexually abused at least 63 women in Libya so far, while many more have been sexually abused by smugglers or forced into prostitution.
The research concluded that the link between sexual violence, trafficking and terrorism is underexplored, calling for the British Government to create an international legal taskforce to work with NGOs, charities, and embassies on the ground to better track the overlap.
It recommended that laws including the Modern Slavery Act 2015 and the Terrorism Act of 2006 should be interpreted more broadly to encompass the full spectrum of crimes committed by those using sexual violence as a tactic of terrorism.
Conservative MP Henry Smith, who sits on the International Development Committee, said the "interconnectivity between human trafficking, sexual violence and terrorism" must be examined.
"It is clear that sexual violence is prevalent in human trafficking and in terrorism – and abhorrently human trafficking is becoming more closely related to terrorism," he added.
Ian Austin, a Labour MP and member of the Foreign Affairs Select Committee, said the report was a reminder that "victims of sexual violence should be considered victims of terrorism, and those responsible must be held to account and prosecuted".
Register for free to continue reading
Registration is a free and easy way to support our truly independent journalism
By registering, you will also enjoy limited access to Premium articles, exclusive newsletters, commenting, and virtual events with our leading journalists
Already have an account? sign in
Register for free to continue reading
Registration is a free and easy way to support our truly independent journalism
By registering, you will also enjoy limited access to Premium articles, exclusive newsletters, commenting, and virtual events with our leading journalists
Already have an account? sign in
Join our new commenting forum
Join thought-provoking conversations, follow other Independent readers and see their replies