Isis shows off currency with gold dinar coins worth £91 each - in quest for 'world domination'
Militants claim move will 'purify the earth of the corruption that tainted it'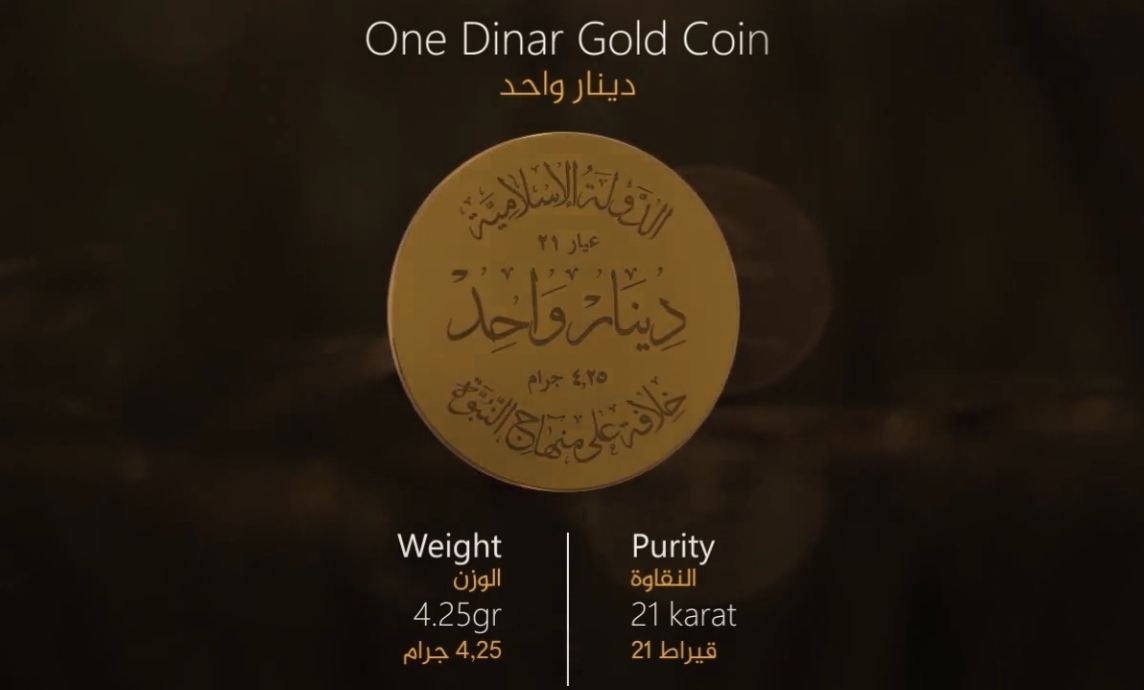 Isis has shown off its new currency - as part of the group's plan for "world domination".
The militants currently brutalising parts of Iraq and Syria claim to have produced the gold dinar, with smaller denominations of silver dirhams and copper fulus, in a newly released propaganda video.
Entitled "The Rise of the Khilafah and the Return of the Gold Dinar", the hour-long video claims that only gold is the true measure of wealth and America's reliance on bonds and oil are its "Achilles heel".
Also containing exhortations on world economics, the video explains how its currency will break "America's capitalist financial system of enslavery", which is a "symbol of injustice and tyranny".
The hour-long promotional footage includes staged interactions showing soldiers and shop owners admiring the currency. It claims that because the gold dinar will be 21-carat, one coin will be equivalent to $139 (£91) and will destroy America's economy.
As part of their plans for global domination, the video also claims the currency will spread with Isis across the whole of Europe, "to purify the earth of the corruption that tainted it, after it was set in order".
Yet despite the group having made such claims since November last year, it still pays its footmen in US dollars, receives funding from selling oil fields it controls in dollars, and accepts extorted taxation and hostage money in dollars.
Even local trade in the villages and towns the group controls is mostly carried out in the local currency.
And if Isis were able to produce the money en masse, it would only be able to use it in the territories it controls - currently being contested by US-led attacks, Kurdish fighters, other Muslim groups and Syria and Iraq's governments.
At present the group controls areas in Syria and Iraq which have oil fields in them, often selling these and making millions of dollars a year as a result.
These sales - along with 'taxes' it forces people in towns under its control to pay and ransom money - has lent the group financial autonomy, unlike its predecessor al-Qaeda which relied on external donations, according to a 2014 report by CNN.
The video also features images of the Federal Reserve, George W Bush, the September 11 attack on the World Trade Centre, Osama bin Laden, Abu Bakr al-Baghdadi, and Isis militants riding through the desert carrying the group's trademark black flags.
Join our commenting forum
Join thought-provoking conversations, follow other Independent readers and see their replies