Islamic State in Syria: 60,000 Kurds flee terror in new exodus
Isabel Hunter in Suruc, Turkey, sees refugees reach sanctuary on the Turkish border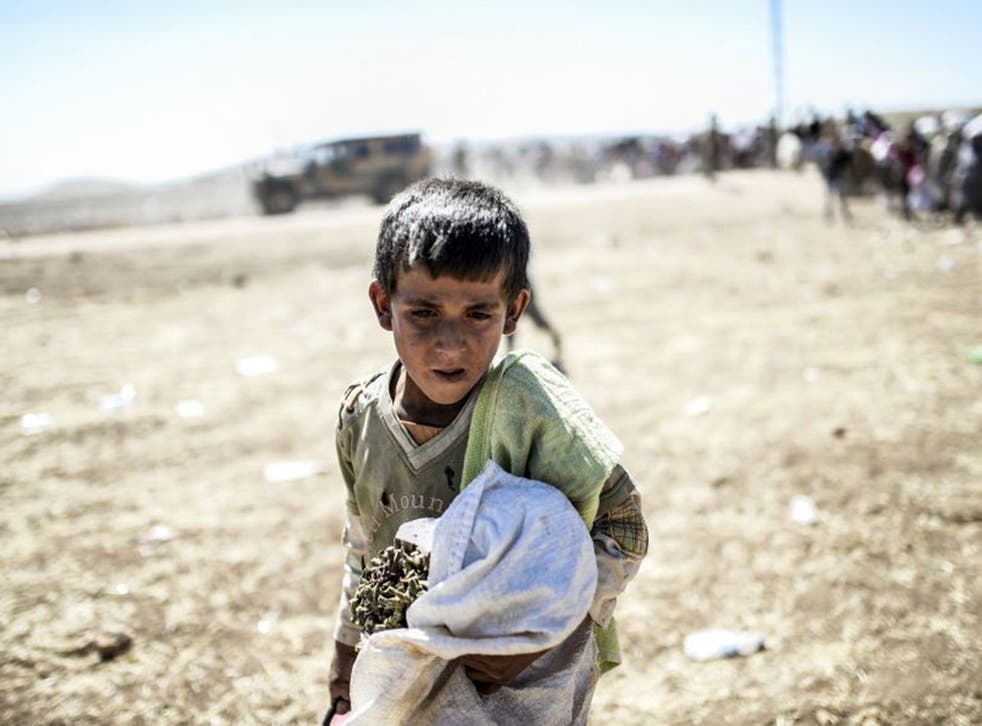 Sheltering from the sun in the shade of a parked car, Mohammad Ali sits with his family, bewildered and exhausted after their three-day ordeal, a sack of potatoes at his feet.
All 13 members of his family fled their village of Beer Arab in Northern Syria when Islamic State tanks began their attack. "They bombed our village and they set our fields on fire. We left everything – including our sheep and goats – and ran," says the 55-year-old farmer.
He points in the direction of Kharabnass, a village perched on a small hill about a mile and a half away, in Syria. All day, loud explosions, followed by puffs of dust and rapid gunfire, have been seen and heard on the Turkish border. "We hitched in cars to the village just over there, and stayed there for two days, and then they started to bomb us there," he says. We are speaking in a village near a military base on the border, near Suruc. "We don't have anything … maybe we'll sleep here tonight."
Thousands of Syrian Kurds have fled to Turkey since Islamic State (IS) fighters intensified their attack on the northern Kurdish stronghold of Kobani, known as Ayn Al-Arab in Arabic, and its surrounding villages. In an exodus reminiscent of the attack on Sinjar in Iraq last month, 60,000 Syrian Kurds have fled to Turkey as IS shelled towns and villages. It is thought that a similar number have taken refuge in Kobani itself.
Thousands thronged at the coils of barbed-wire fence guarded by Turkish soldiers as they waited for permission from Ankara to let the refugees in. It arrived at about 11am on Friday. Men, women and children streamed across the border, lugging white sacks and suitcases full of clothes and blankets.
Waiting to be taken to camps, families clumped together, unable to escape hearing the assault on their homes, just over a mile away. Relatives carried the sick, the frail and the elderly on their backs as reports emerged that more than 30 civilians had been slaughtered while trying to escape.
An estimated 21 villages have so far been overtaken by IS and 200 have emptied as terrified Kurds fled, fearing a repeat of the horrific massacres in Iraq. "As soon as we saw what happened in Sinjar, we knew that we would be next," Mr Ali says. He has witnessed three years of conflict, first because of the Assad regime and now IS.
"No one could have protected us from them," he adds.
Using heavy artillery, captured either from Mosul or, more likely, according to witnesses, from Assad's army bases in Syria, IS fighters have shelled villages to soften them up before mounting a ground assault.
Khaled, 38, and his 75-year-old father have been travelling for 10 days. Their clothes are torn and their hair dusty. They escaped the IS shelling of their village of Korik, known as Abu Haya in Arabic, near Tel Abyad. "We've been sleeping in our car or on the ground. They [IS] beheaded two people from our village. For what? They don't need a reason – they were killing anyone they saw, but most people had left or were hiding," says Khaled.
With his eyes trained on his village from the Turkish side of the border, Sabri Mohammad, 60, is worried about his five sons who have stayed behind to fight IS. "There! That's Daesh [IS fighters]," he says as he points to a convoy of trucks entering the village. "I could see their black flag flying over the police station already … Everybody has left. I was the last one to come though."
He says that four other older men from his village were beheaded before they could escape. He named them as Mohammed Oso Nabo, 55, Sino Nabo, 70, Mohammed Ali Muslim, 65, and Muslim Qadr, 75.
When Ankara initially refused to let them in, hundreds of Turkish Kurds had gathered at the border on Friday to protest. They were met with military and riot police, clad with body armour and shields and armed with tear gas. Clashes broke out as youths affiliated with the Kurdistan Workers Party (PKK) threw rocks.
"We want them to open the border," said 28-year-old Ahmet, a student from Urfa. "The Syrians want to be able to bring their animals and cars through and there are more people coming."
A woman was later rushed to hospital when she stepped on a landmine as she crossed into Turkey.
The battle-hardened veterans of the PKK and its Syrian franchise, the People's Protection Units (YPG), have proved the most effective fighters against IS. The PKK, however, is still described as a "terrorist organisation" by the US and Europe, at the behest of Turkey, which fought against the PKK from 1984 to 2013.
Mohammad Ali had just crossed the border when the Turkish Jandarma began to fire tear gas into the crowd. "Even the Turks bomb us with gas," he says. "I have a heart problem – four of my arteries are clogged and I need an operation as soon as possible."
Anger at the Turkish government is palpable. Syrian and Turkish Kurds are convinced that Ankara is helping IS. Internationally, others believe Turkey's reluctance to oppose IS more actively stems from fears for 49 Turkish hostages, including diplomats, captured after IS overran Turkey's consulate in Mosul, Iraq, in June.
If Kobani falls, it would represent a huge strategic victory for IS – ensuring its control of border crossings with Turkey from Jarabulus all the way to Tel Abyad, 60 miles east.
Abdullah Ocalan, the jailed PKK leader, has called for fighters to go to Kobani to help the YPG repel IS attacks. A similar announcement was made in July when 1,000 PKK fighters went to Syria to fight alongside the Kurds.
"People started to leave yesterday and, this morning, the YPG were leaving, too – they told us they didn't want another Sinjar," says Mahmud, 28, from under an olive tree a few metres from the border. He is waiting for his Turkish Kurdish family to collect him.
"The Kurdish militias have started to fight together with the Free Syrian Army against IS. They have simple weapons, though, and IS have tanks to shell us with," he says.
The IS campaign against the city and province of Kobani has lasted for months, but attacks have stepped up over the past few days. Syrian Kurdish reports say that IS has nearly 40 tanks and 30 armoured personnel carriers and are approximately 12 miles from Kobani city.
Lending support to the refugees as they passed into Turkey was Ibrahim Binici, an MP for the Peoples' Democratic Party (HDP). He called for the international community to support the YPG and the PKK in their fight against IS. "There's no fighting army protecting the people without the PKK. I am asking them personally to protect the people," he said.
w Turkey announced yesterday the success of a rescue "operation" in which its 49 Turkish hostages were returned unharmed. Prime Minister Ahmet Davutoglu said the operation had been conducted by Turkish intelligence after months of negotiations, and that no ransom had been paid.
In a written statement, President Recep Tayyip Erdogan said: "Our National Intelligence Agency has followed the issue with patience and dedication, and finally performed a successful rescue operation."
According to a security source who spoke to the Turkish newspaper Hurriyet Daily News, it was an IS condition that the hostages were returned to Turkey at the border with Syria. "Because of their own security concerns, due to their heavy clashes with Kurdish forces, they did not want to make the handover through the Kurdish region," the source said.
Join our new commenting forum
Join thought-provoking conversations, follow other Independent readers and see their replies