Isis 'decimated' in Iraq and Syria and could have only 15,000 fighters left, US commander says
Quality of jihadi fighters decreasing, according to leading US commander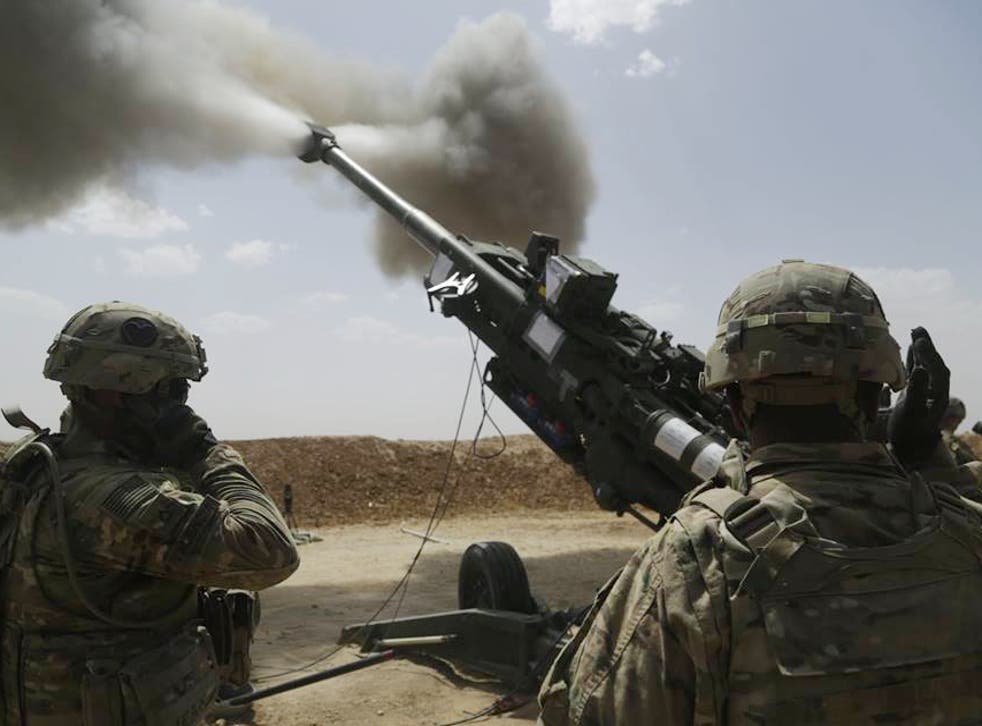 The number of Isis combatants in Iraq and Syria has been decimated by military campaigns, leaving as few as 15,000 to fight, according to a senior US commander.
Lieutenant General Sean MacFarland said the total was difficult to accurately measure, but the estimated number of Isis fighters in the war-stricken countries was between 15,000 and 20,000.
Mr MacFarland claimed 45,000 enemy fighters are no longer on the front line after US backed operations.
The new figure of Isis fighters had shrunk from earlier approximations of between 19,000 and 25,000.
The US commander said the quality of the fighters in combat was decreasing.
Forces with US support in Iraq and Syria were advancing, Mr MacFarland claimed. He said: "The enemy is in retreat on all fronts," AP reported.
"All I know is when we go someplace, it's easier to go there now than it was a year ago. And the enemy doesn't put up as much of a fight," he said.
US -backed opposition forces in Manbij, Syria have claimed to be in control of 90 per cent of the city.
Many of the homes and buildings in the city have been destroyed, Al Jazeera reported.
Aid shortage leaves Iraq's displaced suffering
"Daesh is finished. The town will be liberated in the coming hours," Ibrahim al-Hussein, a SDF fighter told the AFP news agency this week.
Manbij has been a key territory that US-led forces have battled to reclaim. In the last two months, 400 people in the city have been killed. According to the Syrian Observatory for Human Rights, 98 of those killed were children.
Mr MacFarland said Iraqi forces were prepared to take the northern city of Mosul from Isis, a stronghold of the group since 2014, but added the US still had work to do on the Qayyarah air base in the north of the country before the offensive could take place.
The Red Cross (ICRC) has warned up to a million Iraqis face homelessness as fighting in Mosul escalates ahead of the operation to recapture the city.
Syrian children hold Pokemon Go pictures in the hope people will find them and save them

Show all 13
Those displaced by the offensive and its associated violence will fuel the existing humanitarian crisis in Iraq–where three million are already displaced and a further ten million are in need of assistance.
"The situation is unpredictable but we must prepare for the worst," Robert Mardini, ICRC director for the Near and Middle East, said in a statement.
"There's the likelihood that fighting will intensify, particularly in the Mosul area. Hundreds of thousands of people may very well be on the move in the coming weeks and months, seeking shelter and assistance. We need to be ready," he added.
Register for free to continue reading
Registration is a free and easy way to support our truly independent journalism
By registering, you will also enjoy limited access to Premium articles, exclusive newsletters, commenting, and virtual events with our leading journalists
Already have an account? sign in
Register for free to continue reading
Registration is a free and easy way to support our truly independent journalism
By registering, you will also enjoy limited access to Premium articles, exclusive newsletters, commenting, and virtual events with our leading journalists
Already have an account? sign in
Join our new commenting forum
Join thought-provoking conversations, follow other Independent readers and see their replies