Ramadi: Isis secures largest military victory for almost a year as last government troops flee Iraqi state capital
First major city to fall to Isis since US-led air strikes began last year
Adam Withnall Comments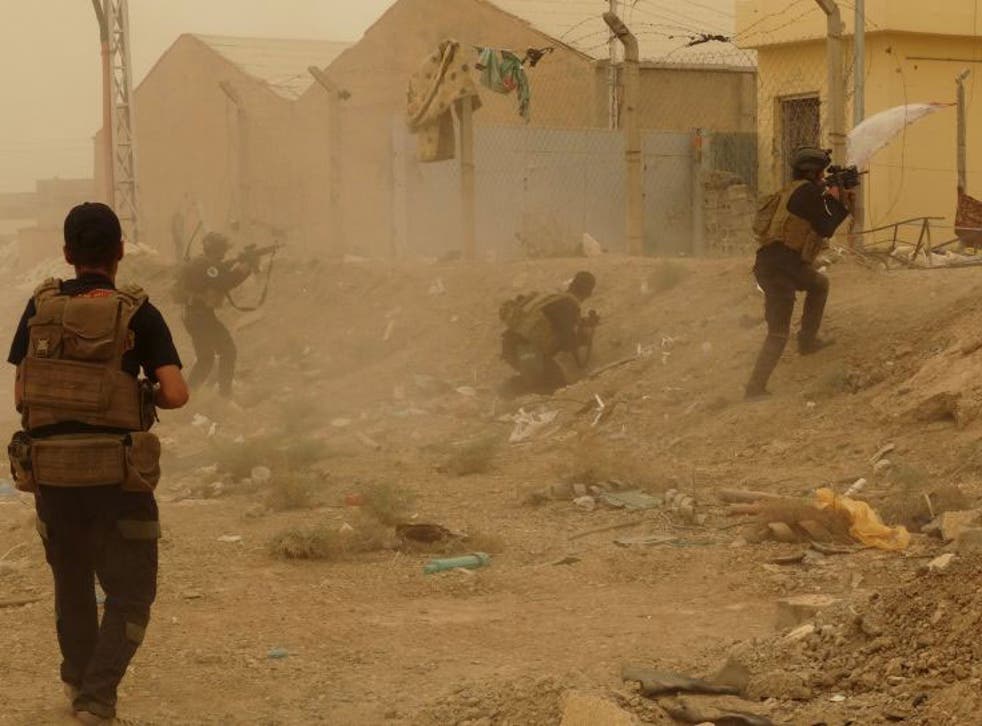 The Isis militant group is reported to have secured its biggest military victory in almost a year, capturing one of the last remaining districts of the major city of Ramadi.
Iraqi military forces retreated from the city on Sunday, despite a desperate plea broadcast on state TV from the Prime Minister, Haider al-Abadi, begging them not to abandon their positions.
There are fears that the fall of Ramadi, the capital of Iraq's biggest province Anbar, will establish a new stronghold for the jihadist group, and quickly be followed by new mass executions and slaughters as the last remaining government forces are wiped out.
Earlier, al-Abadi had ordered Shia militia in surrounding provinces to prepare to go into Anbar in a last-ditch effort to save the province. That was despite concerns from those within the Sunni-dominated region that it could spark a sectarian bloodbath.
According to The Associated Press it was not immediately clear on Sunday evening whether any of the city remained in government hands.
Ramadi's loss would make it the first major city to be taken by insurgents since Iraqi forces backed by a US-led coalition of air forces began pushing back against the Isis advance.
Those coalition air strikes continued throughout the weekend, according to a statement from the Combined Joint Task Force, including seven around Ramadi.
The US military said its strikes had targeted tactical units, a facility producing improvised explosive devices, and other buildings, but it appears to have failed to keep Isis out of the Anbar capital.
Fall of Ramadi

Show all 17
US officials have sought to play down the importance of Ramadi since it was threatened by Isis in recent weeks. The chair of the joint chiefs of staff said in April that the city was "not symbolic in any way".
But writing in a blog post for aj-Jazeera, security correspondent Imran Khan said the home to 500,000 people was hugely significant as a melting-pot for anti-government Sunni dissent.
The last time Isis took a city of an equivalent size in Iraq was the fall of Mosul in June 2014 – now the main Iraqi hub for the group.
One Iraqi diplomatic ‎source, speaking on condition of anonymity, told Khan: "Ramadi is the heart of Anbar. What happens if you destroy the heart? The whole body dies."
Register for free to continue reading
Registration is a free and easy way to support our truly independent journalism
By registering, you will also enjoy limited access to Premium articles, exclusive newsletters, commenting, and virtual events with our leading journalists
Already have an account? sign in
Join our new commenting forum
Join thought-provoking conversations, follow other Independent readers and see their replies