Isis using Whatsapp and Telegram to sell sex slaves
Attempts have been made to rescue Yazidi women and girls taken by Isis, but those who try are often killed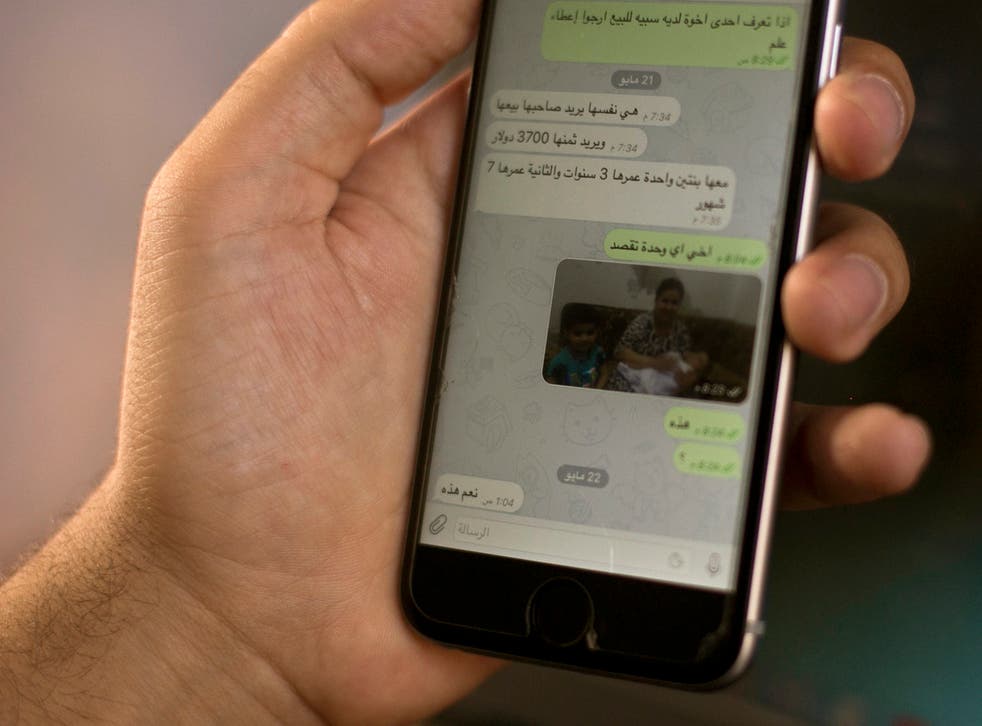 Yazidi women and girls as young as 12 are being advertised for sale as sex slaves by Isis fighters on the instant messenger apps Whatsapp and Telegram.
The apps have also been used to share databases of photographs so that the women can be identified at checkpoints if they try to escape Isis-controlled territory.
Telegram and the Facebook-owned company Whatsapp each use end-to-end encryption, which means the companies themselves are not able to access the messages of users.
In many of the photos on the messaging services, the women and girls are dressed in fine clothes and are sometimes heavily made-up.
An estimated 3,000 women and girls are currently held captive by Isis, also known as Islamic State or Daesh. The majority were taken prisoner in 2014 when Isis fighters attacked their villages in northern Iraq.
The Yazidis, a religious Kurdish community, have been attacked and killed by Isis in both Iraq and Syria, in what constitutes an act of genocide according to United Nations' investigators.
Attempts have been made to rescue the women, but many who do so are killed, according to the Associated Press.
Ahmed Burjus, the director of Yazda in the UK, an organisation that was formed to support the Yazidi community in the aftermath of the 2014 genocide, told The Independent: "We condemn the inaction of social media websites such as Telegram, Facebook, Twitter and Whatsapp, for allowing the trade of the Yazidi women and children.
"Social media websites [such as] Twitter and Facebook have not responded to requests to remove materials such as auction pages [selling] Yazidi women.
"[Isis] are also insulting Yazidi families everyday through these apps by sending pictures of their kidnapped members."
In Pictures: Isis loses control of Palmyra

Show all 4
Mr Burjus added the organisation was concerned Yazidi children were being used as a recruitment tool by Isis on social media. Multiple pictures have emerged of Yazidi children posed, raising index fingers in apparent allegiance to Isis.
"A week ago a Yazidi child called his family through Whatsapp and told his mother: 'You are Kafir [ a non-Muslim] and we are coming to kill you.'
"Social media apps are the way Isis is recruiting hundreds of young Muslims every month."
Whatsapp said they do what they can to fight extremist messaging, including disabling accounts once they become aware of the activity.
Matt Steinfeld, a spokesperson for Whatsapp, told the Associated Press: "We have zero tolerance for this type of behavior and disable accounts when provided with evidence of activity that violates our terms.
"We encourage people to use our reporting tools if they encounter this type of behaviour."
Register for free to continue reading
Registration is a free and easy way to support our truly independent journalism
By registering, you will also enjoy limited access to Premium articles, exclusive newsletters, commenting, and virtual events with our leading journalists
Already have an account? sign in
Register for free to continue reading
Registration is a free and easy way to support our truly independent journalism
By registering, you will also enjoy limited access to Premium articles, exclusive newsletters, commenting, and virtual events with our leading journalists
Already have an account? sign in
Join our new commenting forum
Join thought-provoking conversations, follow other Independent readers and see their replies