Isis video shows death of Jordanian hostage Muath al-Kasaesbeh
A spokesman for the Jordanian armed forces has confirmed the death of a pilot captured the extremist group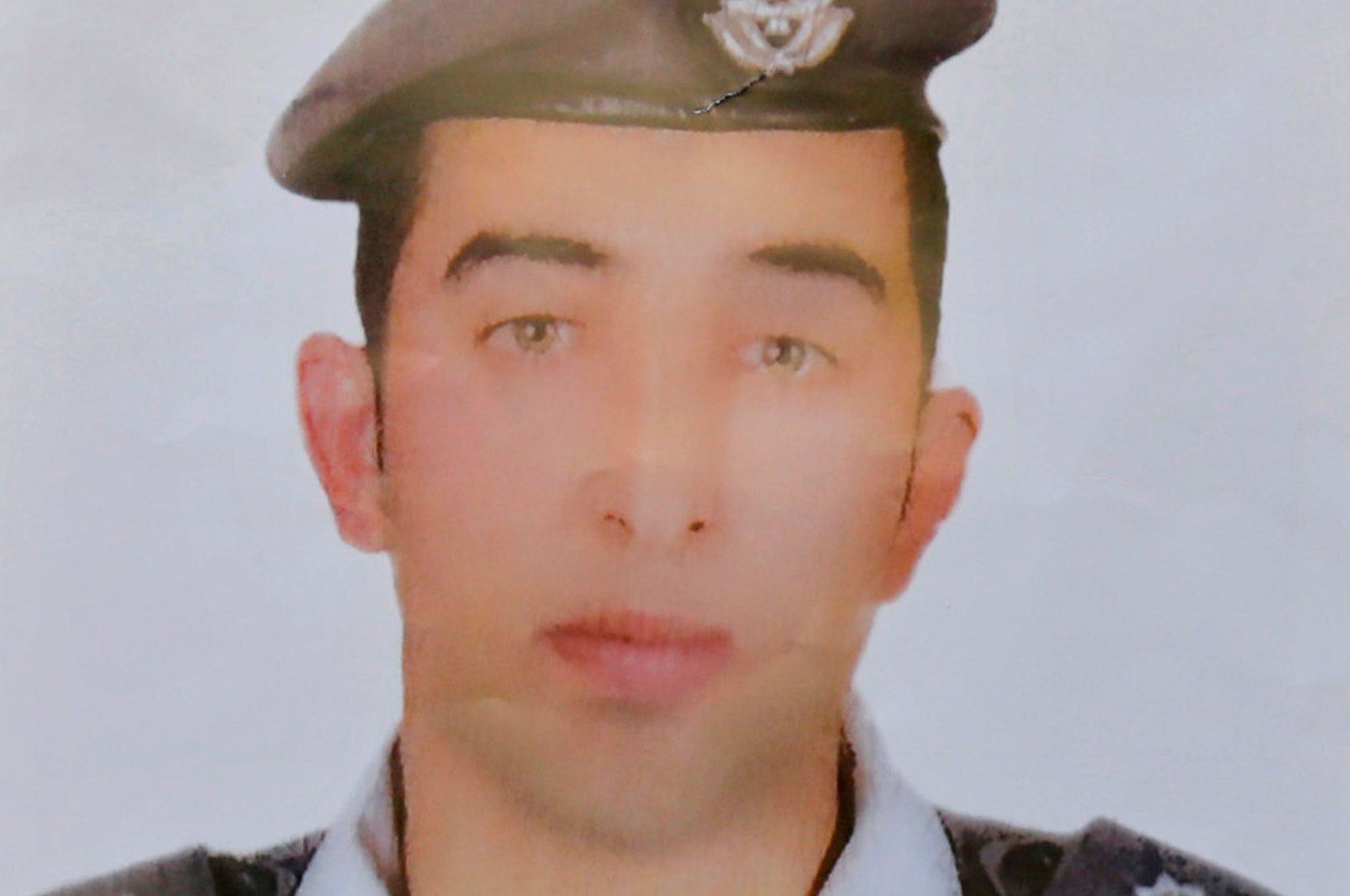 Isis has released a video revealing the murder by burning to death of a Jordanian pilot held by the group since the end of December.
First Lieutenant Muadh al-Kasasbeh's F-16 was shot down over Syria on Christmas Eve during a bombing raid on Isis strongholds near the city of Raqqa.
In the video he is depicted walking in slow-motion past a long line of jihadists, who are dressed in khaki and balaclavas and hold assault rifles.
The pilot is shown standing in a square cage, with petrol or another flammable liquid splashed on his orange clothing and trailed along the ground.
After a trail of fire to his cage is ignited, he is seen standing as the flames consume him.
Jordan has promised swift retribution for the murder. It is believed that Sajida al-Rishawi, an Iraqi al-Qaeda militant who survived a suicide bombing in Amman in 2005, will be executed at dawn on 4 February. She had been offered last week in exchange for Lt al-Kasasbeh.
"The revenge will be as big as the calamity that has hit Jordan," army spokesman Colonel Mamdouh al-Ameri said in a televised address.
It now believed that Lt al-Kasasbeh was in fact murdered on 3 January.
The White House last night released a statement condemning the killing.
"The United States strongly condemns ISIL's actions and we call for the immediate release of all those held captive by ISIL," spokeswoman Bernadette Meehan said in a statement, using another acronym for Isis.
"We stand in solidarity with the Government of Jordan and the Jordanian people," she said.
Barack Obama followed, saying that the murder would re-double the determination of global coalition to degrade and destroy Isis.

Jordan has become a target for Isis because, much to the group's chagrin, it is among a number of Arab countries that have joined the UK, the US and others in attacking the jihadists since last summer, when Isis made dramatic gains across a swathe of Syria and Iraq.
Lasting 22 minutes and 34 seconds, the video is a highly stylised production.
Initially sat at a table, facing into a camera and speaking calmly, Lt al-Kasasbeh apparently describes the military operation in which he was flying.
He appears with graphics overlaid describing the "Crusader Coalition" of "Canada, France, US, Britain, Australia, Jordan, the Emirates, Saudi, Kuwait, Qatar, Oman, Bahrain, Morocco".
He is later seen amid some destroyed buildings and only after that is he shown walking to his death.
Despite international condemnation of the barbarity it deploys, Isis will believe that – despite the grotesque content of the film – it will have won another propaganda victory.
It wagers that by revolting western audiences, pressure will be brought to bear on their governments to disengage in the Middle East, and leave Isis to establish its cherished so-called caliphate.
The video itself is a departure from those of previous Isis hostage killings. The Isis fighter whose south London accent has earned the nickname "Jihadi John", who has appeared in others, is not obviously seen, although each of the participants is heavily camouflaged.
Lt al-Kasasbeh's death follows the gruesome murders of other hostages, both western and Arab. In most cases, the victims have been paraded in front of a camera before apparently being beheaded.
To a large extent, such films have delivered what Isis wants – widespread coverage, notoriety and revulsion.
While brutal beheadings attract public anger, Isis is savvy enough to understand that it order to keep itself in the minds of western TV viewers and newspaper readers, it needs to continue to produce ever more varied, and terrible, footage.
Sadly, Lt al-Kasasbeh afforded the group that opportunity. Footage of him being dragged out of a river by militants surfaced on social media soon afterward his plane went missing, and was accompanied with a threat that he would be murdered.
At one point, Twitter accounts known to belong to Isis operatives invited followers to suggest ways in which the pilot should killed.
The Jordanian government has come under intense domestic pressure to secure his release and offered to release al-Rishawi when a video of the Japanese hostage, Kenji Goto, was aired, in which he said that he and Lt al-Kasasbeh had less than 24 hours to live. Mr Goto, a journalist, was beheaded at the weekend.
Throughout, Jordan had demanded proof that Lt al-Kasaabeh was still alive, but now having failed to deliver his safe release, King Abdullah will face a restless population, which will question why the Kingdom ever joined the coalition raids.
At a tribal meeting where the pilot's relatives have waited for weeks for word on his fate, chants against King Abdullah II erupted last night, according to the Associated Press.
An uncle of the murdered pilot, shouted in Arabic: "I received a phone call from the chief of staff saying God bless his soul." The pilot's father, Safi who became the public face of the effort to bring Lt al-Kasasbeh home, was surrounded by family members.
Jordan contributes a disproportionate number of fighters to Isis's ranks, many of whom invoke the memory at Abu-Musab al-Zarqawi, the Jordanian founder of al-Qaeda in Iraq. Al-Zarqawi was killed by an American strike in 2006, but not before he had raised a bloody insurgency against coalition forces, and beheaded western hostages, releasing videos of the murders in a similar way to Isis.
Unlike Syria's military, which has been severely weakened by almost four years of civil war, and Iraq's still feckless armed forces, Jordan posses a strong, disciplined and well-equipped military. Any external threat to kingdom from Isis is thus muted. Whenever the militants have come close to the Jordanian border, defences have been re-doubled, and the threat repelled.
Timeline: The emergence of Isis
Show all 40
It is inside Jordan itself that the biggest threat exists. Jordan is 95 per cent Sunni Muslim, the same strand of Islam claimed by Isis, and sympathy for the Jihadis has grown in areas such as Zarqa, Maan and Rusayfa. All are economically depressed and ripe, some analysts believe, for Islamism to take root.
Yet, Jordan is one of the west's closest allies in the Middle East, and yesterday the Americans announced plans to double aid payments to $1bn in the next two years.
Join our commenting forum
Join thought-provoking conversations, follow other Independent readers and see their replies