Isis video shows young boy beheading Syrian soldier near ancient city of Palmyra
It is believed to be the first time a beheading by a 'cub of the Caliphate' has been recorded by the terrorist group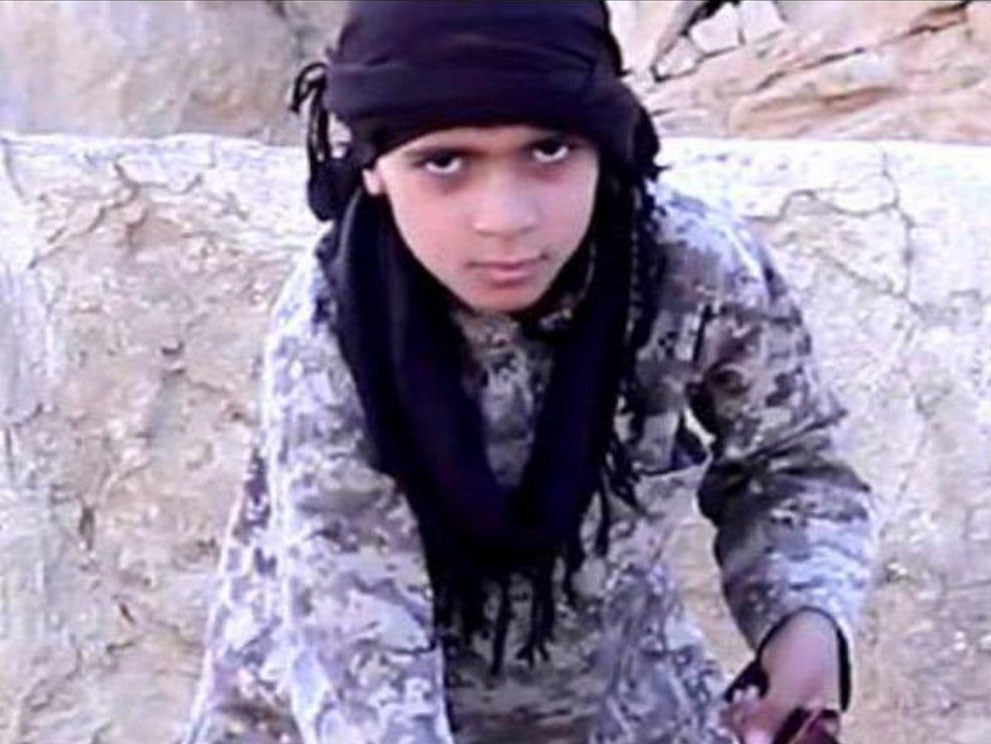 Isis has released a video showing a young boy beheading a Syrian soldier as it continues to abuse children for its gruesome brand of propaganda.
The boy, whose age could not be confirmed, was filmed murdering the prisoner under the watch of an older militant near the captured ancient city of Palmyra.
It was believed to be the first beheading by a child filmed by Isis, which has previously used minors to execute captives by shooting them.
The boy, named only as a "cub of the Caliphate", is seen wearing camouflage and a black headdress with his face uncovered.
He forces the soldier, who identifies himself under duress as a captain in Bashar al-Assad's army, to lie on his front so the child can pull his head back and cut it off with a small knife.
He then holds up the decapitated head and puts it on the victim's dead body in a pose often seen after Isis' brutal murders.
The older militant addresses the camera to threaten the so-called Islamic State's takeover of the world's great holy sites in Rome and Jerusalem.
According to a translation by the Syrian Observatory for Human Rights, he says: "Our goal is not only Palmyra nor Homs or Damascus, but to conquer Bayt al-Maqdis (Jerusalem) and Rome, God willing."
The UK-based Observatory said it received footage of the murder, adding that the dead officer was captured at the Western Hir Palace in Homs province after fleeing there with retreating regime troops when Isis overran Palmyra in May.
A spokesperson said it was the first time it had documented an Isis child soldier murdering a captive by beheading.
Early January, saw the first declared execution carried out by children, where a boy was seen shooting two men accused of being Russian agents.
Smiling children were seen leading prisoners to their beheading and handing out knives to adult jihadists in Hama in March and two months later, 25 boys were lined up to shoot dead 25 regime soldiers in front of crowds at the ancient Roman theatre in Palmyra.
Charlie Winter, a researcher London-based counter extremism think tank the Quilliam Foundation, said the latest video followed the increasing presence of children in Isis propaganda.
"They have been instrumentalising children living inside the 'Islamic State' in military and political roles," he told The Independent.
Mr Winter said that as the world becomes desensitised to the group's beheading videos, which started last year, casting a child as executioner is attended as "powerful propaganda" to shock and draw attention.
"Isis is trying to assert itself and the power it has over people living in its territories," he added.
"They are laying claim to not just defending Sunni Muslims from Assad but avenging them."
Timeline: The emergence of Isis
Show all 40
Isis seized control of Palmyra, a Unesco World Heritage Site and former tourist attraction, in May and is fending off a renewed push from regime forces.
At least 16 government soldiers were believed to have died in battles yesterday as they attempted to advance on the city, the Syrian Observatory for Human Rights reported.
Isis has set up terror camps for children in its strongholds in Syria and Iraq, where forcibly conscripted boys are given strict military and ideological training by its militants.
In footage appearing to show one of the camps earlier this year, around 80 boys were seen standing in formation in a courtyard as they performed exercises and chanted "Allahu Akbar!" to a commander's orders.
They were dressed in combat gear similar to the child in the beheading video and wearing black headbands styled after the militant group's black flag.
A report last year by the UN's Human Rights Council found that Isis "has established training camps to recruit children into armed roles under the guise of education".
"At the camps, the children recruited received weapons training and religious education," the report reads. "The existence of such camps seems to indicate that Isis systematically provides weapons training for children.
"Subsequently, they were deployed in active combat during military operations, including suicide-bombing missions."
Join our commenting forum
Join thought-provoking conversations, follow other Independent readers and see their replies