Islamic State: Isis flaunts captured Syrian fighter jets in video showing massacre
The aircraft and seized surface-to-air missiles could be used against US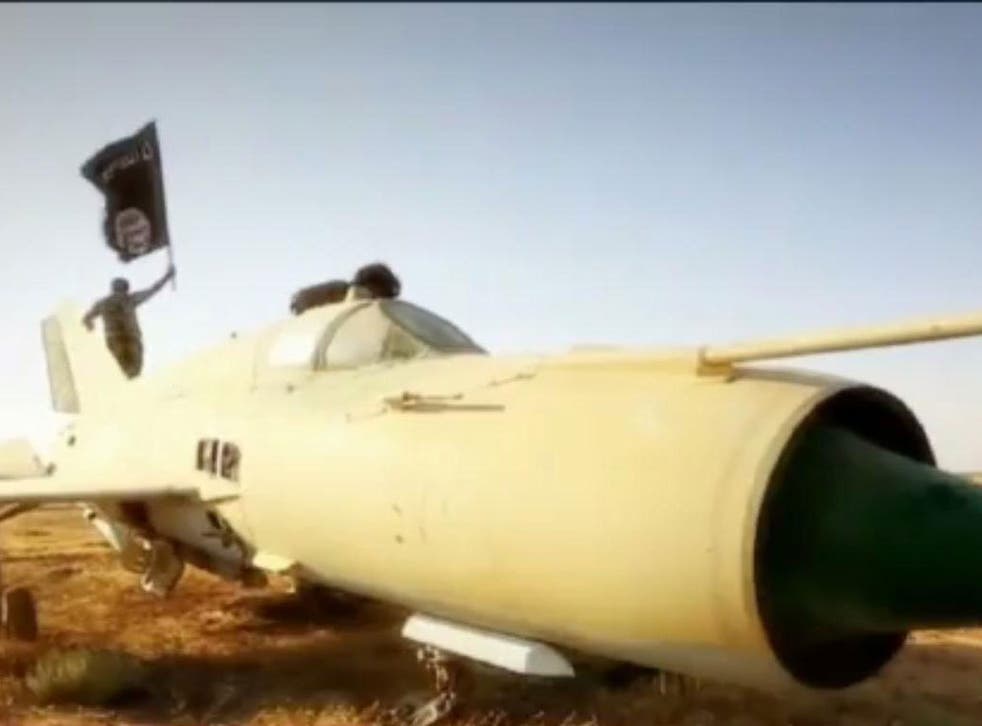 Islamic State (Isis) militants have added Syrian fighter jets to their growing armoury after capturing an airbase where they massacred up to 200 prisoners.
At least three planes were shown in a propaganda video by the extremists following the battle for the al-Tabqa Syrian Air Force base two weeks ago.
The footage, obtained by CNN, shows Isis fighters posing with stationary jets and waving the black flag but they were not seen in the air.
It is unclear whether the militants are capable of piloting, re-fuelling, repairing and re-arming the jets, which could be used against Government and rebel forces in Syria, as well as Iraqi and Kurdish fighters and US air strikes in Iraq.
At least one tank, drones, heavy artillery, surface-to-air missiles and an ammunitions depot stacked with weapons was shown under Isis control at al-Tabqa.
It is in the heart of Raqqa province, which is almost completely controlled by Isis and has become its de-facto capital.
The battle for al-Tabqa air base in the days around 24 August was one of the most deadly in so far, with the Syrian Observatory for Human Rights recording at least 346 Isis deaths and 170 Government forces killed.
Syrian forces had evacuated hundreds of personnel, weapons and fighter jets to another base Deir al-Zour, which has since come under attack by Isis.
But according to CNN Arabic, several pilots were captured along with their planes and helicopters at al-Tabqa and a tweet from Isis claimed they were forcing the prisoners to train militants to fly the stolen aircraft.
Militants claimed they killed "about 200" Government prisoners after the battle and the propaganda video showed men stripped to their underwear being marched into the desert, being forced to lie face-down and shot.
The town of Amerli in northern Iraq was successfully re-taken from Isis fighters last week, driving them out of 25 surrounding towns and villages but the aftermath has seen a surge in sectarian violence.
Innocent Sunnis have reportedly been executed by Shia militias, who accuse them of being in league with Isis.
The new Iraqi Prime Minister, Haider al-Abadi, was sworn in on Monday and is hoped to reunite the country's ethnic and religious factions and bring back the Government from the point of collapse.
Join our new commenting forum
Join thought-provoking conversations, follow other Independent readers and see their replies