Biden heads to Israel for high-stakes discussions on Netanyahu's war plans and Hamas hostages
While the US president wants to show support for Israel, the humanitarian situation in Gaza will loom large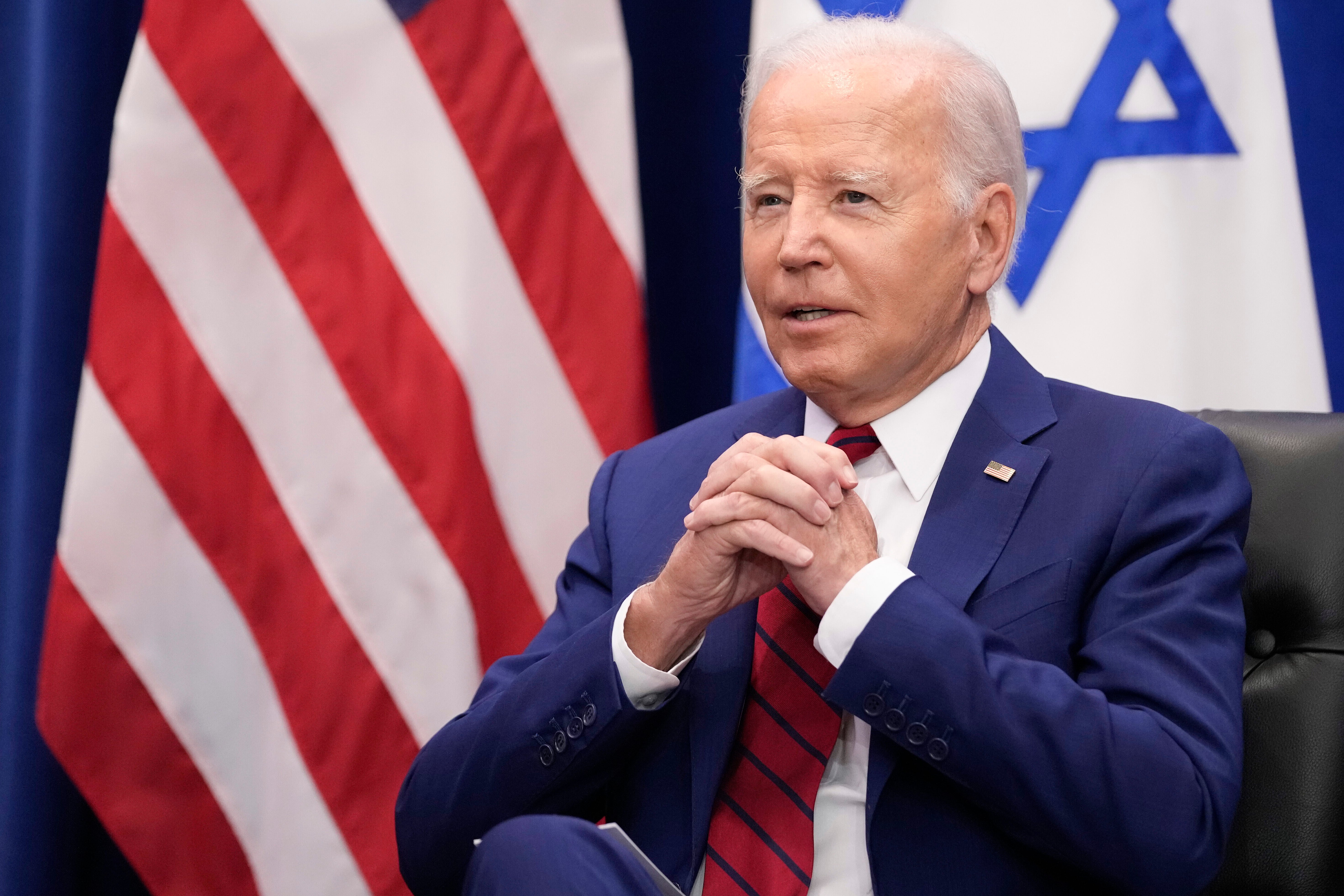 Joe Biden is flying into Israel on a high-stakes trip as he seeks to prevent the war with Hamas from widening into a regional conflict.
While US officials have made clear that the trip – coming as Israel prepares for an expected ground invasion of Gaza – is aimed at showing Washington's staunch support for Israel, there is a worsening humanitarian crisis in the Strip in the face of near-constant Israeli air strikes and building pressure from families of those taken hostage by Hamas, including in the US and UK, to bring their loved ones home.
That was starkly illustrated by the anguish of the family of a British teenager confirmed murdered in the attack by Hamas across the border from Gaza 10 days ago that left more than 1,400 people killed and spread terror across the country. Yahel, 13, disappeared after militants attacked Kibbutz Be'eri and killed her British-born mother Lianne. Her family members have confirmed to the Israeli embassy in London that Yahel was also killed. Concerns are growing about the fate of her sister Noiya, 16 and her Israeli father Eli, who are still missing. The family have decided not to release the girls' surname. Lianne has been described by her family as "a beloved daughter, sister, mother, aunt and friend who enriched the lives of all those lucky enough to have known and loved her".
Hamas released the first video of a hostage taken into Gaza, showing a dazed Mia Schem, 21, having her arm wrapped with bandages. Ms Schem – a Frech-Israeli woman – was attending the Supernova music festival near the border with Gaza, when they both went missing on the day Hamas attacked. Ms Schem's family had no idea of her fate until she appeared in a video released by Hamas on Monday afternoon, the first such footage of the estimated 199 people, including British citizens, being held. France's President Emmanuel Macron described the video as "an odious act".
Mia's mother, Keren Schem, issued an impassioned plea pleading with the international community for help to bring her daughter home. "I am begging the world to bring my baby back home, she only went to a party to a festival party to have some fun. And now she is in Gaza," Ms Schem said during a press conference on Tuesday. "My daughter is a fighter, she is a warrior, she has been through a lot in her life. My message to my daughter is, I love her so much, and I miss her so much, all these days I think how I will hug her when she is coming home.
"I want to tell all the other parents, you must think positive," she added.
Mr Biden will know how difficult an operation it will be to try and bring the hostages out of Gaza, particularly given the state of the enclave after a continuing bombing campaign that has left whole areas of Gaza as rubble. Around 3,000 people have been killed in the aerial assault, including a strike on a hospital on Tuesday that is said to have killed hundreds. After Israel, Mr Biden is expected to travel to Jordan to meet King Abdullah and Egyptian president Abdel Fattah al-Sisi about the situation in Gaza. But a meeting with Mahmoud Abbas, president of the Palestinian Authority. has been cancelled in the wake of the strike on the hospital.
Dozens were also said to have been killed in strikes on the southern Gazan cities of Rafah and Khan Younis according to residents. Southern Gaza is where Israel has called on residents to evacuate as it prepares for an expected ground offensive; although the language around that invasion softened on Tuesday, in the wake of Washington's announcement of Mr Biden's visit.
In previous briefings, senior military officials have said clearly that the forces were massing for "the option of a ground operation" and even that they "want to do that". Lieutenant Colonel Richard Hecht, an Israeli army spokesperson, was more circumspect on the matter in a briefing on Tuesday.
"We are preparing for the next stages of the war, we haven't said what they will be," he said. "Everyone is talking about the ground offensive: it might be something different. We aren't talking about our plans.
"People are putting a concept in everyone's head but that is not maybe how it will unfold," he added.
Military sources later told Israeli media that a ground incursion had been postponed to an "unknown date" but likely after Mr Biden's visit to Israel. Walla news network also cited Israeli military sources criticising the postponement, saying it favoured Hamas's capability on the ground.
The White House denied that Mr Biden or any US officials have pressured Mr Netanyahu to order any slow-down in operations to avoid the possibility of the president's arrival coinciding with uncomfortable images of Israeli troops moving through Gaza.
Asked about whether Mr Biden expected that a ground offensive would not begin until after his trip, National Security Council spokesperson John Kirby told reporters that the US was "not dictating operational directions to the Israelis".
"We're not going to do that. And we're certainly not going to speak to future operations that have or have not been conducted," he said.
But the possible spread of conflict beyond Gaza will be a concern to the US, particularly in regards to Iran. Tehran has repeatedly called on Israel to stop bombing Gaza, while a ground invasion will only increase tensions. On Israel's northern border with Lebanon, Iran-backed Hezbollah and Israeli forces have traded fire almost daily since the Hamas attack, the most significant clashes since 2006. "If this escalates to Lebanon … we are prepared, we are ready, we are deployed up there," Lt Col Hecht said.
When asked if Israel could cope, he replied "Of course, we can handle two fronts".
That is the last thing the US wants, while US officials have also spoken about the need to improve the humanitarian situation in Gaza. US secretary of state Antony Blinken said early on Tuesday he had agreed with Israel to develop a plan to get aid into Gaza, but the time frame for any deliveries remained unclear. Egyptian aid trucks moved closer on Tuesday to the only crossing into Gaza not controlled by Israel, but without an agreement in place to deliver relief and with the Palestinian side closed, it was unclear when they might pass through.
Join our commenting forum
Join thought-provoking conversations, follow other Independent readers and see their replies