Israel corruption scandal: Benjamin Netanyahu defiant over growing calls for him to step down
Israeli Prime Minister vows to remain in office, says police recommendations for indictment 'full of holes, like Swiss cheese'
Wednesday 14 February 2018 16:43 Comments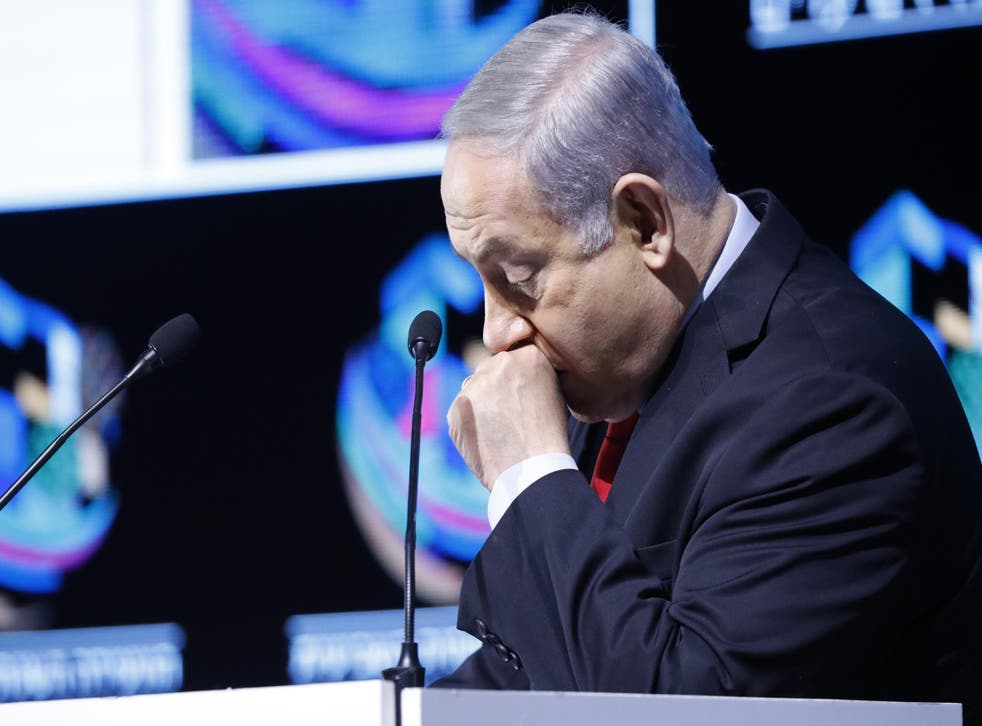 Israeli Prime Minister Benjamin Netanyahu has remained defiant in the face of a long-awaited police recommendation that he be charged with corruption, an announcement that threatens to end his political career.
After an investigation lasting more than a year, police said on Tuesday night that the leader should face charges over allegedly receiving lavish and "inappropriate" gifts from wealthy supporters and the reported bribing of a newspaper publisher for favourable coverage.
Mr Netanyahu spoke to the country in a live televised address immediately after the news broke, reassuring the Israeli people that the police were on a "witch hunt" against him.
Benjamin Netanyahu announces he will stay in office despite police recommendation
"I will continue to lead the state of Israel responsibly and loyally as long as you, the citizens of Israel, choose me to lead you," he said, vowing to remain in office and hinting he may even seek re-election.
There appears to be no immediate political fall out for the embattled leader: his coalition government remains intact after most of the cabinet issued statements of support.
Opposition politicians, meanwhile, called for Mr Netanyahu to resign and urged his allies to abandon his government – a fate that befell Prime Minister Ehud Olmert after he faced indictments for accepting bribes and for obstruction of justice.
Israel: From independence to intifada

Show all 7
On Wednesday Mr Netanyahu continued with his schedule as normal. Speaking at a local government meeting in Tel Aviv, he shrugged off the allegations, saying that "the truth will come to light and nothing will come of this".
"After I read the recommendations report, I can say that this is a biased, extreme document full of holes, like Swiss cheese, and doesn't hold water," the Prime Minister added.
Police first talked to Mr Netanyahu at his Jerusalem home on 1 January 2017 as part of a huge corruption sting involving more than 50 influential Israeli business leaders and other public figures.
A statement said the investigation, known as "File 1,000", found sufficient evidence to indict him over allegedly accepting almost $300,000 (£217,000) in gifts such as champagne and cigars from Hollywood producer Arnon Milchan and Australian billionaire James Packer.
In the second case, known as "File 2,000", Mr Netanyahu reportedly asked Arnon Mozes, the publisher of daily Yediot Ahronot, for positive coverage in exchange for promoting legislation weakening a free newspaper that had cut into Yediot's business.
Israeli TV airs audio of Benjamin Netanyahu's son bragging about gas deal
Mr Netanyahu has been in the same position twice before, in 1997 and 2000. Despite police recommendations, on both occasions prosecutors decided not to bring charges.
The new cases were widely perceived to have reached a turning point after the leader's former chief of staff, Ari Harow, agreed to turn state's witness in August.
The potential charges will now be referred to Israel's attorney general's office which will decide whether to prosecute the prime minister. Reviewing the material is expecting to take months.
News agencies contributed to this report
Register for free to continue reading
Registration is a free and easy way to support our truly independent journalism
By registering, you will also enjoy limited access to Premium articles, exclusive newsletters, commenting, and virtual events with our leading journalists
Already have an account? sign in
Join our new commenting forum
Join thought-provoking conversations, follow other Independent readers and see their replies