Israel could seal off Palestinian areas of Jerusalem as army sent in after attacks
Security has been tightened after three Israelis and three Palestinians, including two attackers, were killed on Tuesday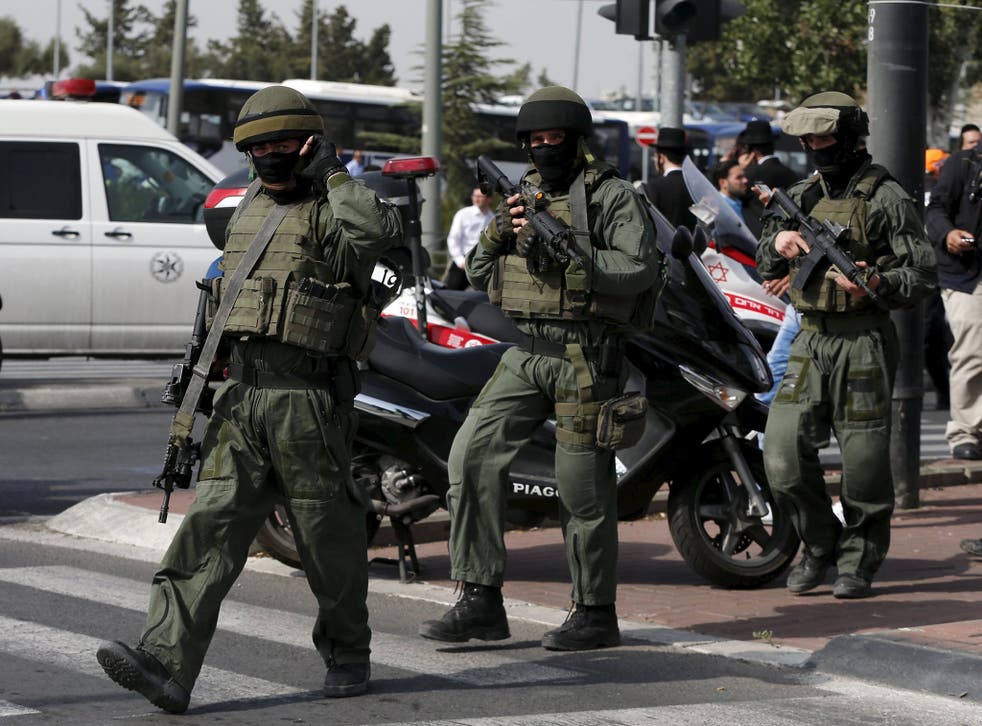 Arab and Palestinian areas of Jerusalem could be sealed off as hundreds of soldiers are deployed in the city under tightened security measures.
On a day of violence that resulted in the deaths of three Israelis and three Palestinians, including two attackers, the Security Cabinet approved a list of new measures at an emergency meeting.
A statement said Israeli police forces would be authorised to "impose a closure on, or to surround, centres of friction and incitement in Jerusalem".
Specific areas were not named but the men who shot and stabbed passengers on a bus on Tuesday, and an attacker who later ran an Israeli man over before attacking him with a meat cleaver, all came from the Jabal Mukaber district of East Jerusalem.
Anyone who carries out an attack will have their home destroyed, with rebuilding forbidden at the site, their property confiscated and permanent residency rights removed, while those killed by the security forces will not have their bodies returned to relatives for burial.
Benjamin Netanyahu, the Israeli Prime Minister, said: "Anyone who raises his hand to harm us - will pay dearly. And we will not hesitate to use all means at our disposal to restore peace to the cities of Israel."
The increased punishments come as more police are deployed and hundreds of security guards are being recruited to monitor public transport in Jerusalem, which has been the scene of several stabbings.
Meanwhile, the Israeli Defence Forces is sending six companies of soldiers to reinforce police in several Israeli cities, as well as along roads and in "sensitive areas" along borders with the West Bank and Gaza.
Amid rising panic, the mayor of Jerusalem called for all Israelis with a gun licence to carry their weapons at all times, while the government has temporarily lifted restrictions to allow security guards to take firearms home.
Police said three Israelis were killed and more than 20 hurt in Tuesday's violence, where two Palestinian attackers were shot dead by officers.
Another Palestinian man, 28-year-old Moataz Zawahra, was killed in clashes with Israeli forces in Bethlehem, medics said.
Two attacks also took place in the normally quiet Israeli city of Raanana, where a man waiting at a bus stop and four people sitting outside a café were stabbed.
In an Ikea car park in Haifa, a Jewish Israeli was stabbed by another Jewish Israeli man who mistook him for an Arab in a suspected attempt at a revenge attack.
There have also been reports of rocks and Molotov cocktails being thrown at cars and clashes at numerous protests across the West Bank and Gaza.
The Israeli–Palestinian conflict intensifies

Show all 10
Tuesday marked the most serious outbreak of violence since the current round of tensions erupted over the Jewish New Year, fuelled by continuing rumours that Muslim control of the Noble Sanctuary in Jerusalem – also known as Temple Mount – could be eroded.
Israel's Ministry of Foreign Affairs denied the claims and issued a statement blaming the violence on "incitement by radical Islamist and terrorist elements (and) inflammatory statements by Palestinian leaders".
It said the government remained committed to peace talks with the Palestinian leadership and said it would work to restore calm.
But Manuel Hassassian, the Palestinian Authority's diplomatic representative to the UK, issued a statement accusing Israel of "killing Palestinians with impunity" and defying international law.
"Until justice is done and the perpetrators of violence are held accountable, whether they are Israeli soldiers who disregard Palestinian lives or armed vigilantes from the illegal Israeli settlements, there will be no end to this very worrying, current spate of violence," he said.
Britain's minister for the Middle East, Tobias Elwood, urged all parties to refrain from violence as he voiced the Government's "extreme concern".
"We condemn the terrorist attacks in Jerusalem on 13 October which have resulted in the deaths of a number of Israeli citizens, as well as other attacks which have left multiple innocent civilians wounded," he added.
"We are also concerned by the use of force by Israeli security personnel in response to protests and security incidents, which has resulted in several deaths and thousands of injuries.
"We urge all parties to refrain from violence, and encourage Israeli and Palestinian leaders to actively de-escalate the situation and avoid measures which could further fuel tensions."
Eight Israelis have died in a string of stabbings, shootings and the stoning of a car, while 29 Palestinians - including 12 identified by Israel as attackers - have been killed.
Additional reporting by AP