Three Palestinian teenagers killed by Israeli drone strike as tensions mount on Gaza strip
Israeli military claims the three Gaza teens were trying to lay explosives by the border fence with Israel, after a weekend of heavy cross-border fire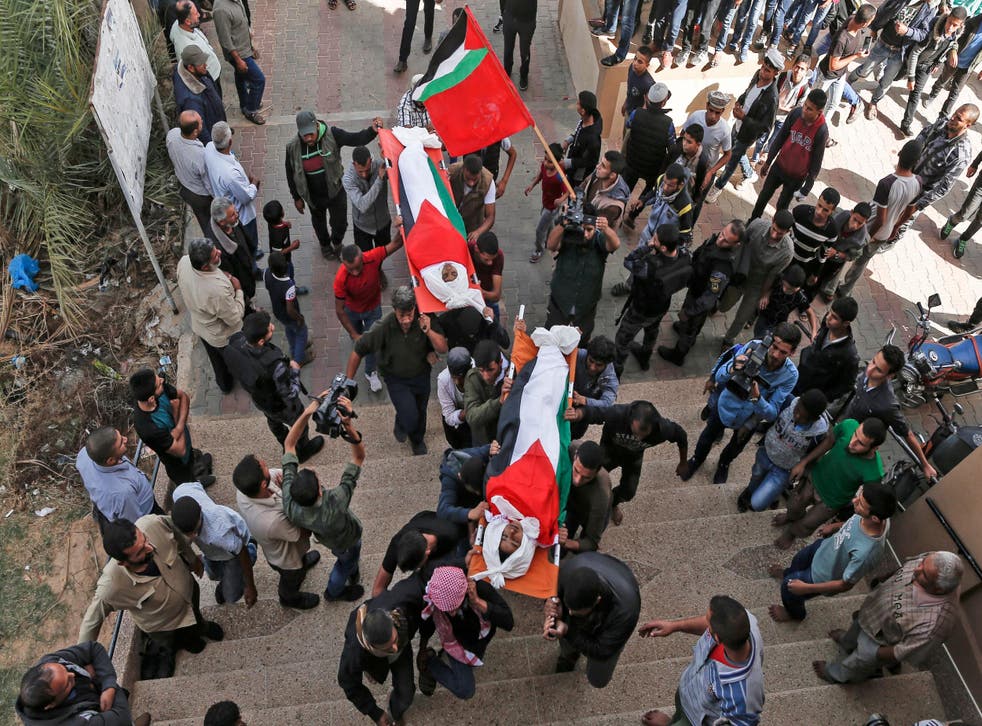 An Israeli drone strike has killed three Palestinian teenagers near the border fence between Gaza and Israel, as tensions reached breaking point following a tense weekend of cross border fire.
The Gaza health ministry said the boys, whose bodies were found 200 metres from the fence on Sunday, were aged just 13 and 14 years old.
The Israeli military said the trio they "were apparently involved in placing an improvised explosive device" near the border in the southern part of the enclave.
On Monday Aisha Abu Dhabi, mother of 14-year-old Abdel-Hamid, who was one of the three boys killed, denied the accusations, and said he had "nothing to do with the resistance". The funerals for the slain teenagers were held in central Gaza on Monday.
Dr Hanan Ashrawi, an executive committee member of the Palestinian Liberation Organisation, who released the names of the boys, called the killings a "war crime".
"The Israeli occupation army has been deliberately targeting and killing Palestinian children. This is a clear war crime in violation of international law and international humanitarian law," she said in a statement.
More than 200 Palestinians have been killed by Israeli fire during seven months of Palestinian protests along the fence which separates Gaza and Israel. Thousands have rallied each week since March against Israel's decade-long blockade of the tiny enclave, home to over 2 million people, and in support of Palestinian refugees' right to return to their ancestral lands that are now within Israel.
One Israeli soldier has been killed by a Palestinian sniper. The Israelis have defended their use of lethal force, saying protesters have attempted armed intrusions into Israel and were threatening Israeli lives by launching incendiary kites and balloons tied with explosives that have set fire to thousands of acres of Israeli land.
Tensions reached breaking point over the weekend after Gaza militants fired a volley of nearly 40 rockets at southern Israel in retaliation for the killing of four Palestinians during border protests on Friday.
Israel responded with airstrikes on more than 90 targets in Gaza.
Islamic Jihad, the Palestinian militant group that launched the rockets, said on Saturday it had agreed to an Egyptian-brokered truce with Israel to cease hostilities.
The Israeli army said it held Hamas, the militant group that runs Gaza, responsible although its armed wing had not fired the missiles. The Israeli military also accused the Syrian government and its ally Iranian revolutionary Guards of ordering Islamic Jihad to strike Israel.
Israeli army spokesman Lieutenant Colonel Jonathan Conricus said Israel's response would not be "limited geographically" without elaborating.
Egypt has brokered several truces between Israel and Gaza but has failed to negotiate a long term comprehensive peace agreement. The official peace process ground to a halt in 2014.
The United States has long served as mediator in region but has been rejected by the Palestinians after a December decision to move its embassy in Israel to Jerusalem and declare the contested city the capital of Israel.
President Donald Trump further enraged the Palestinians by slashing all funding to the United Nations Palestinian refugee agency and cancelling other Palestinian aid.
Israeli airstrikes on Gaza as border protests continue
Israeli Prime Minister Benjamin Netanyahu has however frequently boasted of warming ties with Arab states and this week proved that in a surprise and secret trip to Oman, the first such visit by an Israeli leader in 22 years. Israel and Oman do not have formal diplomatic relations. Israel is only officially recognised by two Arab states: Egypt and Jordan.
Oman, that has taken a position of quiet broker in the region, might be able to push forward with the troubled US peace plan.
Mr Netanyahu and Oman's Sultan Qaboos bin Said issued a joint statement over the weekend saying the two sides "discussed ways to advance the Middle East peace process and discussed a number of issues of mutual interest to achieve peace and stability in the Middle East."
Oman hinted at formal recognition of the country, saying that "Israel is a state in the region … maybe it is time for Israel to be treated the same [as other states)".
Mr Netanyahu later told his cabinet on Sunday "there will be more talks". It was later announced that Israeli Transport Minster Yisrael Katz will follow in the Israeli premier's footsteps and participate in an international transportation conference in Oman next week.
In another sign of growing ties with Arab countries, Israel's Sports minister Miri Regev attended an international judo competition in Abu Dhabi on Sunday where for the first time Israel's national anthem was played. Israeli judoka Sagi Muki won gold at the event. Last year Emirati organisers had singled Israel out with a ban on displaying its flag or playing its anthem.
"We made history," Ms Regev tweeted afterward.
The Palestinian Authority, which is anchored in the occupied West Bank, hit back at Oman for Mr Netanyahu's visit, saying any "normalisation" of ties between Israel and the Arab world should come after the Palestinian issue is resolved.
Munir al-Jaghoub, a senior official within the ruling Fatah faction in the West Bank, told The Jerusalem Post we "strongly condemn the gratuitous normalisation with the occupation while Israel still doesn't recognise the rights of the Palestinians and Arab.
Register for free to continue reading
Registration is a free and easy way to support our truly independent journalism
By registering, you will also enjoy limited access to Premium articles, exclusive newsletters, commenting, and virtual events with our leading journalists
Already have an account? sign in
Join our new commenting forum
Join thought-provoking conversations, follow other Independent readers and see their replies