Israel election: Benjamin Netanyahu claims shock victory despite ugly racism row overshadowing final acts of bitter campaign
Last-minute push to shore up his party's vote puts PM on track to be re-elected 'against all odds' following remarks blaming Arab minority for threatening his chances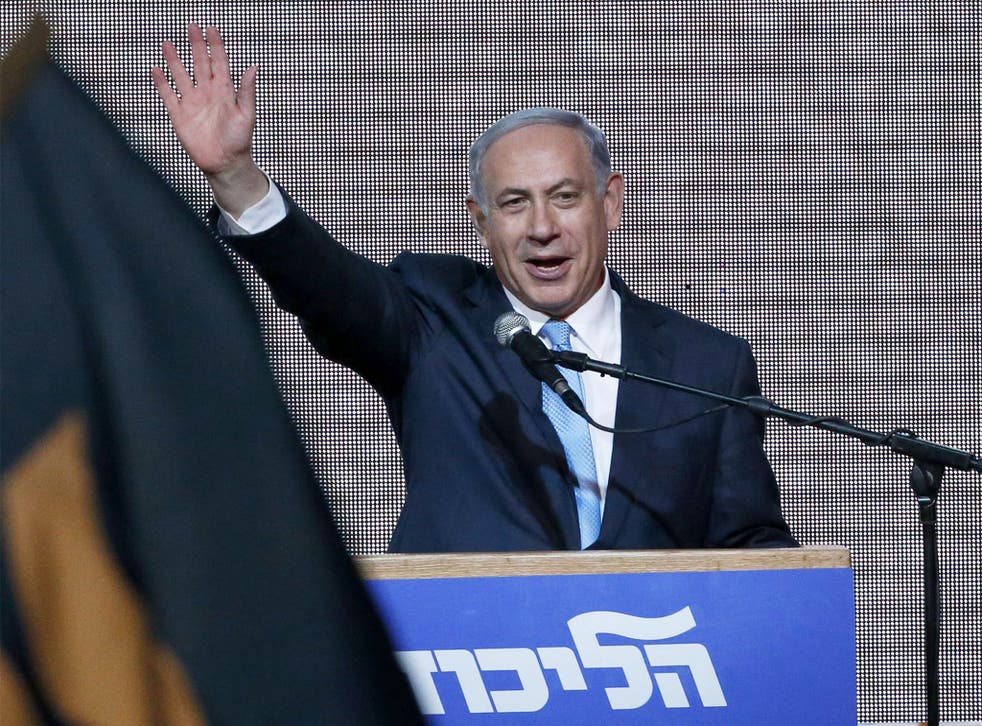 Benjamin Netanyahu has claimed victory in the Israeli election after a last-minute push to shore up his party's vote enabled him to close the gap with the opposition Zionist Union and put him on track to be re-elected Prime Minister.
Supporters at his Likud party headquarters broke into cheers as exit polls by two of the three national television channels showed an effective dead heat, with the two groupings on 27 seats each. The third showed Likud leading by one seat, with 28.
In pictures: Israel election

Show all 21
Mr Netanyahu's rebound followed several days of intense campaigning in which he argued forcefully that Israel's security would be put at risk if voters put social and economic issues ahead of their country's survival.
That culminated in an ugly row over racism on polling day itself, as the Prime Minister warned that the country's Arab citizens were voting in "droves" to prevent him winning. In a video clip posted on his Facebook page Mr Netanyahu said: "The rule of the right is in danger. The Arabs are moving in droves to the polling stations. Left-wing organisations are bringing them there in buses."

A Zionist Union MP, Sheli Yachimovich, responded to Mr Netanyahu's comments on her own Facebook page: "No Western leader would dare utter such a racist comment."
The exit polls were initially greeted with silence by Zionist Union supporters. But the party secured enough seats also to have a shot at forming a governing coalition, depending on how other parties line up in negotiations that Mr Netanyahu was reported to have immediately begun with a round of calls to potential partners.
Nachman Shai, a Zionist Union MP, said: "The celebrations of Likud are premature. Let's wait and see, I think we can form a government from the current Knesset."
During the campaign, Mr Herzog promised to address Israel's severe housing crisis, to mend strained ties with Washington and to reignite peace efforts with the Palestinians if elected. Mr Netanyahu pledged to oppose any international deal that might give Iran nuclear weapons capability, to expand Israeli settlements in the West Bank and to thwart the emergence of a Palestinian state.
While each side could theoretically build a coalition, Mr Netanyahu is seen as being in a better position to do so because of the right-leaning tendencies of key potential partners among smaller, unaligned parties. Mr Herzog will have difficulties securing such firm support as leaders of the Arab Joint List, projected to win 12 seats – putting the left within striking distance of a majority – has said it will not formally join any coalition.
There was speculation that Likud and the Zionist Union would instead come under pressure to form a national unity government.
In any event, the results will place enormous power in the hands of Moshe Kahlon, a former Likud minister whose Kulanu party is on course to secure 10 seats, according to the Channel One exit poll. Other key interlocutors are Arye Deri, head of the ultra-orthodox Shas party, on course to gain seven seats. Yair Lapid, head of the centrist Yesh Atid, projected to win 12 seats, is also seen as holding the balance of power.
"It's easier for Netanyahu to form a right-centre government than for Herzog to form a left-centre coalition," said Yossi Alpher, former director of the Jaffee Centre for Strategic Studies.
Zionist Union MP Micky Rosenthal said "we expected better'' but said he was still hopeful that Mr Herzog could form the government.
It is up to Israel's president to decide to which leader to give the chance of forming a government. He makes the decision after receiving recommendations from all of the parties. Yohanan Plesner, president of the Israel Democracy Institute, said: "Netanyahu can now legitimately form a government. His media offensive in the last few days has paid off."
Mr Netanyahu said earlier, according to the Times of Israel's website, that the problem with Arabs was not that they were voting but that massive funding had come from foreign governments and other sources to bring them to the polling stations, something that was distorting the "true will'' of most Israeli voters.
Additional reporting by Kim Sengupta in Tel Aviv
Israeli elections: How the system works
Israel's parliament, the Knesset, has 120 seats, allocated according to the percentage of the national vote parties win. They must win at least 3.25 per cent of votes to secure a seat. None has ever held the 61 seats needed for a majority, so Israel is always governed by coalition.
President Reuven Rivlin will meet party leaders after the election to assess who has the best chance of forming a government, most likely the leader of the largest party. That person then has six weeks to ask unaligned parties for support. The Arab "Joint List" alliance says it will not formally join any coalition after this election, but may lend its support to one.
Join our new commenting forum
Join thought-provoking conversations, follow other Independent readers and see their replies