Israel-Gaza conflict: Rockets 'fired at the Houses of Parliament' in IDF propaganda image intended to justify Gaza assault
The photoshopped picture has divided opinion online – and among MPs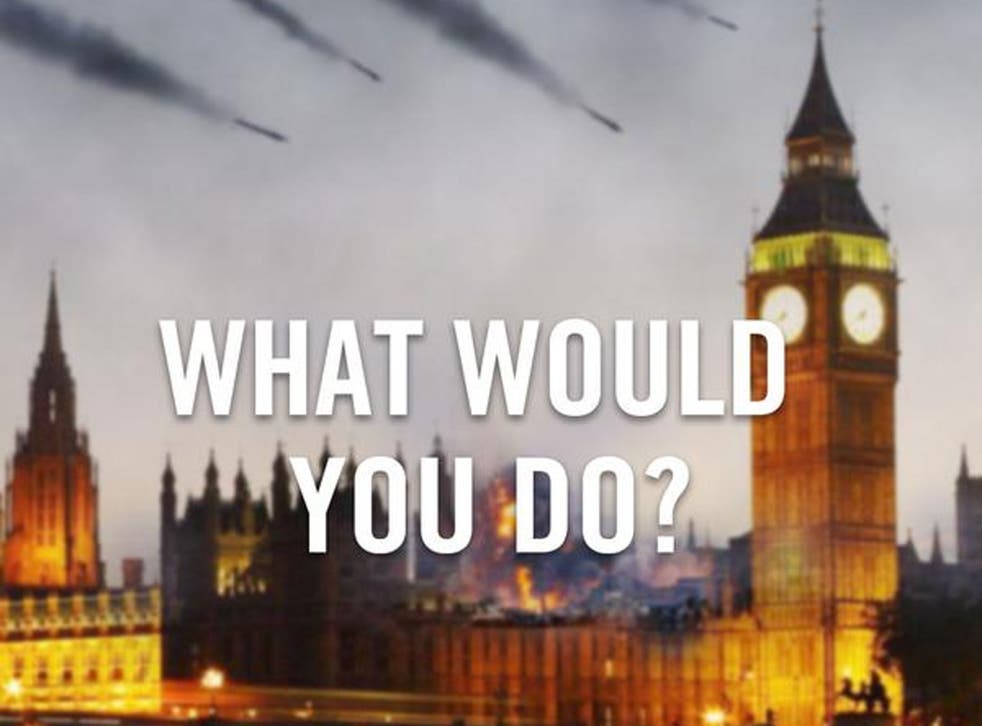 An official social media profile for the Israeli Defence Forces (IDF) has uploaded a mocked-up image of the Houses of Parliament under fire from rockets with the strapline: "What would you do?"
It comes as part of the Israeli media campaign that seeks to justify to the public the country's latest military offensive into the Gaza Strip, which in recent days has included a Twitter Q and A from the Israeli ambassador to the US.
Then, Ron Dermer asked social media users "what would America do?" if it was faced with militants firing rockets at its territory.
The provocative image tweeted by the IDF offers a British twist on that theme, photoshopped to show the Palace of Westminster already ablaze and a further four rockets coming down from the sky.
Users on Twitter greeted the picture with a fairly polarised mixture of disgust and agreement. In response to the question posted, one (@abu_thamim) said: "I'd retreat out of Gaza, leave the West Bank and restore their rights as humans. No wonder they fire rockets..."
Another (@_Schehrazade) wrote: "Oh my. You're really getting desperate aren't you? This would be funny if it weren't pitiful."
Seeking to speak from a British perspective, Gareth Davey (Davey1969Davey) said: "The IRA bombed us for years (without a siren to warn us). Did we massacre Irish women and children in response?"
Others agreed with the point the IDF was making, however, and even extended the logic to their own countries. One user from Australia posted an image of the Sydney Opera House and said: "A lot of fools protesting in Sydney. Can't imagine the reaction if Hamas lobbed a rocket here."
Taking the IDF's rhetorical question at face value, another user called Suzie simply replied: "Hopefully the same as #Israel is doing."
The response to the image from those who work within the buildings "under fire" was similarly divided.
Andy Slaughter, a Labour MP and secretary of the Britain-Palestine All-Party Parliamentary Group, told The Telegraph the image came across as "crass at best".
"The Israelis are past masters at propaganda," he said. "This will bring it home to Members that they have lost all sense of perspective and are out of control. It is in very poor taste and I think that it will be entirely counterproductive."
In pictures: Israel launches further air strikes on Gaza

Show all 105
Meanwhile James Clappison MP, the Parliamentary Chairman of Conservative Friends of Israel, told the newspaper he supported the advert.
He said: "We would not permit rockets to be fired at our country. We would take action."
An IDF spokesman said the tweet came from its "interactive media branch" and was meant to get across to a wider audience the reality of life under Hamas rocket fire.
"It's an iconic image. When people look at the image they realise what country we're talking about," said Captain Eytan Buchman. "If a rocket landed near Westminster, it's not a reality that any country could tolerate."
Join our new commenting forum
Join thought-provoking conversations, follow other Independent readers and see their replies