Netanyahu's gamble with Gaza may save his political career but spark a complex drawn-out conflict
Analysis: Netanyahu's chances of remaining prime minister have improved with latest conflict in Gaza, observers say, but he is playing with fire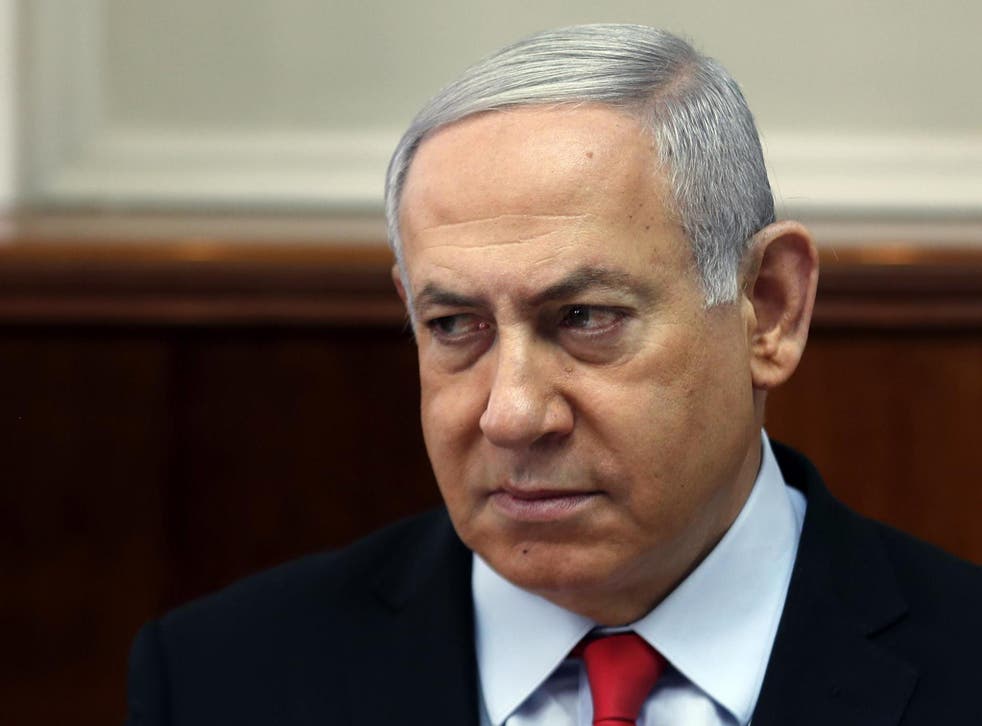 The timing of Israel's dawn strike which killed Islamic Jihad commander Baha Abu al-Ata in Gaza seemed too perfect to be a coincidence.
Even if based solely on intelligence and not the political schedule, as Benjamin Netanyahu, the Israeli prime minister, has repeatedly said, Tuesday's targeted killing may have saved the leader's political career.
Netanyahu had just a few hours left of being defence minister: that afternoon he was scheduled to hand the portfolio to ally and right-wing parliamentarian Naftali Bennett.
He was also hanging on to his prime ministership with a thread.
Netanyahu rules over a caretaker government after twice failing to form a ruling coalition following two inconclusive elections.
And in just a few weeks the country's attorney general is widely expected to indict him on corruption charges.
Meanwhile his main rival Benny Gantz, the country's former army chief, has just a week left to try to form the next government.
Israel election 2019: Netanyahu battles to hang on to power

Show all 20
Without an outright majority of seats, his best chance is a national unity coalition with Netanyahu's Likud party.
However, Gantz's Blue and White party has said it will not co-rule with Likud while Netanyahu is at the party helm, due to his possible graft trial.
Gantz's only other option, which was increasingly discussed in the days leading up to Tuesday's strike, is a minority government which needs the support of the predominantly Arab Joint List.
Just a few hours before Israeli fighter jets performed the "surgical" hit on Abu al-Ata's home in Gaza, Netanyahu took to Twitter.
Surely knowing the strike was imminent and that it would spark retaliatory rocket fire from Gaza, he posted "A minority government supported by the Arab parties = a danger to the state," with a screenshot of a photo of Ahmad Tibi, an Arab-Israeli parliamentarian in the Joint List, together with late Palestinian leader Yasser Arafat.
In hindsight, it served as a gentle "reminder" to the nation.
With Palestinian rockets raining down on areas from southern Israel to Tel Aviv, the chances of Israel's already right-wing population supporting a Gantz-led minority government backed by Arab politicians are near zero.
Instead, with the spectre of war on the horizon, many will look to a nation unified.
"Gantz is now under much more public pressure to form a national unity government [with the Likud] but he can't dictate the conditions of them coming together," said Amos Harel, a military correspondent and defence analyst for Israeli newspaper Haaretz.
Rocket impact in Israel captured on CCTV as Palestinian Islamic Jihad group launch response to leader's death
"There will be more politicians coming out, more articles being written, saying enough with this nonsense about Netanyahu's indictment, what we need is a strong united Israel," he continued.
"It might work out for Bibi," he added.
That said it is a serious gamble for the Israeli leader, who has repeatedly said he does not want another ruinous war with Gaza, in which no side can really win.
Right now, no Israeli citizen has been killed or significantly wounded despite hundreds of rockets raining down on the country.
Harel and other experts told The Independent that Israeli attitudes towards war might change if there are Israeli casualties, or if Hamas, the militant group which runs Gaza, is dragged into the fray.
In Gaza, where the death toll from Israeli strikes has climbed to 24, including three children, a growing rift between the armed factions is piling pressure on the explosive situation.
Hamas brigades do not currently appear to be launching rockets at Israel, and the fire is coming exclusively from Islamic Jihad's al-Quds brigades.
Experts say Hamas cannot run the risk of looking like it is deserting the other armed groups. But, with the two million residents of Gaza already on the brink of a humanitarian catastrophe, it will not want to invite an extended Israeli military campaign that will only see a 12-year Israeli blockade on the strip tightened even further.
Over the last few months there had already widening gap between Hamas and Iran-backed Islamic Jihad with the latter, which has a looser command structure, increasingly taking matters into their own hands.
Abu al-Ata, who led fighters in the north of the strip, is believed to have staged several attacks against Israel which may not have been sanctioned by the top operations room.
Contradicting Islamic Jihad's earlier threats of war, Hazem Qassem, a Hamas spokesman, told The Independent the armed factions in Gaza did not want a long conflict with Israel.
"The resistance did not start the escalation and does not want it, [Israel] is the one who imposed the escalation on us," he said.
"The factions don't want a war or any further confrontations. They are merely responding to the aggression, war will only happen if [Israel] wants it," he added.
He repeatedly dodged questions about whether Hamas's fighters were actually firing rockets into Israel, alongside the Al-Quds brigades.
"There is coordination between everyone on the ground," he repeated vaguely, instead.
The rhetoric from Islamic Jihad is much more bellicose: its leaders have said red lines were crossed and its fighters "are going to war".
They need to prove to their support base they have successfully avenged not only Abu al-Ata's death but another Tuesday strike attributed to Israel which targeted a senior Islamic Jihad commander in Damascus, Syria.
That strike on Akram al-Ajouri's home, which isn't believed to have killed him, marks a new surge in the open warfare between Israel and Iranian proxies in the region.
"Don't ignore what happened in Damascus, assuming it was Israeli action this would be tough message to the Iranians," Harel continued.
"Iran is part of the picture – it's not just about Israel versus Islamic Jihad or Israel versus Gaza."
Brig Gen Nitzan Nuriel – a former head of Israel's counter-terrorism bureau – said the Iranian angle was a key dynamic.
He believes Iran is testing Israel's defences capabilities and the famed Iron Dome with rocket salvos from Gaza-based Islamic Jihad fighters, to explore potential drone or missile attacks against the country, similar to strikes allegedly staged by Tehran against Saudi Arabia.
"How do you study a missile defence system? You create scenarios where you can fire at different areas and see," he added.
For the time being it is not clear how this bout of violence will end.
Egyptian officials are once again furiously mediating between all sides, for the moment supported by Hamas, who also appear to want a speedy de-escalation.
UN Middle East Envoy, Nickolay Mladenoy, meanwhile, has travelled to Cairo, and is also trying to calm tensions.
It is a Herculean task with each side entrenched in their positions and no clear image of what victory might look like.
"There is no 'victor picture,' as in the past. But no one will raise the white flag," Brig Gen Nuriel concluded.
"Everyone is looking for his narrative to sell to his people."
Register for free to continue reading
Registration is a free and easy way to support our truly independent journalism
By registering, you will also enjoy limited access to Premium articles, exclusive newsletters, commenting, and virtual events with our leading journalists
Already have an account? sign in
Join our new commenting forum
Join thought-provoking conversations, follow other Independent readers and see their replies