Israel 'giving secret aid to Syrian rebels', report says
Direct funding, food, fuel and medical supplies allegedly provided by Israeli state to keep Isis and Iranian-allied forces in neighbouring civil war at bay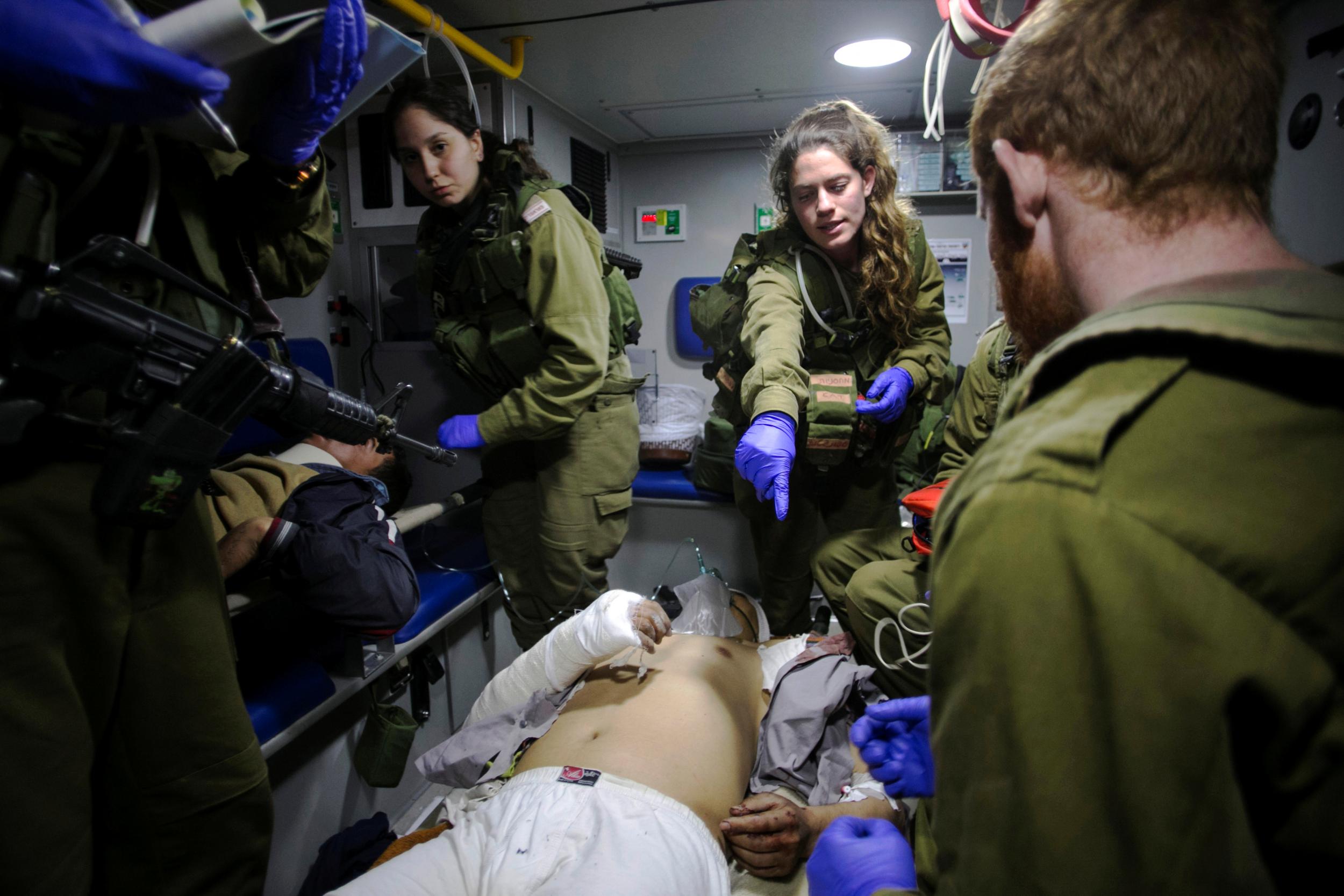 Israel has allegedly provided Syrian rebels with substantial funding and aid in order to maintain a buffer zone in the Golan Heights border area between the country and its war-torn neighbour, it has emerged.
The Israeli authorities have provided significant amounts of cash, food, fuel and medical supplies to Sunni rebels fighting against Bashar al-Assad's government, the Wall Street Journal reported on Monday, citing "half a dozen rebels and three people familiar with Israel's thinking."
Is is well known that Israel has provided medical help for Syrian civilians and fighters inside its own borders in the past. The authorities have retaliated to occasional stray rockets in the restive border region with reprisals, but it was previously thought that the Israeli authorities largely stay out of the complicated six-year-old conflict next door.
Donald Trump says Iran has helped commit 'unspeakable crimes' in Syria
Most Israeli air strikes in Syrian territory in the last few years have aimed to prevent weapons smuggling to Iranian-allied Hezbollah, which fights alongside the Assad government.
Hezbollah, like Iran, is committed to the destruction of the Jewish state.
The supposed support for Sunni rebels is thought to have begun as early as 2013 under former Defense Minister Moshe Ya'alon, with the goal of creating a 'buffer zone' free of radical militants such as Isis and Iranian-allied forces along Israel's border.
A special Israeli army unit was created to oversee the costly aid operation, the WSJ reported, which gives Fursan al-Joulan - Knights of the Golan - an estimated $5,000 (£3,900) a month. The group of around 400 fighters receives no direct support from Western rebel backers, and is not affiliated with the Free Syrian Army, the official rebel umbrella organisation.
In pictures: US missile strike against Syria
Show all 7
Israel may be funding up to four other rebel groups which have Western backing. The groups use the cash to pay fighters and buy ammunition.
The alliance reportedly began after wounded Fursan al-Joulan fighters made their way to the border and begged Israeli soldiers for medical assistance. "Israel stood by our side in a heroic way," the group's spokesperson, Moatasem al-Golani, told the Journal. "We wouldn't have survived without Israel's assistance."
Israeli Prime Minister Benjamin Netanyahu's office did not respond to requests for comment. The Israel Defence Forces (IDF) said in a statement that it is "committed to securing the borders of Israel and preventing the establishment of terror cells and hostile forces... in addition to providing humanitarian aid to the Syrians living in the area."
Israel and Syria have technically been in a state of warfare for decades. Syria controls around one third of the Golan Heights border, and Israel occupies the rest.
While Assad has previously claimed the Jewish state supports rebel groups, which his government refers to as terrorists, elements of the opposition have accused Israel of helping to keep the regime in power.
The most dramatic military skirmishes between the Syrian government and Israel since the civil war broke out in 2011 occurred in March, when the Israeli military shot down one of several anti-aircraft Syrian rockets fired at its warplanes, and April, when IDF strikes hit a weapons depot near Damascus.
It is extremely rare for the Syrian authorities to retaliate to Israeli operations.
Join our commenting forum
Join thought-provoking conversations, follow other Independent readers and see their replies