Netanyahu sparks backlash by hailing Italy's far-right Salvini as 'great friend of Israel' during two-day trip
Italy's divisive interior minister reiterated his support for Israel in whirlwind visit to country, sparking backlash from critics of Benjamin Netanyahu's courting of far-right figures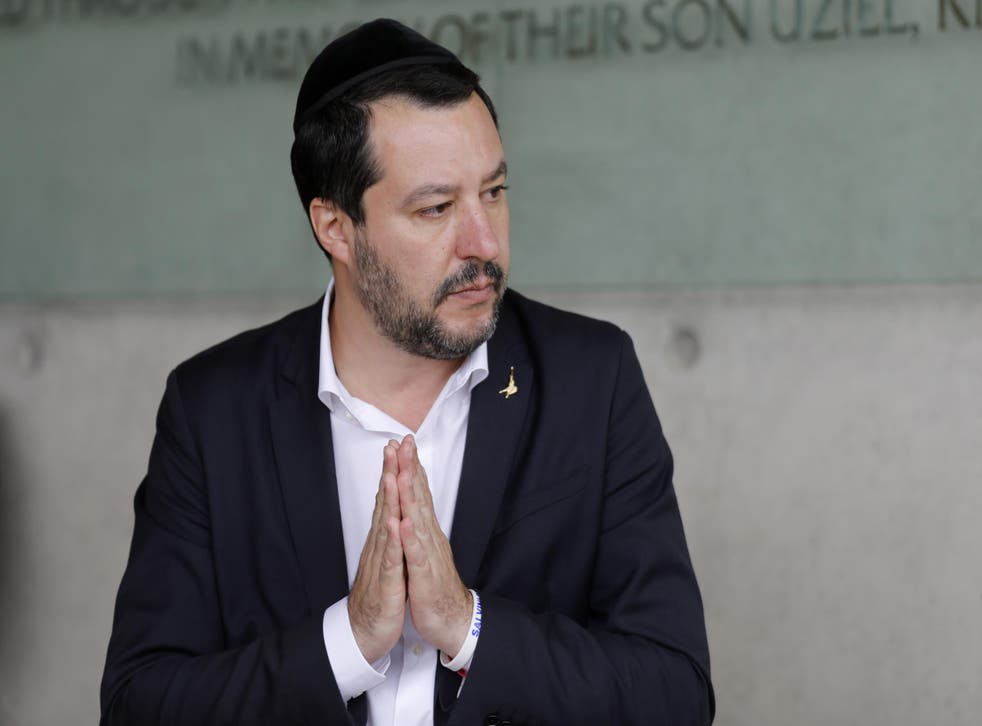 Israeli prime minister Benjamin Netanyahu welcomed Italy's divisive interior minister as a "great friend of Israel" during a two-day visit to the country, drawing a backlash from his critics concerned by the Italian politician's far-right and anti-migration policies.
Matteo Salvini, who is best known for bashing the European Union and cracking down on African and Arab asylum-seekers, began his whirlwind tour with a trip to Israel's northern border with Lebanon. There the Israeli army has uncovered tunnels it says were built by Lebanese militant group Hezbollah for attacks.
Mr Salvini, the leader of Italy's far-right League Party, immediately sparked criticism back home by calling Hezbollah a "terrorist" group in comments supporting Israel.
Italy is usually highly cautious over labelling Hezbollah, fearing it could endanger Italian forces operating in Lebanon as part of the UN peacekeeping force, UNIFIL. The European Union lists Hezbollah's military wing as "terrorist".
Mr Salvini also faced anger from Israelis during an evening tour of Jerusalem on Tuesday where he was assailed by protesters shouting: "Fascist, we do not want you here."
"I call terrorists what they are, which is terrorists," Mr Salvini said, brushing off his critics.
"I smile when I hear criticism from the left in Italy and in Israel … [they] will have to get over it."
He concluded by slamming the European Union for not supporting Israel enough, saying: "Whoever wants peace, needs to support Israel."
After Wednesday work meetings and a trip to Israel's Holocaust memorial museum, Mr Salvini was welcomed by Mr Netanyahu who thanked him for being "a great friend" to the country.
The Israeli premier has welcomed several controversial world leaders this year including Hungarian prime minister Viktor Orbán and Philippine president Rodrigo Duterte, both of who have been accused of being antisemitic in the past.
Critics hit back at Mr Netanyahu's warm reception of the Italian figure on Wednesday, saying it was part of a worrying trend of the premier courting divisive figures, who were able to "whitewash" unsavoury reputations with a trip to Israel.
Anshel Pfeffer, a commentator and expert on Mr Netanyahu, wrote in Haaretz newspaper: "It is clear what they come for on the political level. Politicians who are historically tainted with their party's past associations with fascist and neo-Nazi roots can get Israel's kashrut stamp by visiting the Western Wall and the Yad Vashem Holocaust memorial" – "kashrut" meaning kosher.
Sefy Hendler, in the same publication, argued that Mr Salvini should be "persona non grata" in Israel for his support of fascism and the late Fascist leader Benito Mussolini.
Back in Italy Mr Salvini's remarks have frequently drawn outrage from the Italian Jewish community who urged him to use his trip to Israel to condemn antisemitism.
In an open letter, a group of prominent Italian Jews expressed concern over Mr Salvini's visit, according to the Times of Israel. The letter urged him to firmly condemn "antisemitic acts, oblivion, and trivialisation of the horrors of the 1930s and 1940s by movements and parties belonging to the ethno-nationalistic far right in Italy and Europe" during his stay.
Over the summer, Mr Salvini came under fire from Jewish groups for saying he was considering abolishing an anti-racism law, and the Jewish Union in Italy has also condemned Mr Salvini over his announcement that he would conduct a census of Roma in Italy, saying he was awakening memories of racial hatred and fascist tendencies during the Second World War.
During his whirlwind trip, Mr Salvini held meetings with Israel's public security minister Gilad Erdan and tourism minister Yariv Levin. He also visited the Western Wall, the Church of the Holy Sepulchre and held a work meeting with Mr Netanyahu.
He did not travel to the Palestinian territories or meet any Palestinian leaders.
Register for free to continue reading
Registration is a free and easy way to support our truly independent journalism
By registering, you will also enjoy limited access to Premium articles, exclusive newsletters, commenting, and virtual events with our leading journalists
Already have an account? sign in
Register for free to continue reading
Registration is a free and easy way to support our truly independent journalism
By registering, you will also enjoy limited access to Premium articles, exclusive newsletters, commenting, and virtual events with our leading journalists
Already have an account? sign in
Join our new commenting forum
Join thought-provoking conversations, follow other Independent readers and see their replies