Israel reportedly jails Palestinian astrophysicist for incitement using Facebook 'likes' as evidence
Prominent professor latest to be sent to prison on controversial charge of 'inciting violence' online, which rights groups say has no legal precedent
Friday 14 October 2016 16:59 BST
Comments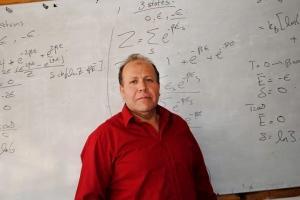 An astrophysics professor from the West Bank has been sentenced to seven months in prison for 'incitement' on social media.
Professor Imad Barghouthi was handed down the sentence at Ofer military court on Sunday for his Facebook posts about the Israeli-Palestinian conflict and Palestinian politics.
The Al-Quds University employee was arrested at a checkpoint near Ramallah in April while travelling to his home town of Beit Rima, and detained without any formal charges being brought against him.
After international petitions from the academic community calling for an end to his detainment, a military court ordered the 52-year-old's release in May, but prosecutors effectively overturned the decision by filing charges of incitement to racialised hatred and violence against Israelis.
The sentence includes time served, meaning he should be released late November.
During his trial, Palestinian media reported Dr Barghouthi's lawyer said that prosecutors used the numbers of 'likes' and 'shares' his political Facebook posts received as evidence. The Israeli Defence Force did not immediately respond to a request for comment.
UN on verge of labelling Palestine as 'non-member observer'
Show all 2
While The Independent could not independently verify this, such a move is commonly used in incitement cases, West Bank-based Palestinian legal rights organisation Addameer said.
"Hundreds of Palestinians [have been recently] arrested in relation to their social media posts, particularly Facebook, for alleged incitement," Addameer director Sahar Francis said.
"Prosecutors use the numbers of 'likes' and 'shares' of specified posts, while failing to connect these posts or these individuals, to acts of violence. The trend is an alarming one, in which the right to freedom of expression is severely obstructed."
Dr Barghouthi is said to be supportive of Hamas, the militant movement which controls the Gaza Strip. He was also arrested in 2014 for comments made at a Hamas rally which were uploaded to YouTube in which he encouraged Palestinians to "take up arms to defend their homes" against Israel during that summer's bloodshed in Gaza.
Netanyahu blames Palestinians for lack of peace in Israel
Even so, there is currently no law on the books in Israel which relates to charging people with criminal offences for what they write online, the Palestine Information Center says, and the trend of arrests in the last year sets a dangerous precedent for anyone critical of Israeli policy or documented human rights violations.
At least 150 Palestinians have been arrested or jailed for inciting racial hatred or violence towards Israelis online in recent months. Rights groups say that often the charge is used to target activists, journalists, poets and students who post about the occupation in a negative context.
Israel's crackdown on social media posts is designed to stem a wave of fresh Israeli-Palestinian violence in the past 12 months which the government says is encouraged by inflammatory content online.
A delegation from Facebook met with the Israeli Interior Minister last month to discuss how racial hatred can be better combated on the platform.
Several Palestinian journalists have reported that their accounts have been temporarily blocked without explanation since the meeting took place.
Facebook later said that the accounts had been suspended in error.
Join our commenting forum
Join thought-provoking conversations, follow other Independent readers and see their replies