Israel 'silencing' Palestinian journalists in 'incitement' offences crack down, monitors say
Rights groups say more than two dozen journalists are being held by Israeli authorities, without official charges brought against them, as part of efforts to curb recent spate of Israeli-Palestinian violence 
Monday 10 October 2016 15:10 BST
Comments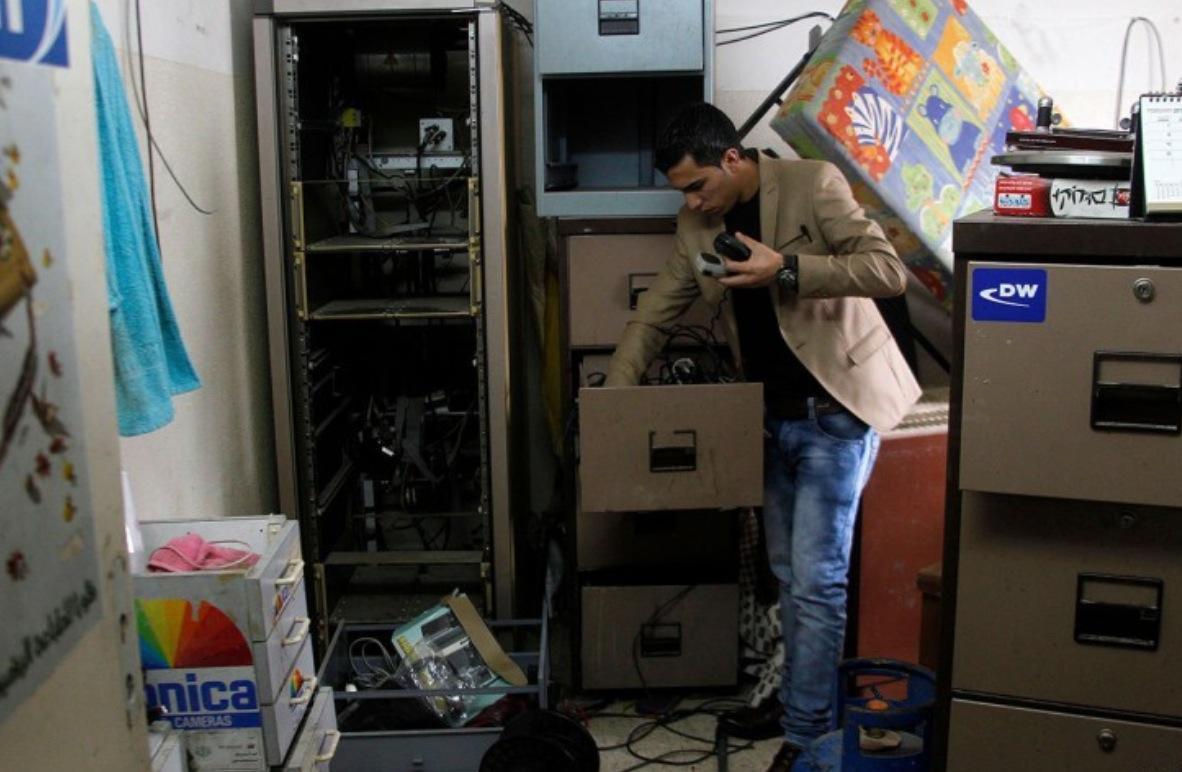 Five radio journalists operating in the Palestinian city of Hebron have been arrested for inciting violence against Israelis, amid growing concerns that the offence is being used to crack down on Palestinian freedom of the press and freedom of expression online.
Five of start-up Sanabel Radio's founders were arrested in a dawn raid last month during what an Israeli army spokesperson said was an "ongoing effort against incitement", as the station had "repeatedly broadcasted inciting content, encouraging, celebrating and promoting violence and terrorism against Israelis."
Most of the station's equipment was confiscated and the doors to the premises welded shut, the Palestinian Centre for Development and Media Freedoms (Mada) said, under an order to cease operations for three months. The journalists in question deny allegations that their work promotes violence.
The Israeli Defence Force (IDF) has shut down six Palestinian TV and radio outlets since a new wave of violence erupted last October which has killed 222 Palestinians, 36 Israelis, two Americans, an Eritrean and a Sudanese national to date, according to a count by AFP.
Also last month, seven prominent Palestinian journalists from Shehab News Agency and Quds News Network, both in the West Bank, temporarily had their Facebook accounts suspended in what Facebook later said was an error.
While both outlets have been accused of having extremist links, the individual journalists involved again denied that their work had anything to do with inciting terrorism. One journalist and translator for Quds said she believed the accounts had been blocked because of a new initiative between Facebook and Israeli government ministers to tackle incitement on the platform.
Israel has drafted legislation to compel the company to delete inflammatory content which it says has fuelled a spate of high-profile Palestinian attacks on Israeli civilians in the past year, which prompted a delegation from Facebook to meet with Interior Minister Gilad Erdan for what were described as "successful" talks last month. No further details were given.
Freedom for Palestine's sons comes at a price
Show all 1
At least 150 Palestinians have been arrested in recent months for 'incitement' through social media, but often civilians, activists and journalists are targeted for posts criticising Israeli actions rather than inciting violence, according to the Palestine Information Centre.
26 journalists are also currently being held in prison without any charges formally brought against them, Mada says, causing growing concern among rights groups that Palestinian freedom of expression is being stifled.
"We noted an increase of the Israeli arrests of journalists and activists since October last year," a spokeperson for Mada said. "The dangerous issue is the Israeli pressure on Facebook and Twitter, which resulted in the blocking of more than 20 personal and some media outlets sites last month by Facebook's administrators."
Facebook did not immediately respond to The Independent's request for comment.
Israel's Shimon Peres laid to rest
There is currently no legal precedent in Israel for charging people with an offence related to online posts, a West Bank-based legal organisation, Addameer, told The Independent earlier this year.
Khalid al-Araj, a manager from the Palestinian Prisoners' Society, said that the 26 journalists currently behind bars were under administrative detention, and had not been charged or tried with any offence. "The tactic is used because [Israeli authorities] want to silence the journalists, but they don't have any real charges to levy against them," he told Al Jazeera.
Join our commenting forum
Join thought-provoking conversations, follow other Independent readers and see their replies