Palestinians brace for Israeli bulldozers in the West Bank: 'If we lose Khan al-Ahmar we lose Jerusalem'
As a deadline for demolition passes on Monday, Palestinians waiting to be forcibly evicted vow to stay put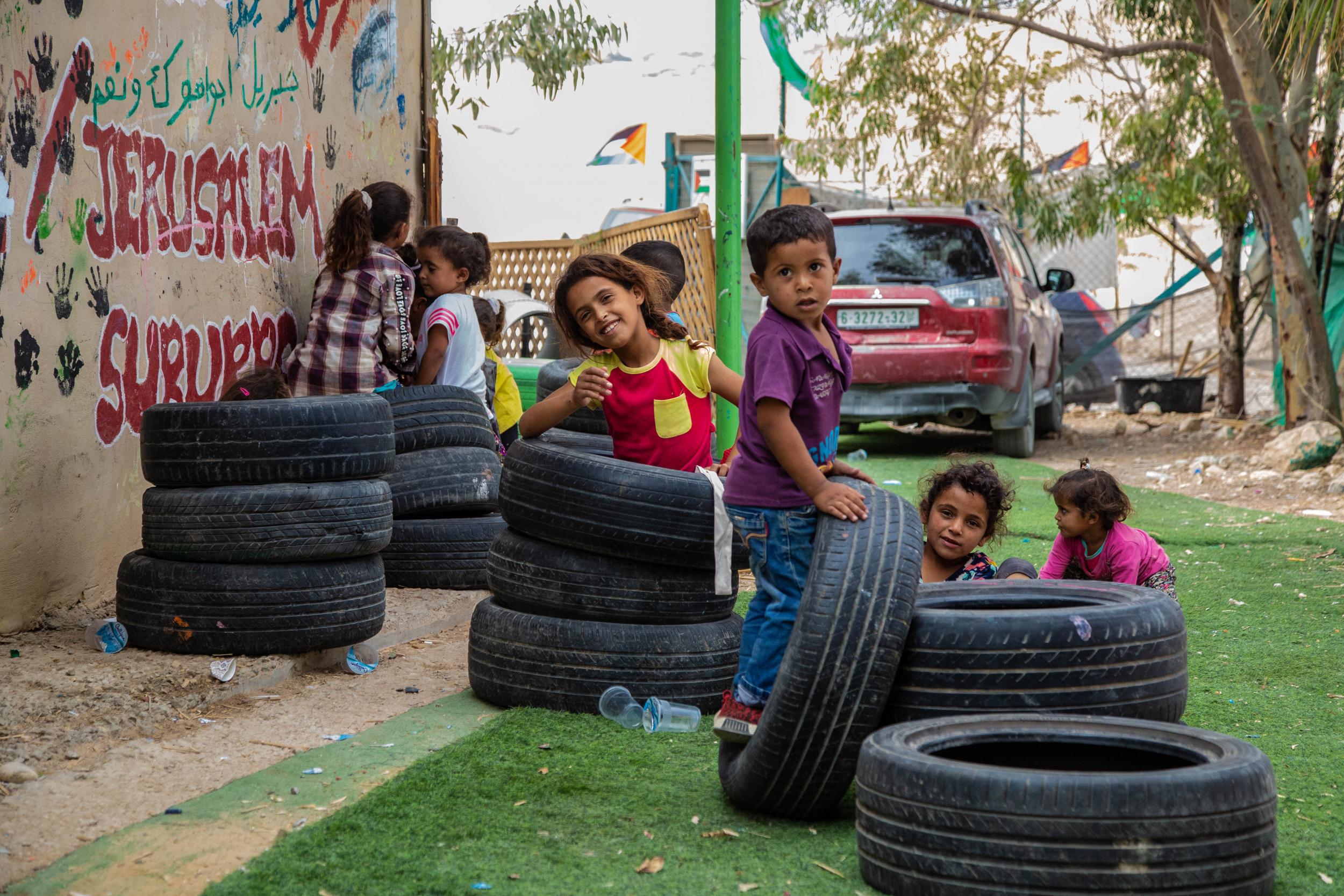 Residents of a Palestinian hamlet in the West Bank have braced themselves for the Israeli demolition of their homes after a deadline passed, but vowed to stay put and defy troops when the bulldozers arrive.
Some 180 people in Khan al-Ahmar, located between the Israeli settlements of Kafr Adumim and Ma'ale Adumim, face being forcibly evicted and transferred after Israel's Supreme Court twice ruled in favour of demolishing their village.
The order, which was due to be enforced on Monday, includes the village's school, which provides education for some 170 children from five different Bedouin communities.
The court ruled the Bedouin tribe, who were originally displaced from the Negev Desert in the 1950s, had illegally built their homes in an unsafe location near a main road.
But critics, who have called the decision a war crime, say it is impossible for Palestinians to obtain the building permits in the Israeli-controlled areas of the West Bank known as Area C. United Nations officials believe the clutch of corrugated iron shacks is being cleared to make way for the expansion of nearby Israeli settlements, illegal under international law.
Despite desperate appeals by Khan al-Ahmar's residents, the Israeli authorities gave them until 1 October to destroy their own homes and leave. On Monday, as the deadline passed, residents said women and children were scared about the expected attack but were determined to stay put.
"Ordering us to destroy our own homes is like telling us to bury ourselves with our own hands," said Abu Khamas, 52 a father-of-seven in a protest tent within the village where dozens of activists were also waiting for the bulldozers.
"We are not soldiers, we don't have tanks, we can't stop them but we will resist and sleep under the sky if needs be. The woman and children are very scared."
The Bedouin leader said the Israelis planned to destroy the village and more than a dozen others like it to drive a wedge into the West Bank and connect major Israeli settlements such as nearby Ma'ale Adumim to Jerusalem.
"If they take all the Bedouin villages they will be able to start building settlements that will cut the West Bank in two again separating the people from Bethlehem from those in Ramallah and those in Jerusalem," he said.
"In short, if you lose Khan al-Ahmar you lose Jerusalem because you close the circle around it."
The plan has come under fire from the UK, Germany, France, Italy and Spain, who issued a joint statement last month saying it could threaten the prospect of a contiguous Palestinian state, at a time when the prospects of a two-state solution have never looked so bleak.
German chancellor Angela Merkel is also to arrive in Israel later this week for an unrelated visit, which will pile further pressure on Israel.
The UN has repeatedly called for Israel to stop the demolition plan, denouncing it as a "grave breach of international law".
According to the UN's humanitarian affairs office OCHA, Khan al-Ahmar is one of 18 communities located near an area slated for an Israeli settlement reorganisation plan that would create a continuous built-up area, between the Ma'ale Adumim and East Jerusalem.
Israel has defended the decision, saying that the village is built in an unsafe area and should be relocated to a more suitable location. 
But according to Amnesty International, the two chosen options are beside a former Jerusalem municipal garbage dump, or in the vicinity of a sewage plant close to the city of Jericho.
"We can't live where they want us too," Mohamed Abu Dahook, 23, a Khan al-Ahmar resident told The Independent. "I was born here, my father was born here, why should we move? We will come straight back if they force us out."
Palestinians await Israeli demolition of their homes in the West Bank
Show all 7


In solidarity with Khan al-Ahmar on Monday, Palestinians in the West Bank held a general strike, shuttering businesses and shops in protest.
The strike was also against Israel's controversial Jewish nation-state law, which was ratified in July.
Sections of the bill, which holds a constitution-like status, include downgrading the Arabic language and promoting segregated communities, have drawn comparisons to South African apartheid and anti-semitism in 1940s America.
The Israel government said the new legislation merely enshrines into law the country's existing characteristics. In his address to the UN General Assembly on Thursday, Israeli Prime Minister Netanyahu said condemnations of the law were "outlandish attacks."
Palestinians engaged in the strike told The Independent they felt that Israel was able to push ahead with the demolitions and the nation-state law as it had the full support of the United States.
US president Donald Trump in December recognised the contested city of Jerusalem as Israel's capital and in May moved the US embassy there from Tel Aviv despite East Jerusalem also being claimed by the Palestinians. Mr Trump also slashed millions of dollars' worth of Palestinian aid including funding to the UN Palestinian refugee program UNRWA.
Abu Mohamed, 48, a father of six, in Jericho said they wanted to send a powerful message of Palestinian solidarity to the world at a time when they said conditions had never been so bad
"It is much worse than it has ever been. It is not just political, it's economic as well. There is no work, no jobs, no future," he said.
Join our commenting forum
Join thought-provoking conversations, follow other Independent readers and see their replies