Eighteen British tourists kicked off plane in Israel after one threatened to blow it up
Men also alleged to have made 'antisemitic jokes' about other passengers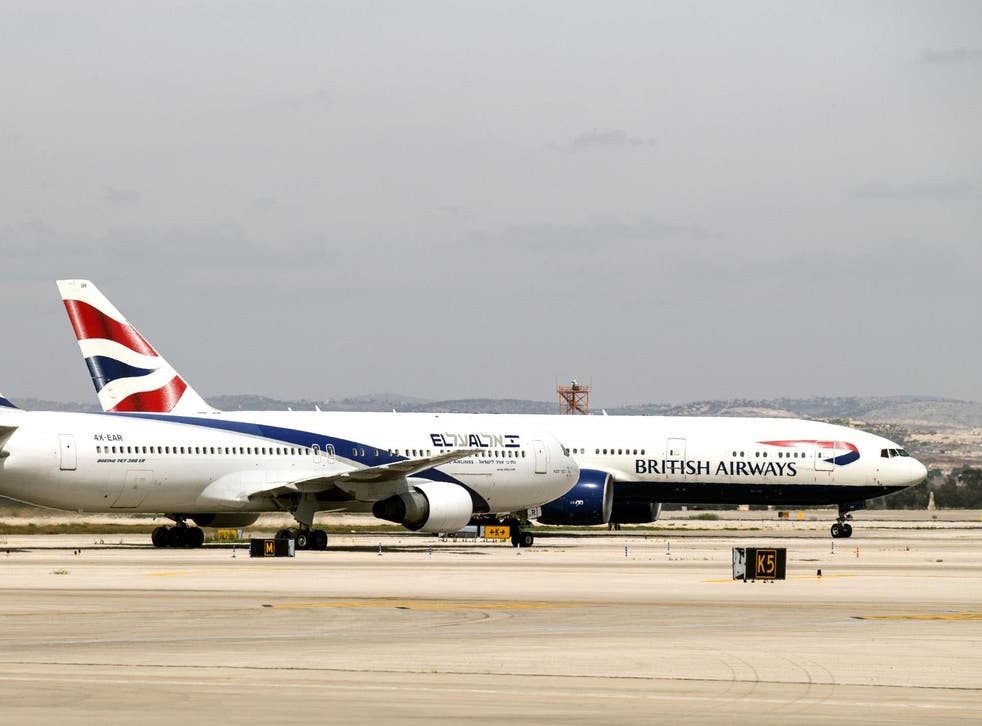 A group of 18 British tourists were thrown off a plane in Israel after one of them allegedly threatened to blow up the aircraft.
One of the passengers, who were all men, was led away by security forces after being ejected from the British Airways jet at Ben Gurion Airport near Tel Aviv.
Some of the group are also alleged to have made antisemitic jokes about other passengers after boarding the flight to London Heathrow on Sunday.
"After they sat down on the plane, one of the members of the group said he would blow up the plane," said the Israel Airports Authority in a statement issued to local media. "The captain informed the airline in London and received an order to remove the group from the plane."
Another passenger on the flight told The Independent he believed the bomb threat to have been "ill-judged humour".
World news in pictures

Show all 50
Richard Andrews, 49, from Croydon, south London, said: "I didn't hear any shouting and screaming, I didn't hear any rowdiness or whatever, but there was certainly something going on and one main guy who seemed to be the one who was leading any bad behaviour.
"If somebody did say something about blowing the plane up I think it will have been to the people immediately around them – it wasn't something that was shouted out. But it's not something that anybody in the right frame of mind would be saying on a plane anywhere."
Mr Andrews, who had been on holiday in Tel Aviv with friends, said the men thrown off the plane were "fairly well-dressed", appeared to be aged in their early- to mid-thirties, and seemed to be drunk.
He added: "My friend heard them saying something which she said to me were antisemitic jokes or comments about the people sitting around them. They were just being insulting about the people around them.
"I think there was one person who was going further with his behaviour, beyond really poor taste jokes, and could have been seen as threatening if he was walking up and down acting erratically
"He apparently had been getting up and walking up and down the aisle even as people were coming in and had been manhandling one of the air stewards. He was the one who seemed to be more forcibly ejected from the plane."
Support free-thinking journalism and attend Independent events
The 4.40pm (1.40pm GMT) flight was delayed for more than two hours as an airport security team swept the aircraft for explosives, but none were found. The plane took off at 7pm local time.
A British Airways spokesman said: "The safety and security of our customers and crew is always our top priority.
"We take these matters extremely seriously, and the appropriate action will always be taken."
Join our new commenting forum
Join thought-provoking conversations, follow other Independent readers and see their replies