Israel pushes deep into Gaza City
Palestinians say residents waving white flags shot dead as they flee their homes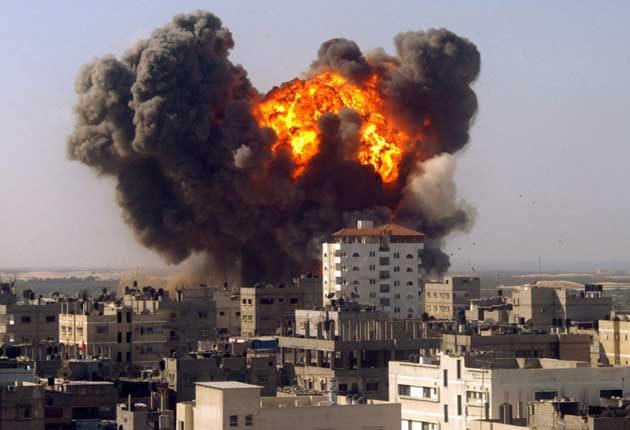 Israeli forces said they had pushed deeper into Gaza City amid heavy fighting, with some units within a mile of the densely populated urban centre. Terrified residents were said to be fleeing from many homes which had been set alight.
At least three Palestinians in Gaza were shot dead yesterday after Israeli soldiers fired on a group of residents leaving their homes on orders from the military and waving white flags, according to testimony taken by the Israeli human rights group B'Tselem. The testimony was rejected by the military after what it said was a preliminary investigation.
The thrust by Israeli ground forces into Tel Hawwa was the furthest the Israelis had gone into Gaza City since military operations were launched on 27 December. Meanwhile, Israel's Prime Minister, Ehud Olmert, declared that he would press forward with an "iron fist". While his government in Jerusalem is claiming that Hamas's military capabilities have been severely damaged, its senior intelligence sources have revealed that only a "few hundred" of the movement's 20,000 men have been killed, including several of its key leaders. The officials also stated that Hamas still had significant supplies of rockets left in their arsenal despite firing several hundred of them into Israel since military operations began.
However, Lieutenant-General Gabi Ashkenazi, the Israeli chief of staff, told Israeli MPs: "We have achieved a lot in hitting Hamas and its infrastructure ... but there is still work ahead." Israeli aircraft carried out 60 raids yesterday.
As Palestinian hospital officials revealed that the death toll has risen to at least 952, half of them women and children, John Ging, the UN Relief and Works Agency's director of operations in Gaza, called on the international community to protect civilians in Gaza; he also wants a full investigation into allegations that Israeli military forces have used illegal weapons.
On the relatively peaceful West Bank, a Palestinian man was killed after he tried to grab a gun from an Israeli soldier in Hebron and a 15-year-old boy was shot near the city of Qalqiliya while throwing stones at a road used by soldiers and settlers. Palestinian officials said a settler had fired the fatal shot.
The UN secretary general, Ban Ki-moon, is heading to the region for talks with leaders in Egypt, Israel, Jordan and Syria. He said: "My message is simple: the fighting must stop. To both sides, I say: Just stop now."
In Gaza, Munir Shafik al-Najar told B'Tselem that members of his extended family started trying to leave their homes after the Israeli army began demolishing buildings in the area of Kuza'a, close to the Israeli border with south-eastern Gaza. Mr Najar said the Israeli soldiers were using gunfire to signify that residents should leave, but then started shooting "indiscriminately".
He testified that his relative Rawhiya had stepped out of the family-owned building, one of whose walls had been destroyed by a bulldozer, expecting her family to follow, but she was shot. The military subsequently attacked another group escaping leaving two more of his relatives dead. The military said late last night that it had found the claim to be "without foundation".
Join our commenting forum
Join thought-provoking conversations, follow other Independent readers and see their replies