Israel refuses to help Britain with inquiry into fake passports
'No proof' of Israeli part in killing of a Hamas leader, says foreign minister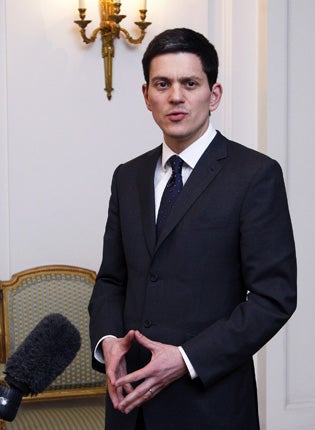 Israeli foreign minister Avigdor Lieberman yesterday flatly rebuffed David Miliband's request for cooperation with an investigation into the use of forged British passports in the assassination of a Hamas leader.
The request for assistance came as the total number of fake British passports believed to have been used in last month's assassination rose from six to eight. But private discussions on the sidelines of an EU meeting in Brussels – and an identical request from Irish foreign minister Micheál Martin – yielded no concessions on the Israeli side.
A statement from Mr Lieberman's office reiterated that there was "no proof" of Israeli involvement in the affair. "If someone would present information beyond articles in the media, we would relate to it," he is said to have told Mr Miliband. "But since there is no such information, there is no need to deal with the matter."
Mr Miliband, meanwhile, said simply that he had "set out for the foreign minister the seriousness of the issue". Israel also came under pressure from a joint statement by the EU foreign ministers that "strongly condemned" the use of forged passports, although it did not mention Israel by name.
Israel's position forces the UK to decide whether tensions over the passport use will escalate into a crisis that could affect bilateral relations. The Israeli assumption is that Britain has no such intention. Mr Miliband's references to "the profound concern that exists not just in Britain but all over Europe about this incident" were not matched by any concrete steps.
The British inquiry into the use of passports belonging to dual British-Israeli nationals was announced by Gordon Brown last week after authorities released details of suspects in the killing of a Hamas official, Mahmoud al-Mabhouh, in Dubai. Police there believe the hit squad were from Israel's intelligence agency, Mossad.
Mr Lieberman suggested to Mr Miliband and Mr Martin that the killing may have been the result of inter-Arab feuding. "There is an Arab tendency to blame Israel for everything. In the Middle East there are many internal struggles within states and bodies that aren't democratic like Israel," he said, according to the spokesman.
The EU's statement said that the assassination raised "profoundly disturbing" issues. But Hamas spokesman Sami Abu Zuhri criticised its wording. "Condemning the use of passports was insufficient," he said. "The statement did not indicate any condemnation of the crime, Mabhouh's assassination."
In the House of Commons, Europe minister Chris Bryant said that Dubai authorities yesterday forwarded the details of two additional fraudulent documents. The names on the documents were not immediately available. All six of the names released by Dubai police belong to dual UK-Israeli nationals living in Israel. The Dubai police have named 11 of what they say was an 18-member assassination squad.
Join our commenting forum
Join thought-provoking conversations, follow other Independent readers and see their replies