Israel has stripped citizenship from an Arab Israeli for the first time ever
Judge says the move is a 'suitable' response after Alaa Raed Ahmad Zayoud injured four people in an 'act of terror'
Greg Wilford
Sunday 06 August 2017 17:55 Comments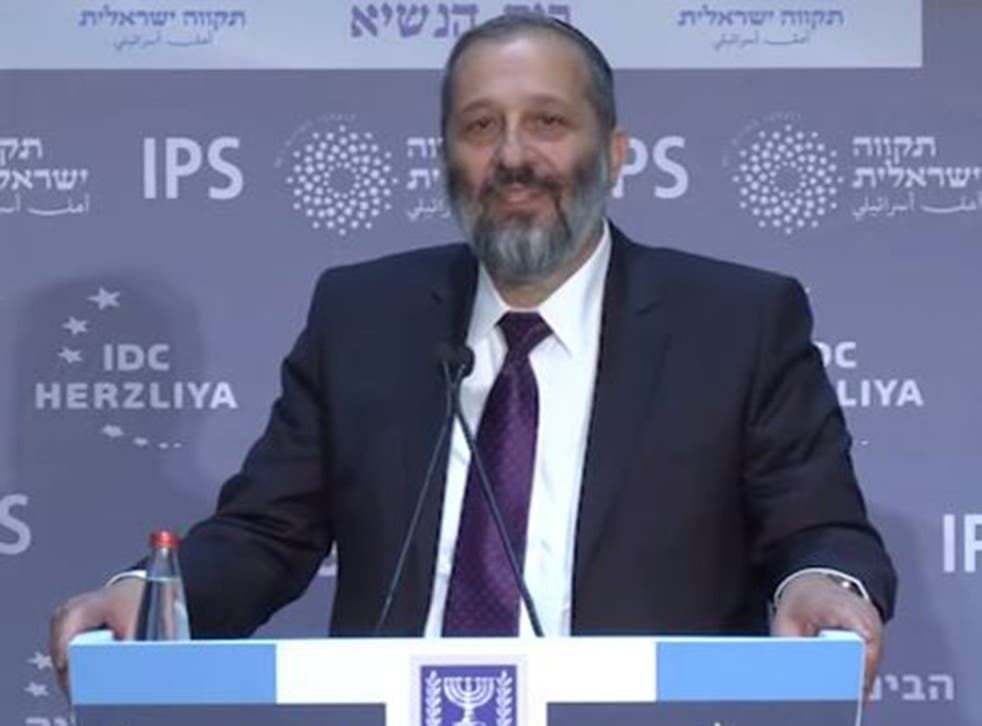 Israel has stripped an Arab Israeli man of citizenship, claiming he "removed himself from society" by launching a car-and-knife rampage that left four people injured last year.
Activists claim the ruling, believed to be a legal first, will leave Alaa Raed Ahmad Zayoud "stateless" and may violate international laws.
But a judge said the move was a "suitable and proportional" response after Zayoud ploughed a car into a female Israeli soldier before stabbing three civilians near Kibbutz Gan Shmuel, northeast of Hadera, in October 2015.
Zayoud was convicted of four counts of attempted murder and sentenced to 25 years in jail following the "nationalistically motivated" attack, which came during a spate of stabbings and shootings in Israel.
The government's Interior Minister, Aryeh Deri, asked Haifa Magistrates' Court to revoke his citizenship following sentencing in June last year.
On Sunday the court's deputy president Avraham Elyakim agreed to the request, according to the Times of Israel.
"For every citizen, alongside his rights, there are commitments," he said.
"One of them is the significant and important commitment to maintain loyalty to the state, which is given expression also in the commitment to not carry out terror acts to harm its residents and their security.
Remembering the Israel-Gaza conflict

Show all 12
"We cannot allow an Israeli citizen to impact the lives and dignity of other Israeli citizens and whoever decides to so in acts of terror, removes himself from the general society of the country."
The decision was criticised by Human Rights Watch Israel and Palestine director Omar Shakir, who tweeted: "Israeli court today revoked citizenship for first time ever; Palestinian Alaa Zayoud left stateless, a violation of int'l human rights law."
Adalah, an Arab human rights group, claimed the ruling set a "dangerous precedent" and said they would launch an appeal at Israel's Supreme Court.
In a Facebook statement, the organisation said that the Supreme Court previously refused to revoke the citizenship of Jewish right-wing extremist Yigal Amir, who was jailed for life after assassinating the Israeli Prime Minister Yitzhak Rabin in 1995.
Zayoud's citizenship is set to be revoked in October, when he will be given temporary citizenship which can be extended at the discretion of the Interior Ministry when he completes his prison sentence.
The extremist, who claimed he wanted to "kill himself by killing Jews", was a resident of Umm al-Fahm, an Arab-Israeli city in the Haifa District of Israel.
His father, who is not an Israeli citizen, has been informed that the Interior Ministry will not renew his residency in the country.
Mr Deri welcomed the ruling and said: "The court decision strengthens the deterrent and strengthens our campaign to protect the security of the country.
"The decision unequivocally defines that anyone who damages the state or its citizens can't be a part of it."
Register for free to continue reading
Registration is a free and easy way to support our truly independent journalism
By registering, you will also enjoy limited access to Premium articles, exclusive newsletters, commenting, and virtual events with our leading journalists
Already have an account? sign in
Join our new commenting forum
Join thought-provoking conversations, follow other Independent readers and see their replies