Israel's proposed law to force-feed Palestinians called 'torture' by leading medical association
Prime Minister Benjamin Netanyahu told his Cabinet he will find physicians who will participate in force-feeding
Kashmira Gander
Thursday 05 June 2014 20:02 Comments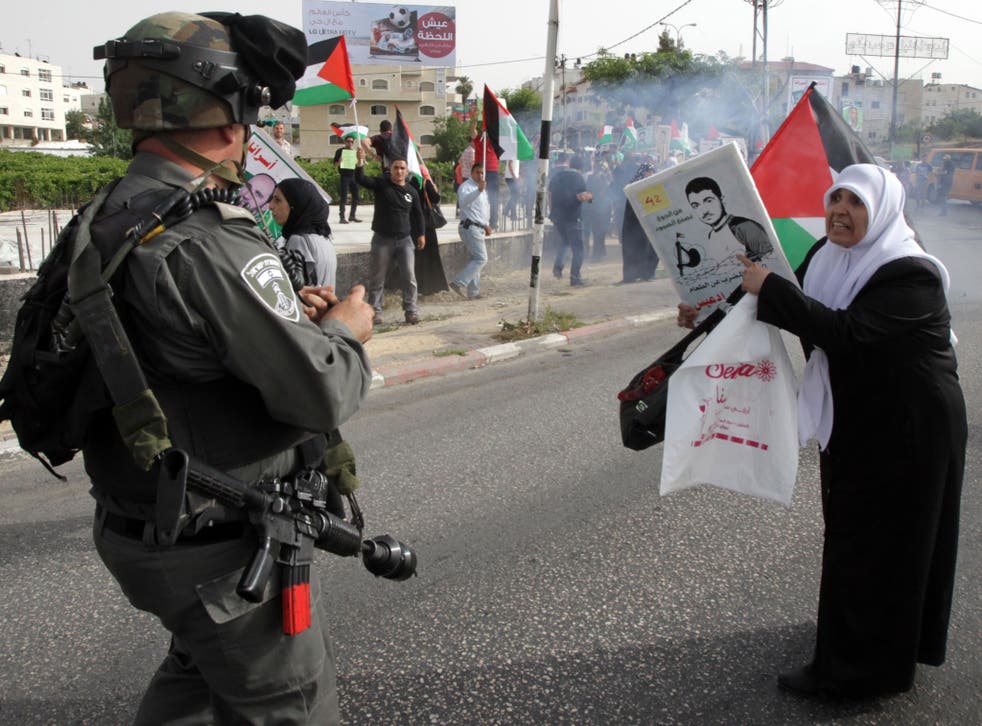 Doctors in Israel are refusing to back proposed legislation which would see Palestinian prisoners on hunger strike force fed – a proposal the nation's leading clinicians association has branded "torture".
Prime Minister Benjamin Netanyahu has reportedly attempted to fast-track the bill, as dozens of Palestinian detainees enter the sixth week of a hunger strike – the second on a large scale in two years.
At least 65 of the 290 people participating have been hospitalised since they stopped eating on 24 April.
None are in a life-threatening condition, according to Sivan Weizman, a spokeswoman for the Israel Prison Authority.
Many are administrative detainees who have been held for months or years despite having no formal charges put against them.
If the bill is passed, it would allow a judge to sanction force-feeding if an inmate's life is perceived to be in danger.
The Israel Medical Association is urging physicians not to cooperate in the practice.
"It goes against the DNA of the doctors to force treatment on a patient," spokeswoman Ziva Miral said. "Force-feeding is torture, and we can't have doctors participating in torture."
She added that the World Medical Association (WMA), an umbrella for national medical associations, also opposes the practice.
Israel's National Council of Bioethics also opposes the bill, while Physicians for Human Rights-Israel contacted the WMA last month urging they help block legislation they believe is being used to "break the spirit and protests of the hunger strikers."
Existing law prohibits the treatment of patients, including prisoners, against their will, with extreme cases referred to an ethics committee, said Amany Dayif of Physicians for Human Rights-Israel.
In the face of criticism, Netanyahu told his Cabinet in early June that he will find physicians who will participate in force-feeding, noting that force-feeding is carried out at the US-run Guantanamo Bay detention camp for suspected militants, the Haaretz daily said.
US-based Physicians for Human Rights said it is currently not aware of prisoners being force-fed anywhere except Guantanamo.
Yoel Hadar, a legal adviser in the Public Security Ministry, which initiated the bill, said a judge must consider the prisoner's wishes, but also possible damage to the state. He added if a prisoner died in custody, it could trigger prison riots or unrest in Palestinian territories - a consequence the judge would have to consider.
Hadar continued that force-feeding would be a last resort, and prisoners partaking in hunger strikes would be represented in legal hearings and physicians would not be compelled to participate.
Netanyahu's spokesman, Mark Regev, declined to comment on the report, but confirmed the government supports the bill.
Demonstrators have rallied in solidarity with the detainees on an almost daily basis. One protest in the West Bank on Wednesday saw dozens of university students throw stones - to which Israeli soldiers responded with tear gas.
Families of hunger strikers have told reporters they support their actions, despite the risks.
"My husband is in Israeli jails without knowing why and when this nightmare is going to end," Lamees Faraj said of her husband, Abdel Razeq, a member of a small, hard-line Palestine Liberation Organization faction who has been in administrative detention for nearly eight of the last 20 years.
Since capturing the West Bank, the Gaza Strip and east Jerusalem in 1967, Israel has imprisoned tens of thousands of Palestinians for a range of politically motivated offenses, from stone throwing and membership in outlawed groups to deadly attacks on Israelis.
The Palestinians want a state in the three territories and have staged two uprisings since 1987 in hopes of hastening an Israeli withdrawal.
Currently, some 5,000 Palestinians are imprisoned by Israel, including 191 in administrative detention, who can be held for up to six months at a time without charges.
Israel says administrative detentions are an important tool in preventing attacks by militants.
Additional reporting by AP
Register for free to continue reading
Registration is a free and easy way to support our truly independent journalism
By registering, you will also enjoy limited access to Premium articles, exclusive newsletters, commenting, and virtual events with our leading journalists
Already have an account? sign in
Join our new commenting forum
Join thought-provoking conversations, follow other Independent readers and see their replies