Israel UN settlements vote: Netanyahu summons 13 ambassadors and cuts civilian coordination with Palestinians
​​Israel says it is doing 'all it takes' to combat 'shameful' anti-settlement resolution passed by UN last week
Sunday 25 December 2016 14:02 Comments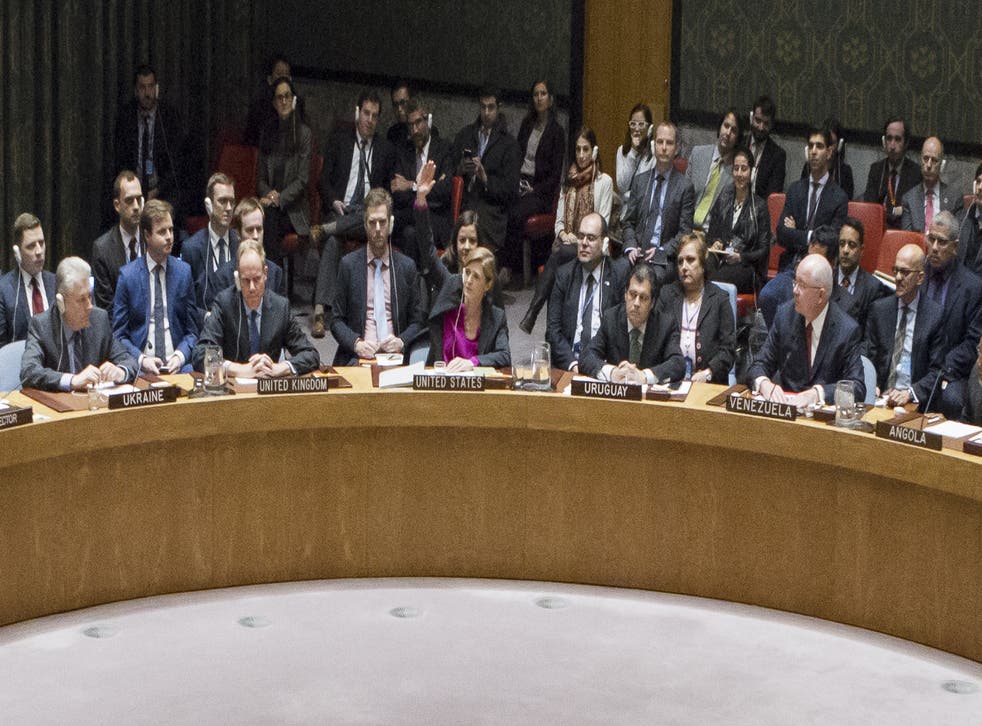 Israeli Prime Minister Benjamin Netanyahu has stepped up retaliatory measures in wake of a UN Security Council vote that condemned Israeli settlements on Palestinian land as a "flagrant violation" of international law.
The resolution managed to pass on Friday thanks to an abstention by the US, the country's closest ally, which has been widely interpreted as a parting shot from outgoing US President Barack Obama.
The US has previously used its veto as a permanent member of the council to scupper similar proposals since 1979, but relations between the Obama administration and the Israeli government have steadily declined over the last eight years.
Mr Netanyahu has said that he will do "all it takes" to ensure Israel emerges "unscathed" by the diplomatic fallout from the vote, on Sunday summoning the ambassadors of 12 of the 14 countries who voted in favour of the resolution, including the UK, France, Russia and China.
The American ambassador Dan Shapiro was also called in for a separate meeting, Israeli media reported. It is unclear when that meeting will take place.
Israel's Defence Minister Avigdor Lieberman also announced on Sunday that Israel is cutting civilian coordination with Palestinians, army radio said, while maintaining security coordination. Israeli officials have refused to comment on the radio report.
Israel's forgotten hero: The assassination of Count Bernadotte - and the death of peace

Show all 3
The prime minister told his Cabinet in their weekly meeting that Israel is now looking into a "plan of action" against the UN, without elaborating on what that might look like, but the country has already cut millions of shekels of funding for UN agencies.
On Saturday Israel suspended diplomatic ties with Senegal and New Zealand, who proposed the resolution, as well as cutting off all aid to Senegal and cancelling an upcoming visit from the Senegalese Foreign Minister Mankeur Ndiaye.
The vote, which reiterates that the international community views any Israeli construction over the agreed 1967 Green Line as illegal in the hopes of working towards a two-state solution to the Israeli-Palestinian conflict, is largely symbolic, and is unlikely to have any effect on the ground.
However, despite enjoying support from the incoming US administration of President-elect Donald Trump, the Israeli authorities are worried that it could pave the way to other coordinated international action against settlements, such as economic sanctions.
Register for free to continue reading
Registration is a free and easy way to support our truly independent journalism
By registering, you will also enjoy limited access to Premium articles, exclusive newsletters, commenting, and virtual events with our leading journalists
Already have an account? sign in
Join our new commenting forum
Join thought-provoking conversations, follow other Independent readers and see their replies