'Three Palestinians killed' during clashes in Jerusalem and West Bank
Thousands of Israeli police deployed amid clashes over metal detectors at holy site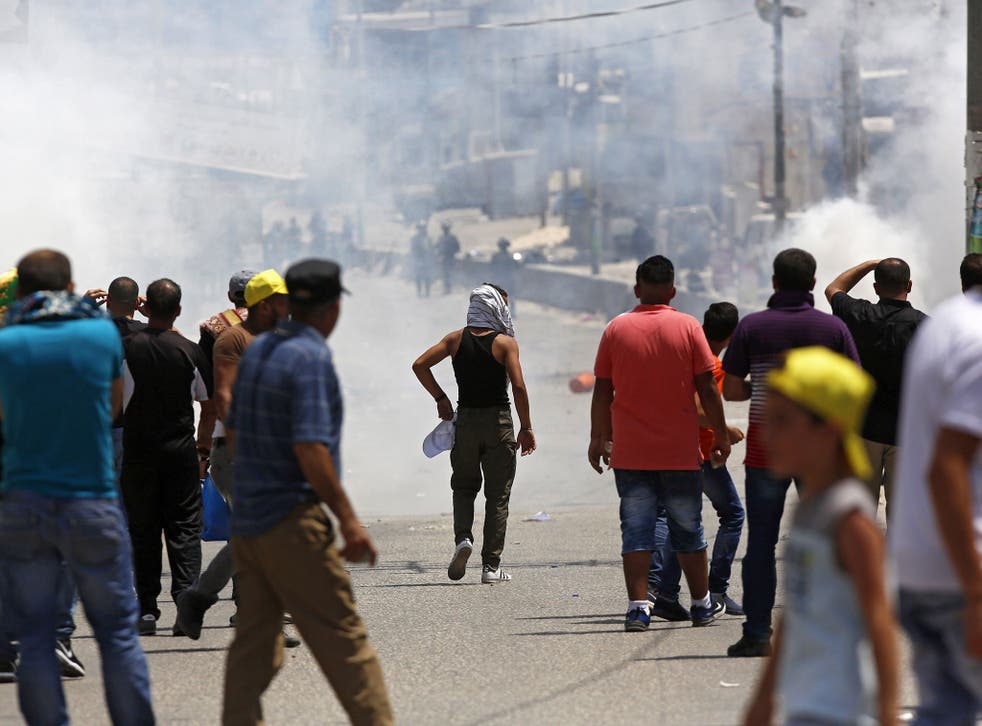 Three Palestinians have reportedly been killed amid violent clashes across Jerusalem and the West Bank.
In Jerusalem, two Palestinians, a 17-year-old boy and 24-year-old man were killed by live fire, said Bayan Baidoun from the Mukassed Hospital.
A third Palestinian was killed in clashes in the West Bank, the Palestinian Health Ministry said, but did not provide further details.
Local media named the 17-year-old as Muhammad Mahmoud Sharaf, saying he was killed during protests in the Ras al-Amoud district of East Jerusalem.
The Palestinian Authority-linked Wafa news agency reported that he was shot in the neck by a settler and died of his wounds shortly afterwards, being buried later in the day.
Footage showed hundreds of Palestinians at the funeral, chanting "Allah akhbar" as they carried Muhammad's body through the streets.
Both his body and that of the 24-year-old were removed quickly from hospital for burial amid fears they would be seized by Israeli authorities, preventing the swift burials customary both Islam and Judaism.
At least one Israeli police officer was injured as Palestinians hurled rocks and missiles and started fires, and Israeli security forces responded with live fire, rubber bullets, tear gas and stun grenades.
The Palestinian Red Crescent said it had treated 193 injured people across Jerusalem on the West Bank so far on Friday, warning of "foreseen tensions and potential clashes".
Thousands of Muslims had prayed in the streets surrounding the holy site known as Temple Mount by Jews and Haram al-Sharif by Muslims in the Old City.
They were protesting against the installation of metal detectors and other restrictions at the entrance to the al-Aqsa Mosque, after Palestinian gunmen killed two police officers there last week.
Trump's full remarks in Jerusalem
Muslim leaders had urged worshippers not to enter the sacred compound until Israel removes the detectors, portraying Israel's measures as an encroachment on Muslim rights.
The mufti of Jerusalem, Mohammed Hussein, told worshippers that he expects a "long test of wills" with Israel over the third-holiest site in Islam.
Israeli authorities have insisted the devices would stay, saying they are needed to prevent further attacks and arguing they go no further than measures at other sensitive sites abroad.
But a spokesperson suggested that officers may sometimes only choose to conduct spot checks, after Israel's security cabinet decided not to overrule the decision to install detectors.
The military and the Shin Bet security service were reportedly opposed to the devices.
Friday prayers are frequently a flashpoint for protests and unrest in Jerusalem and the West Bank, with police severely restricting Muslim access to the area surrounding the al-Aqsa mosque and setting up checkpoints.
Around 3,000 police were deployed near the Old City, turning away Muslim men under the age of 50, while some worshippers intercepted before reaching Jerusalem as they journeyed toward the holy city.
The Israeli–Palestinian conflict intensifies

Show all 10
Anger over perceived moves by Israeli authorities to restrict Muslim access to the al-Aqsa mosque and lessen control by its Jordanian custodians has been a major source of increased tensions over the past two years, which have seen in a spike in Palestinian attacks and shootings by security forces.
Jordan has repeatedly appealed to Israel to remove the metal detectors and thousands of Jordanians protested in Amman on Friday.
The compound houses the Dome of the Rock and al-Aqsa mosque, and is the third holiest site in Islam.
But it was once home to biblical Temples and so is Judaism's holiest site. The Western Wall, a Temple remnant, is the holiest site where Jews can pray.
Palestinian President Mahmoud Abbas has asked the US to "intervene urgently" and compel Israel to remove metal detectors, according to his adviser, Nabil Abu Rdeneh.
He said Mr Abbas discussed the growing tensions in Jerusalem in a phone call with Donald Trump's Middle East adviser and son-in-law, Jared Kushner.
The Palestinian leader told Mr Kushner that the situation is "extremely dangerous and may go out of control," Mr Abu Rdeneh added.
Additional reporting by AP
Join our new commenting forum
Join thought-provoking conversations, follow other Independent readers and see their replies