Israel's Netanyahu 'snubs Theresa May' over UK's role in UN settlements vote
Britain was among 14 Security Council members to rule Israeli settlements as illegal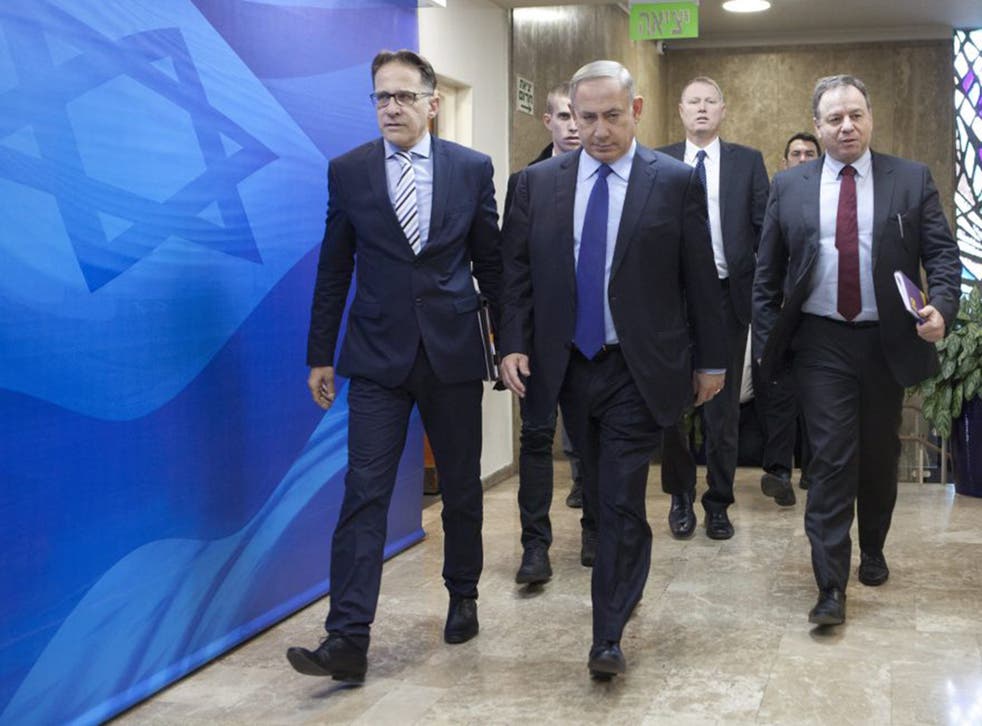 The Israeli Prime Minister Benjamin Netanyahu is reported to have snubbed Theresa May over the UK's support for a UN resolution condemning the building of settlements in occupied Palestinian territories.
According to Israeli media, arrangements were being made for Ms May and Mr Netanyahu to meet on the sidelines of the annual World Economic Forum summit in Davos, Switzerland between 17 and 20 January.
Britain was among 14 UN Security Council members to approve the resolution last week which declared Israeli settlements "illegal", however, and Israel has since lashed out diplomatically in a number of ways.
Mr Netanyahu told ministers at his weekly cabinet meeting on Sunday that he no longer had any desire to meet with the British Prime Minister, Israeli media reported.
Tony Kay, Britain's deputy ambassador to Israel, has been on duty this week while the UK head of mission David Quarrey is home for Christmas.
He was summoned and officially reprimanded by the Israeli government along with other ambassadors representing UN Security Council members – including the US, which refused to use its veto to protect Israel and instead chose to abstain.
And speaking to Israel Army Radio on Monday, Mr Kay said he regretted the decision not to hold high-level talks at Davos.
"It is a disappointment that the Israeli government has announced that Prime Minister Netanyahu does not want to have a conversation with Theresa May," he said.
Mr Netanyahu's office responded to the initial Israeli reports with a carefully worded statement arguing that there had been no firm plans set, therefore no snub made. "No meeting with the UK Prime Minister had been set therefore no meeting was cancelled," a spokesperson said.
But Mr Kay told The Times of Israel there had been plans for a "conversation" to take place, and Jerusalem had not given UK officials any formal notice of a change of heart on that front.
"Davos is an opportunity where many world leaders attend and our Prime Minister would have conversations with many world leaders, including hopefully Prime Minister Netanyahu," he said. "We remain hopeful and optimistic that such a conversation can take place at the prime ministerial level, whether it's at Davos or elsewhere."
The UK has not been the only country to feel Israel's anger in response to the UN vote. Again according to briefings from the cabinet meeting on Sunday, Mr Netanyahu is reported by Reuters to have railed against the Obama administration for allegedly colluding with the Palestinians.
Mr Netanyahu called it "shameful" that the US did not take its usual course of action and defend its closest Middle East ally.
Around 570,000 Israelis live in settlements in east Jerusalem and the West Bank.
The overwhelming international consensus is that such settlements are illegal, while Washington too defines them as illegitimate.
But with a potentially more favourable US administration arriving with Donald Trump in less than a month, Mr Netanyahu refused to budge. He said that, far from halting settlements as required by the UN, he would push ahead with plans for hundreds more.
And he cemented that message with an unscheduled Hanukkah visit to the Western Wall, one of Judaism's holiest sites, and which is located in Jerusalem's eastern Old City.
"I did not plan to be here this evening but in light of the UN resolution I thought that there was no better place to light the second Hanukkah candle than the Western Wall," Netanyahu said during the event.
"I ask those same countries that wish us a happy Hanukkah how they could vote for a UN resolution which says that this place, in which we are now celebrating Hanukkah, is occupied territory?"
The resolution adopted on Friday at the UN changes nothing on the ground between Israel and the Palestinians and, if his campaign statements are anything to go by, will likely be all but ignored by the incoming Trump administration.
Register for free to continue reading
Registration is a free and easy way to support our truly independent journalism
By registering, you will also enjoy limited access to Premium articles, exclusive newsletters, commenting, and virtual events with our leading journalists
Already have an account? sign in