Israel violence: Five die following stabbings and shootings in Tel Aviv and West Bank
Fatal stabbing of two Israeli men followed by shooting and vehicle attack leaving left three dead and six wounded
Samuel Osborne
Thursday 19 November 2015 20:40 Comments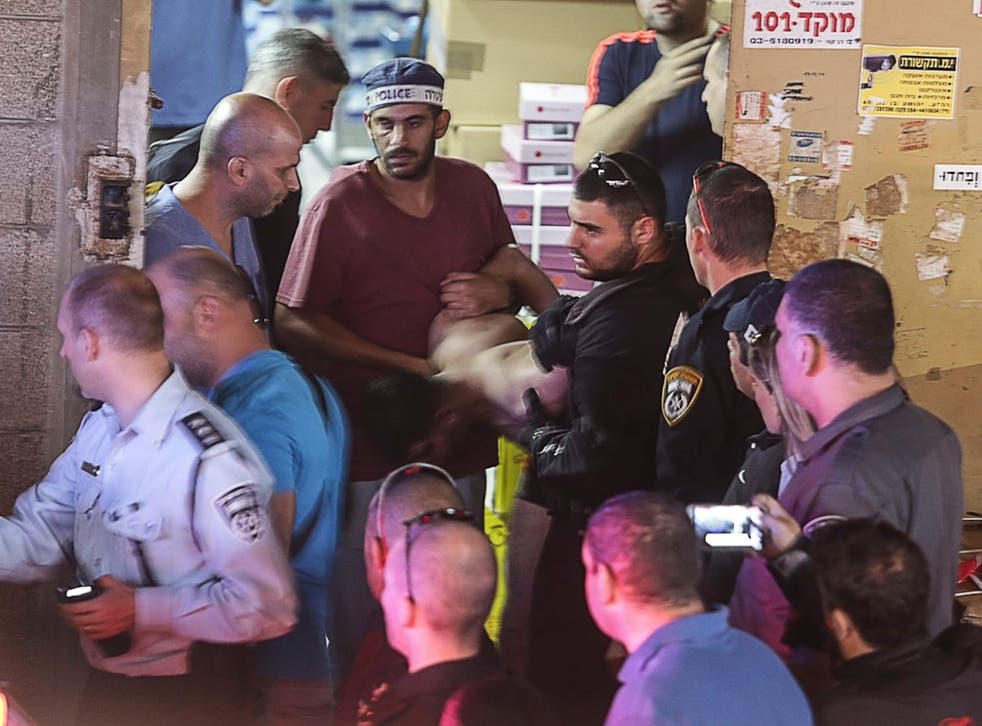 Two attacks by Palestinians, including a stabbing at an office building in Tel Aviv, have killed five people, intensifying a two month-long wave of violence.
Police said the stabbing took place in a shop on the second floor of a Tel Aviv office building where a group had gathered to hold prayers.
Shimon Vaknin, a witness, told reporters a bloodied man stumbled into the room before falling on a number of worshippers.
Mr Vaknin said around 15 to 20 worshippers pushed the attacker outside and barricaded the door. Others tried to treat the wounded man until paramedics arrived.
He said they could see another critically wounded man on the pavement outside.
The attacker was apprehended by police.
The Israeli–Palestinian conflict intensifies

Show all 10
A second incident saw a Palestinian gunman open fire on a minibus at a road junction outside of the Alon Shvut settlement.
An Israeli military spokesman said the gunman then drove towards another junction, where he intentionally rammed his car into a group of pedestrians before behing shot by soldiers.
Other reports suggested he exited his vehicle and was still firing when he was shot.
Authorities said three people, a US national, an Israeli man and a Palestinian, were killed and around nine others wounded in the attack.
Much of the recent unrest has focused on the West Bank city of Hebron, a frequent flashpoint. But the attack in Israel's economic hub of Tel Aviv returned the violence to the Israeli heartland.
Israel has beefed up security across the country in recent weeks in light of the attacks.
The attacks bring the number of Israelis killed since the cycle of violence began seven weeks ago to 18; 80 Palestinians, some of them assailants, have died in the same period.
Additional reporting by Associated Press
Register for free to continue reading
Registration is a free and easy way to support our truly independent journalism
By registering, you will also enjoy limited access to Premium articles, exclusive newsletters, commenting, and virtual events with our leading journalists
Already have an account? sign in
Join our new commenting forum
Join thought-provoking conversations, follow other Independent readers and see their replies