Israel-Gaza conflict: At least 15 killed in shell attack on UN school during second night of bombardment
UN official says shells hit the Abu Hussein school in the Jabaliya refugee camp at about 4.30am
Heather Saul
Wednesday 30 July 2014 15:11 Comments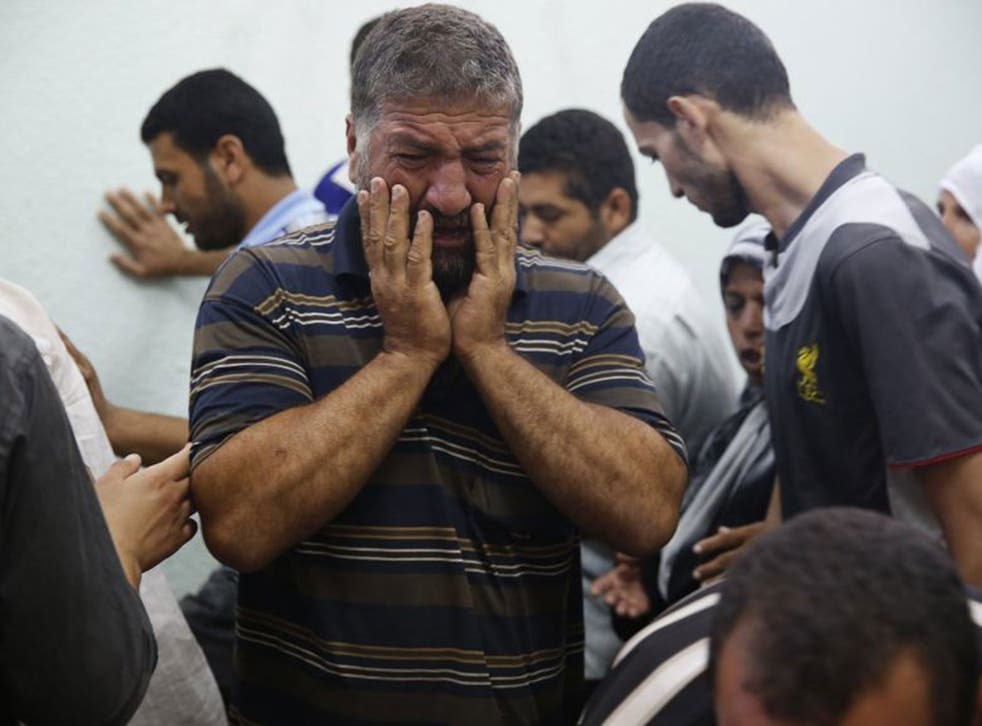 At least 15 people have been killed in dawn shelling on a UN school in a Gaza overnight where hundreds of Palestinians had taken refuge from a bombardment of strikes, a UN official has said.
Another 125 Palestinians were wounded in the tank shells and air strikes on houses and the school in the Jabaliya refugee camp. Five are reported to be in a critical condition. Earlier reports had estimated 19 had died but this figure has since been revised down.
The Israeli military said in a statement it appeared that militants had fired mortar bombs from the vicinity of the school and troops fired back in response. The incident is still under review.
Jebalya, which has been under fire for the past 24 hours, is the largest refugee camp in the Gaza Strip. Its population of 120,000 has been swollen by Palestinians trying to escape fighting between Israel and militant groups in the 23-day-old conflict.
The death toll has now reached over 1,250 Palestinians and 56 Israelis since 8 July. Most of the Palestinian deaths have been civilians.
Fayez Abu Dayeh, the principal of the school, said several tank shells hit the school compound at about 4.30am, two of which hit classrooms and a bathroom.
Hundreds of Palestinians had sought refuge at the school following the heaviest night of strikes during three weeks of fighting that killed over 100 people within just 24 hours after the Israeli Prime Minister warned of a "prolonged" military campaign.
The front wall was blown out in one of the classrooms, leaving scattered debris and bloodied clothing. Another strike tore a large round hole into the ceiling of a second floor classroom.
A Palestinian delegation is expected to arrive in Cairo for discussions surrounding a possible humanitarian ceasefire today.
In pictures: Israel-Gaza conflict

Show all 124
Tuesday morning's bombardment hit the home of Hamas Gaza political leader Ismail Haniyeh, TV and media outlets and the Gaza Strip's only power plant . It could be shut down for almost a year after being set on fire by tank shells, the BBC quoted the facility's manager as saying.
The UNRWA says it is at "breaking point" with over 200,000 displaced Palestinians seeking refuge in 85 of their shelters following calls by Israel for civilians to evacuate whole neighbourhoods before military operations.
The organisation also confirmed a cache of rockets had been discovered in one school. The body's spokesman, Chris Gunness, condemned those responsible for placing people in harm's way, saying: "This is yet another flagrant violation of the neutrality of our premises. We call on all the warring parties to respect the inviolability of UN property."
The incident comes after an audio recording of a Hamas leader rejecting the notion that militants are prepared for a ceasefire with Israel emerged.
Reuters reports Mohammad Deif, commander of Hamas' military wing, can be heard saying a ceasefire will not take place "before the aggression is stopped and the blockade is lifted. We will not accept interim solutions."
The audio came alongside a video purporting to show militants using a tunnel to attack an Israeli watchtower was also released.
Palestinians launched 54 rockets towards southern and central Israel, including the Tel Aviv and Jerusalem area, on Tuesday, the military said. Five were shot down by Iron Dome interceptors while the rest fell wide, causing no damage.
Israel said its troops will not vacate Gaza until they have demolished several dozen Hamas military tunnels under the Gaza-Israel border.
Register for free to continue reading
Registration is a free and easy way to support our truly independent journalism
By registering, you will also enjoy limited access to Premium articles, exclusive newsletters, commenting, and virtual events with our leading journalists
Already have an account? sign in
Join our new commenting forum
Join thought-provoking conversations, follow other Independent readers and see their replies