Israel-Gaza conflict: Gaza death toll rises as the world protests
More than 300 have been killed since Israel launched its offensive 12 days ago, and hospitals are struggling to treat all the injured, many of them children
Kim Sengupta
Monday 21 July 2014 10:47 Comments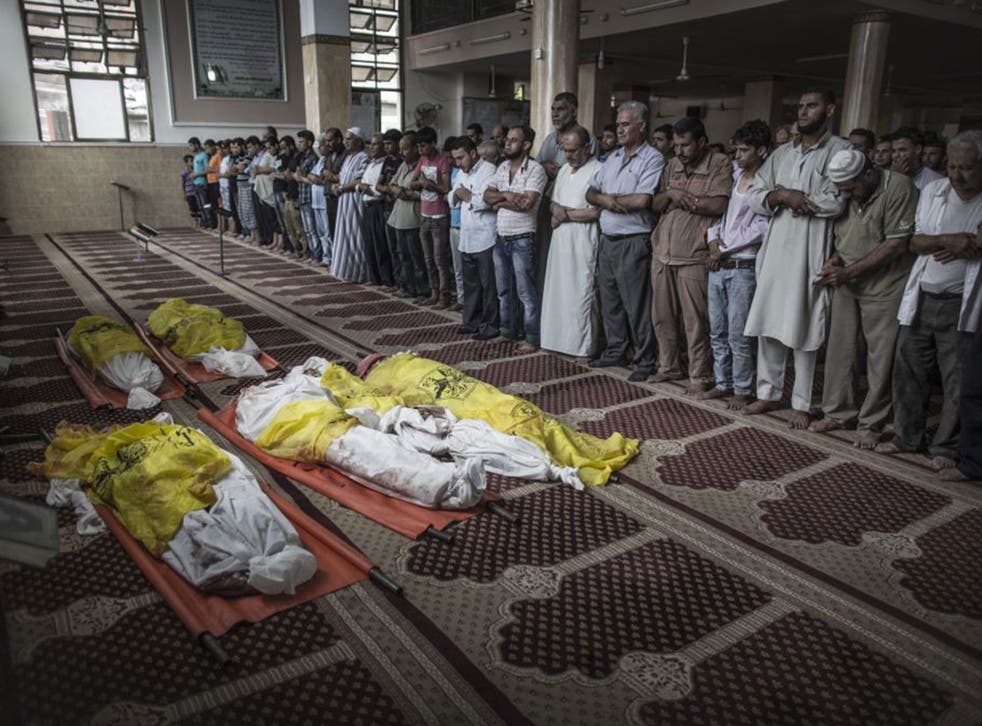 Noor Abu Jarad had rushed out of the room where she had been put to bed, screaming at the deafening noise of the blast – and into the path of shrapnel spraying through flames and black acrid smoke. The six-year-old was badly injured, but survived. But eight members of her family died from a tank round which tore into their home in Beit Hanoun, a city in Gaza's north-east.
Four of those killed were children, the youngest, Moussa, a baby of seven months. At the funeral, his body, and that of two-and-a-half-year-old Hania, were carried tenderly by a relay of men; there was blood on the shrouds and on their faces. "We want the Israelis to see what they had done," said Mahmood Abu Jarad, an uncle. "Perhaps they will feel some pity and stop this slaughter."
The bodies of the older victims, including three women, were wrapped in the yellow flag of Fatah, the party Benjamin Netanyahu's government supposedly wants to see replace bitter rivals Hamas in control of Gaza as part of any settlement which ends this bloodshed.
The sound of strife echoed around the cemetery in the town of Beit Lahiya. There were repeated whooshing noises from Hamas rockets being fired from a nearby launch site and deep booming sounds of Israeli missiles along with long bursts of machine-gun fire, mourners hurrying off at the end went past destroyed buildings.
The toll, after 12 days of the Israeli mission, number more than 340 Palestinians dead, according to Gaza health officials, 76 of them children and 28 women, with 2,279 injured. The number of Israeli deaths rose to five yesterday, with two civilians and three soldiers killed since the conflict began.
The Israeli military announced that it has, so far, hit 2,350 targets in Gaza, including 1,100 rocket launchers and, during the first 24 hours on the ground, uncovered 13 tunnels into Israel, some 30m deep. An infiltration into a border kibbutz, the second such attempt, was foiled, with a militant fighter killed and others retreating. Two Israeli soldiers were killed in the fight, the army said.
Other successes included the thwarting of a "suicide donkey". The Israeli military said in a statement that soldiers "spotted an explosives-laden donkey approaching their position; they opened fire, causing the explosives to detonate". This was not the first time "Palestinian terrorists adopted this despicable tactic". On the same evening, another donkey "suspiciously began to approach the forces. The forces approached the donkey and it exploded at a safe distance."
In pictures: Pro-Palestinian protests across Europe

Show all 12
Human casualties, the Israeli military says, can be avoided by obeying instructions to residents to evacuate, sent through leaflets, phone calls and texts. "The alternative is that they stay put and that is more dangerous to them, and that's why we advise them to leave the area and take refuge," said a military spokesman. "We are directing them toward safer zones, safer areas, away from the areas where we plan to operate."
However, more than 50,000 people have been forced to leave their homes and sought refuge in UN temporary shelters, mainly schools. A brief tour of some, in Gaza City and the north, showed that even with more than 30 packed into a classroom, space was running out.
Nassar Abu Jedian, in charge of one of the sites, in Beit Lahiya, said: "The capacity here is meant to be 600. We have 1,800 at the moment. What can we do? We must help these people." Among them were 14 members of the Abu Jarad extended family. "We left a day ago because our home only had a tin roof; the others had a stone house," explained Mohammed Abu jarad, 29. "But that did not save them from the tank."
Many believed that nowhere was safe from the onslaught, even as the UN Secretary General, Ban Ki-moon, was due to arrive in an attempt to revive collapsed peace talks.
At Shifa Hospital in Gaza City, where little Noor was being treated for head, back and arm injuries, her 28-year-old mother, Hunood, said: "There has been firing going on all around us. We could easily have been hit trying to go on the road with children. Why did they order us to leave our homes? We are not terrorists; we don't support Hamas or Islamic Jihad. Most of us aren't interested in politics. We don't even vote. All we want is to be left alone to live, work and bring up our children. Instead, we are burying our dead and sitting in hospitals with our children."
Hunood, her husband Basham, 36, and six children lived in an adjoining house to the one hit. Noor had gone to visit her cousins there when the attack took place. Two of the couple's sons, aged two and four, playing outside, were buried under the rubble. They escaped with cuts.
Five of the seriously injured from the Abu Jarad family were taken to Kamal Odwan Hospital in Beit Lahiya, where they died overnight. The hospital director, Dr Saied Saleh, said on Saturday afternoon: "We have had 40 injuries since eight o'clock this morning. That used to be the figure for 24 hours. Now we are getting this in half a day.
"The severity of injuries to those killed is also getting worse. I don't know whether this is from tanks and other land weapons. We don't know what else to expect. This is not a big hospital [with] a big staff. We are sending the most serious cases to Shifa, but more keep coming in."
The Israeli military had planned to distribute leaflets urging residents in more areas – Khan Younis, Marasi and Al Burej – to leave their homes. It is believed that the hunt is for more tunnels. The result, however, is likely to be more fighting and more casualties. "If this goes on for much longer, the results would be really catastrophic," Dr Saleh said, and he shook his head in despair.
Huge marches demand end to military action
Thousands of protesters took to the streets of central London yesterday to demand an end to Israeli military action in Gaza. The peaceful demonstration marched from Downing Street to the Israeli embassy in Kensington, where a police blockade prevented them from gaining access. More than 340 Palestinians have been killed since the conflict began.
Police were yet to verify protest numbers last night, but before the event more than 15,000 people were expected. Chief Superintendent Zander Gibson of the Met said on Saturday: "Though the temperatures and sentiment were high, those who attended were loud and good-tempered." Demos also took place in New York, Berlin, Seoul, Johannesburg and Athens. Protesters clashed with police in Paris.
William McLennan
Register for free to continue reading
Registration is a free and easy way to support our truly independent journalism
By registering, you will also enjoy limited access to Premium articles, exclusive newsletters, commenting, and virtual events with our leading journalists
Already have an account? sign in
Join our new commenting forum
Join thought-provoking conversations, follow other Independent readers and see their replies