Israel-Gaza conflict: Israel takes brutal revenge on Rafah for the loss of a soldier
Despite a ceasefire, air strikes continued to devastate the place where Hadar Goldin was killed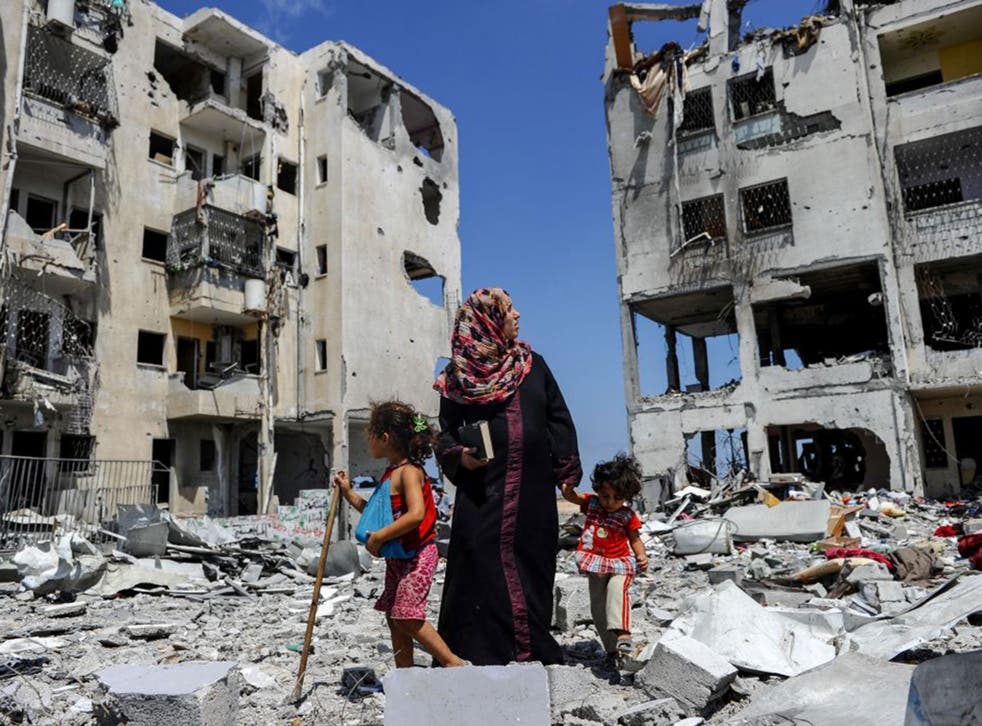 The air strike came after Israel declared another ceasefire: a missile hitting a home in the teeming centre of Gaza City, killing five people, including two children, amid fears that bombs will continue to rain down on a population with nowhere to escape even if Israel withdraws its ground forces.
On Monday night, those fears were only heightened when Israel ended its truce, which had covered only parts, and not all, of Gaza. "The campaign in the Gaza Strip goes on," said the office of the Israeli Prime Minister, Benjamin Netanyahu. "The operation will end only when a prolonged period of quiet and security is restored to Israel's citizens."
The statement came despite the plea of the British Prime Minister David Cameron, who hours earlier had broken off from an event commemorating the past carnage of the First World War to insist: "This slaughter, this killing, has got to end."
But the Israeli military had always stressed that the humanitarian truce would be limited to seven hours and would not cover Rafah, where air, artillery and tank strikes began on Friday after Israel accused Hamas of kidnapping a soldier and killing two others in a suicide bombing.
It was subsequently confirmed that Lieutenant Hadar Goldin was killed in action. But there was no respite for Rafah, where a United Nations school was hit by a missile that killed 10, an attack the UN Secretary-General Ban Ki-moon had called a "moral outrage and a criminal act".
Operations continued yesterday with Israeli forces saying that, as well as hunting "terrorists", they were destroying tunnels which had been used to launch rocket attacks.
There was violence across the border in Jerusalem, with police shooting dead a man who drove an excavator into a bus; a pedestrian was also killed. Hours later, a gunman shot and wounded a soldier near the Hebrew University before fleeing on a motorbike.
There were short but intense bursts of action during the night, with the Israeli military carrying out air and naval strikes. Daniel Mansour, a commander of Islamic Jihad, a militant group allied to, but not part of, Hamas, was killed in a targeted raid, the group said.
The survivors in one Palestinian family, the al-Bakaris, said they had no political connections and demanded to know why they had to suffer as neighbours and emergency services dug into the rubble in the hope of finding six people still missing. One of the bodies recovered was that of Ramadan, one of two brothers who owned the house.
His sister, Maha, was at Shifa Hospital in Gaza City, watching over Ramadan's three-year-old son, Ali, when she heard about her brother's death. "My family, our people, are being slaughtered like animals," she said. "This continues day after day, all the big leaders around the world say this must stop and then they do nothing. How many of the resistance have the Israelis killed? Look in the morgue and you will see the dead are children, women, old people. What has this little boy done to be hit by a bomb?"
Lying in his hospital bed, Ali stared ahead with frightened eyes. He had not spoken since being dug out of the rubble three hours earlier. Um Jihad al-Burai, whose house next door was damaged in the blast, said: "This will go on for months. So what if they withdraw their troops? They will just keep using their planes and bombs against us. They will kill us when they want to. We can't go anywhere. They have kept us chained with the blockade. We cannot escape anywhere. We are trapped."
In pictures: Israel-Gaza conflict

Show all 124
The Palestinian toll on the 28th day of the war was more than 1,831 killed and 9,000 injured, most of them civilians, said Palestinian health officials and the UN. All but three of the 64 Israelis killed have been from the military. An estimated 3,000 Palestinian homes have been destroyed or damaged.
Representatives of Fatah, Hamas and Islamic Jihad held their first formal meeting in Cairo with Egyptian mediators in a process supposed to lead to a long-term ceasefire. Tony Blair, the Middle East envoy, and the US special envoy, Frank Lowenstein, were also present. The Israelis, however, refused to turn up for the talks after, they said, Hamas broke a 72-hour ceasefire on Friday by acts including the attack that killed Lt Goldin.
Sami Abu Zuhri, the Hamas spokesman in Gaza, accused Israel of cynically manipulating what happened with Lt Goldin. "They tricked and deceived the world. They said the soldier had been abducted and now they say he was killed in battle. They manufactured this to break the ceasefire while blaming us, and then they committed a massacre in Rafah."
Mark Regev, a spokesman for Mr Netanyahu, told CNN that Israel's goal with yesterday's truce was "to assist with the humanitarian relief" of the people of Gaza. Italy said it was sending to Gaza 30 tonnes of supplies, including tents, emergency generators and water-purification kits. Meanwhile, the British Government said it was looking into reports that a UK national, believed to be an aid worker from Rochdale, was killed in Rafah on Sunday.
Join our new commenting forum
Join thought-provoking conversations, follow other Independent readers and see their replies