Israel-Hamas 72-hour ceasefire crumbles as dozens killed in Gaza shelling
Both Hamas and Israel agreed to the humanitarian ceasefire
Heather Saul
Friday 01 August 2014 11:53 Comments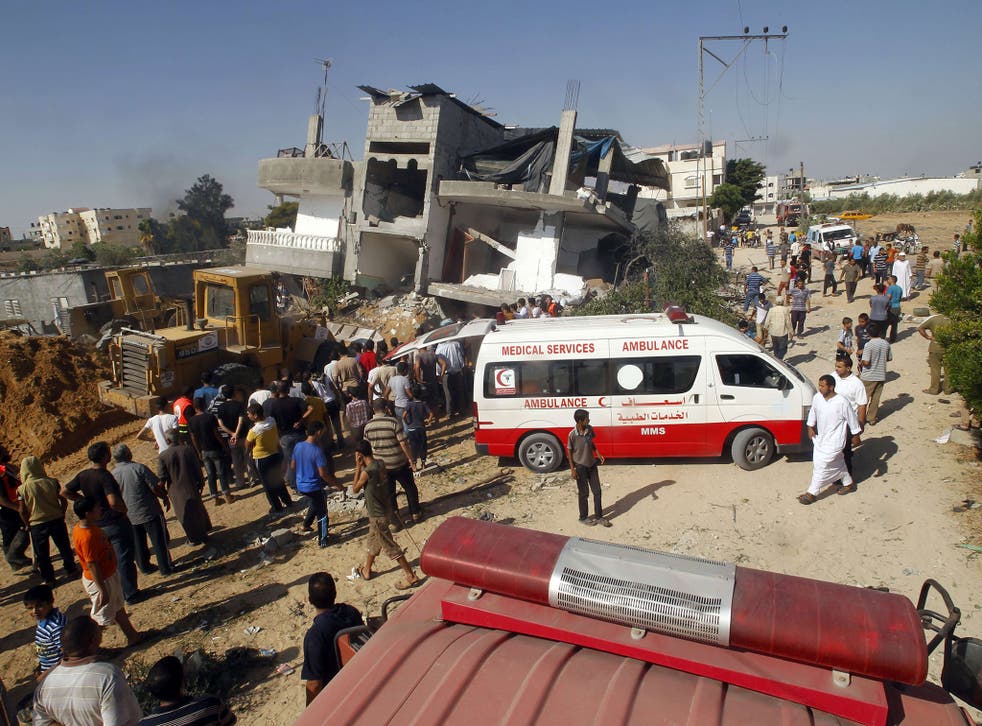 The Israeli military has said it is resuming operations in Gaza as a 72-hour humanitarian ceasefire between Israel and Hamas unravelled just hours in.
Officials in Gaza say 27 Palestinians were killed by Israeli shelling just hours after the ceasefire began.
Health Ministry official Ashraf al-Kidra and Gaza police spokesman Ayman Batniji said 15 other Palestinians were wounded in the shelling east of the southern Gaza city of Rafah.
Eight rockets and mortar bombs were fired from Gaza at Israel, the Israeli military said, adding that one was intercepted by the Iron Dome system and seven hit open areas.
The army said it has warned residents to stay in doors, the BBC reports.
The office of the Israeli Prime Minister Benjamin Netanyahu released a statement accusing Hamas of breaking the truce, saying: "Once again, Hamas and the terror organisations in Gaza have blatantly broken the cease-fire to which they committed, this time before the American Secretary of State and the UN Secretary General."
The ceasefire was announced amid a rapidly climbing death toll since hostilities began on 8 July. Palestinian officials say more than 1,499 Palestinians have been killed and nearly 7,000 wounded. Israel says 61 of its soldiers, two civilians and a Thai national have died and more than 400 have been injured.
Israel has said it will continue its operation to destroy the network of tunnels used by Hamas to carry out attacks in Israel.
The brief lull in fighting came following the shelling of a UN school in Jabaliya on Wednesday which was sheltering civilians who had been told to leave their homes by the Israeli army. On Thursday, the White House described the attack, which killed at least 15 people, as "totally unacceptable and totally indefensible".
Israel and Hamas both agreed to respect the ceasefire, which came into effect at 8am local time (6am BST) this morning, but respond to attacks.
At least four short humanitarian ceasefires have been announced since the conflict began, but each has been broken within a few hours by renewed fighting.
In pictures: Israel-Gaza conflict

Show all 124
The US Secretary of State John Kerry announced the ceasefire in a joint statement with the UN Secretary-General Ban Ki-moon, which they said is critical to giving innocent civilians a much-needed reprieve from violence".
They said forces on the ground would remain in place. Mr Kerry cautioned there were "no guarantees" the brief lull in fighting would bring an end to the conflict, describing it as "a respite, not an end".
In the hours running up to the truce, police reported heavy tank shelling in northern and eastern Gaza. Tank shells landed on homes in the city, setting homes and shops ablaze.
Hamas fighters hit an Israeli tank with an anti-tank missile, Gaza police said, and then attacked Israeli troops who came to evacuate the tank crew.
The Israeli Defence Forces (IDF) said five of its soldiers were killed by mortar fire during operational activity along the Gaza border on Thursday. The IDF said its Iron Dome missile defence system intercepted six rockets just minutes before the ceasefire was due to begin.
Israeli and Palestinian delegations are expected in Cairo today to for talks with the Egyptian government aimed at reaching a "durable ceasefire".
Hamas wants a blockade of Gaza by both Israel and Egypt to be lifted. Israel has balked at freeing up Gaza's borders under any de-escalation deal unless Hamas's disarmament is also guaranteed.
Additional reporting by agencies
Register for free to continue reading
Registration is a free and easy way to support our truly independent journalism
By registering, you will also enjoy limited access to Premium articles, exclusive newsletters, commenting, and virtual events with our leading journalists
Already have an account? sign in
Join our new commenting forum
Join thought-provoking conversations, follow other Independent readers and see their replies